June 16, 2022
New Administrators at Holland Public Schools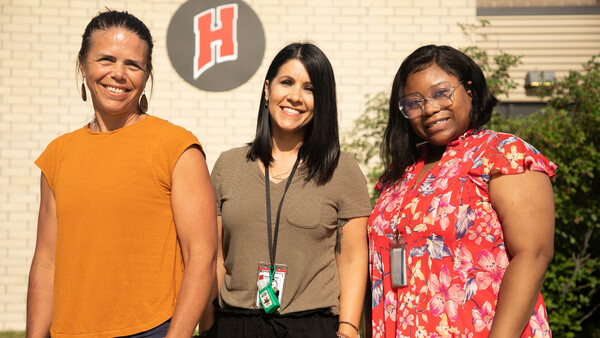 Meet new administrators at Jefferson Elementary, Holland High, Holland Middle School, and District Administration offices.
Sara Folkert is the new Principal of Jefferson Elementary School (pictured left). Sara is coming to us after serving as an Assistant Principal at Baseline Middle School in South Haven. She has also held several elementary (3rd grade, Elementary STEM) and middle school (Math, Science, Language Arts) teaching positions. In addition, Sara has served as an intervention coordinator and a Gifted and Talented Coordinator. She lives in Holland with her family. What stood out among the committee was her positive energy, focus on relationships, and her focus on supporting staff. Her references commented on her high energy, focus on relationships, the positive impact she had on their building culture, consistent visibility in the building, support of teachers, and openness to learn and grow. She has a Masters Degree from University of California Santa Cruz in Education and an Administrative Certificate from Grand Valley State University.
Andrea Mehall is the new Principal of Holland High School (pictured center). Andrea has served Holland as Director of Holland Early College and since 2014. Prior to that she served as a Science teacher at an Early College program in Phoenix, Arizona, and a Biology/Human Anatomy and Physiology teacher. Mrs. Mehall has been a proven leader and innovator in Holland leading professional development in Diversity, Equity, and Inclusion, Project Based Learning, and has shown a commitment to growing leaders. Mrs. Mehall has been recognized with the Newcomer of the Year Award in 2015, Equity and Excellence Award in 2018, and the Leadership Matters Award in 2019. Mrs. Mehall earned her Masters of Educational Leadership form Northern Arizona University and will graduate from GVSU with a Specialist Degree in Leadership in 2024.
Rakendra Davis is the new Assistant Principal at Holland Middle School (pictured right). Rakenda has 12 years of teaching experience between Florida, South Carolina, and Michigan with her last 5 years of teaching coming back to her hometown of Holland. She has taken on many leadership roles in Holland including School Improvement Chair and serving on the PBIS team. Mrs. Davis recently graduated from Western Michigan University with a Master's Degree in Educational Leadership. The interview committee was impressed with her passion for kids, focus on equity, and her dedication to Holland.
Jennifer Heinritz is the new Assistant Principal at Jefferson Elementary School (not pictured). Mrs. Heinritz has been in Holland since 2005 and has taught Kindergarten, ESL, 3rd grade, and has taught 1st grade for the previous 6 years. Mrs. Heinritz also taught for 2 years in Salt Lake City, Utah. She has served in various leadership roles in Holland including School Improvement Chair, PBIS Chair ESL interventionist and Coach, HIL team member, and parent night chair. Mrs. Heinritz has an intense love for Holland and Jefferson and will be able to provide much institutional knowledge and support for new principal coming into Holland.
Tyler Weavers is the new Assistant CFO (not pictured). Tyler earned a Bachelor's of Business Administration in Accounting, International Business, and a minor in Spanish. Tyler has served 2 years as a Budget and Audit Analyst for Ottawa County. Prior to that, he served as the Accounting Supervisor for West Ottawa Public Schools.
Our HR team is currently interviewing several candidates for an Assistant Principal position at Holland High School.