HPS Transportation provides a safe and positive environment, as efficiently as possible, each and every day. We serve as a bridge of communication between school and home.
Parents can access transportation information through your parent portal LINK.
---
REGISTER YOUR STUDENT FOR
TRANSPORATION

in 2021-2022.
In order to reserve a place on a HPS bus to or from school next academic year, parents MUST complete the transportation portion of the online student registration process.
---
PK & K Transportation Release Form
All kindergarten students eligible for transportation can only be released from a bus to a parent or a guardian. If you would like to designate someone other than yourself, please complete the following form and return it to the Holland Public Schools Transportation Department. The transportation department must have this form on file in advance of releasing a kindergarten student to someone other than a parent/guardian.
Transportation Info
Transportation Info
STUDENTS ELIGIBLE FOR TRANSPORTATION WILL BE ASSIGNED TO A BUS
SPECIFIC PICK-UP AND DROP-OFF LOCATIONS WILL BE MAILED TO PARENTS
DESIGNATED SAFE & SECURE STOPS WILL BE ASSIGNED
ONLY ELIGIBLE STUDENT RIDERS WILL BE ALLOWED ON THE BUS
BUS TRANSPORTATION IS A PRIVILEGE. THE DISTRICT RESERVES THE RIGHT TO SUSPEND PRIVILEGES AT ANY TIME.
Notifications will go out Mid-August. Notifications will have Stop Locations, Pick-Up Times, and Drop-Off Times. If you need changes, please complete the Transportation Change Request Form.
PLEASE HAVE YOUR STUDENT STANDING AT THE STOP AT LEAST 5 MINUTES PRIOR TO THE TIME OF THE STOP.
Bus times may vary due to traffic, weather and road conditions. This is why we allow a 5-minute leeway before and after the stop time. Please understand that your students' safety is our number one priority. All of our drivers are trained with the utmost care and make sure that they are driving the safest speed per what road conditions allow.

If the bus stop happens to be in front of your home, then the student(s) still needs to be standing outside. NOT INSIDE THE HOME.

Your cooperation is much appreciated with this matter. Note: if your student is the only student that is picked up at a stop and the student is not outside, the bus will go on.
Transportation Request Form
Our Transportation Services Office is located at the district's Maintenance & Transportation Center. Our offices are open Monday - Friday, 6am-4:45pm
Karen Holstine
Transportation Supervisor
(616) 494-2950
October 20, 2021
Bus Route Delays/Cancelations
Bus delays for Thursday, October 21:
#15 WST will run 15-minutes late.
HALF DAY on Thursday. NO SCHOOL on Friday.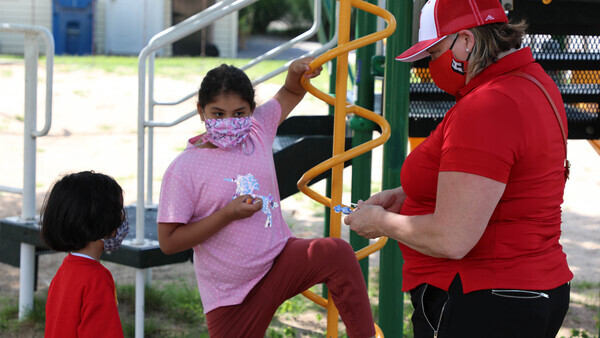 September 3, 2021
Survey Results
A letter from Superintendent Shanie Keelean:
Thank you for participating in the recent survey of HPS Families about the start of the school year. More than 400 of you participated in this survey. The information you shared will not only help us improve next year's kickoff of the school year, but will also help us reach our goals for supporting Every Student, Every Day.
August 24, 2021
An Update for HPS Families
Update on Transportation Parent Portal Issues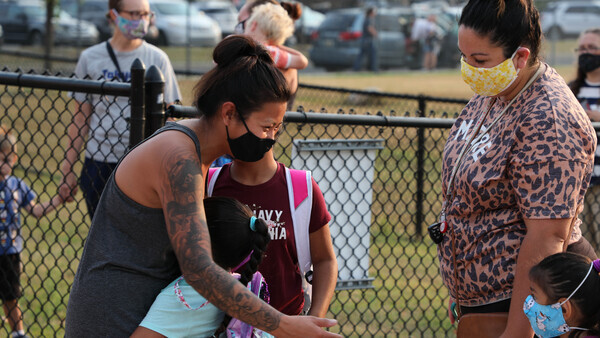 August 23, 2021
Back to School
Just one sleep left 'til the first day of school!  Here's what you need to know about getting back to school.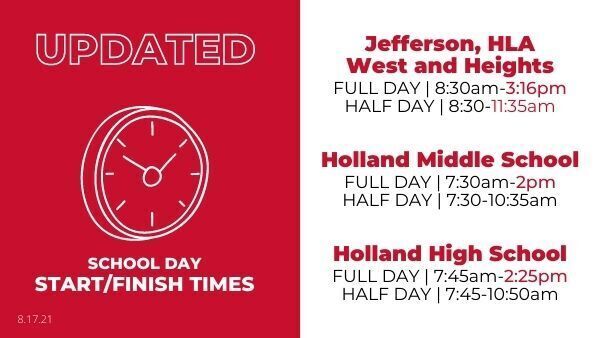 August 22, 2021
School Day Start and Finish Times
School starts on Tuesday, August 24. Can't wait to see you then!
(Updated end times for HALF DAYS at Elementary Schools.)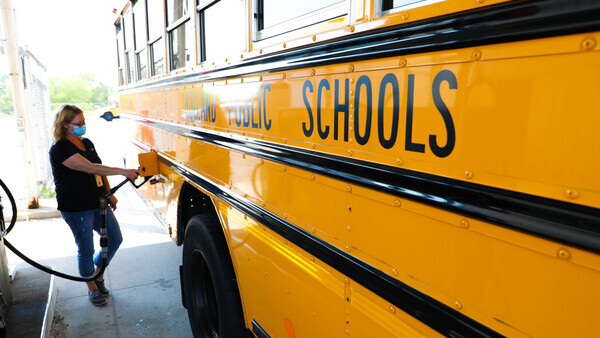 August 13, 2021
Principal Bus Tour | Tuesday, August 17
We're gassing up the buses! Our principals and school leaders will be out on Tuesday visiting several bus stops.
Stratford Way | 11:40-12noon
Lincoln Estates | 12:10-12:30pm
Meadowlanes | 12:40-1pm
We'll have prizes, a treat, and free books for all the kids who come to the the bus stop to say HI!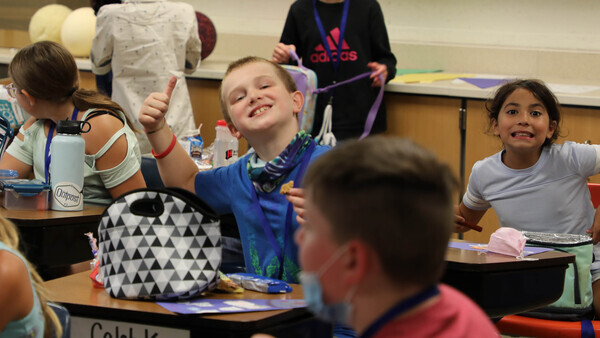 June 23, 2021
Register your Student for 21-22 School Year.
Each year HPS asks parents to register their student(s) for the next school year. Updating the information in your Parent Portal account helps us: 
Build class lists.
Determine transportation needs.
Stay in touch with you during the school year.