Welcome to West Elementary
West Elementary is a community school known for its exceptional staff, inclusive programming, large community events, and ability to meet the needs of all students.
---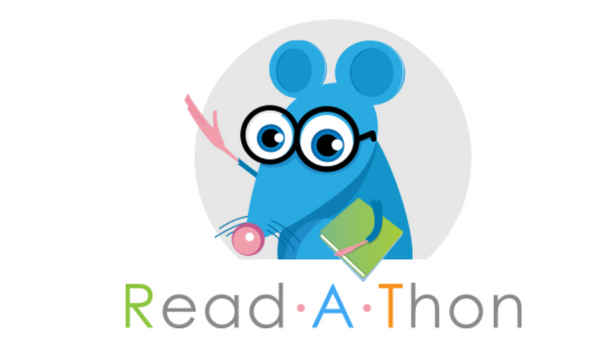 Holland Middle School wins PTO Read-A-Thon
HMS Students win a visit from Polar Patrol for reading the most minutes.
District Minutes Read: 300,646 (last year was 257, 259)
District Donations: $28,631 (last year was $28, 416)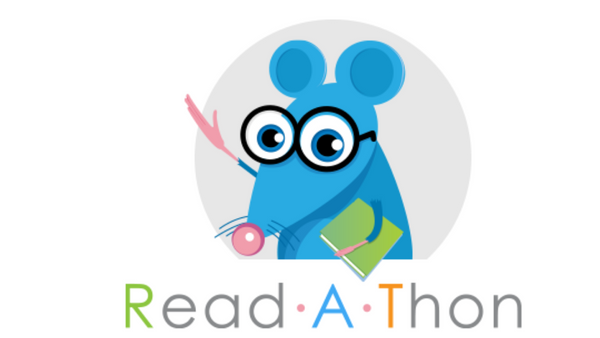 Support the PTO Read-A-Thon!
From supporting our teachers to funding field trips and special classroom projects, the PTO does so much for our schools. Their annual Read-A-Thon is the biggest fundraiser in the year. Please consider making a donation!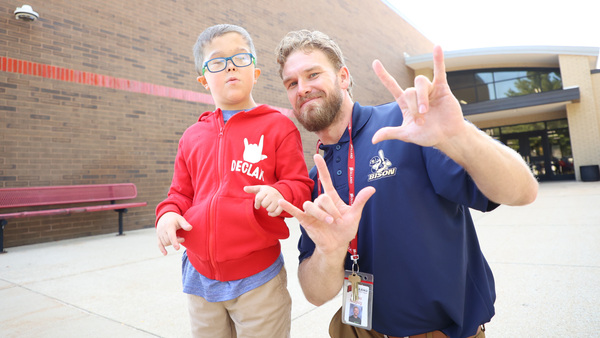 Sign Language Classes
For parents, students, community members, and beyond! This opportunity is for all who want to improve communication and a language rich environment for their child, peer, student or within the community.
Wednesdays, March 1 - May 31, 7-8p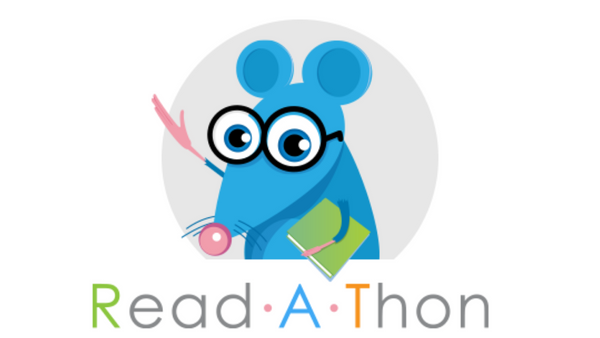 The competition to be HPS's top Read-A-Thon School is heating up!
With one more week to go, Holland Middle School has taken the lead with the most minutes read during our Read-A-Thon.
Students have read almost 175,000 minutes since the start of the Read-a-thon!
Students have raised more than $24,000 for the PTO​​​​​​​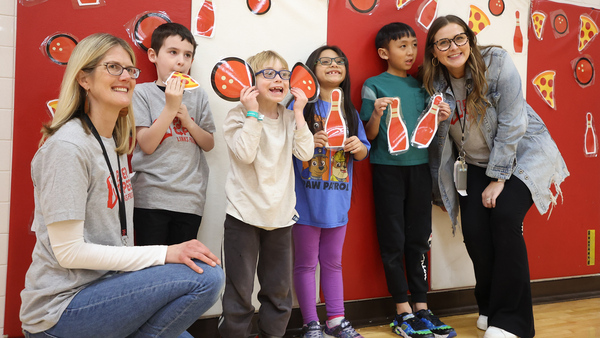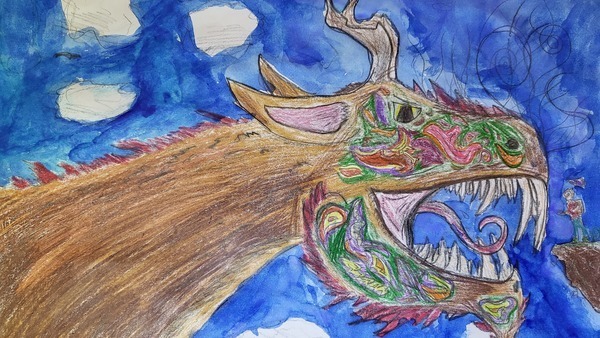 Kooper Schipper's "Dragon" among the state's top 100 artwork for K-5.
Kooper Schipper (Grade 5 | West - Hildebrand) made it into the Michigan Art Education Association's top 100 art show. His art will be on display in Ann Arbor during the MAEA show March 12-April 17.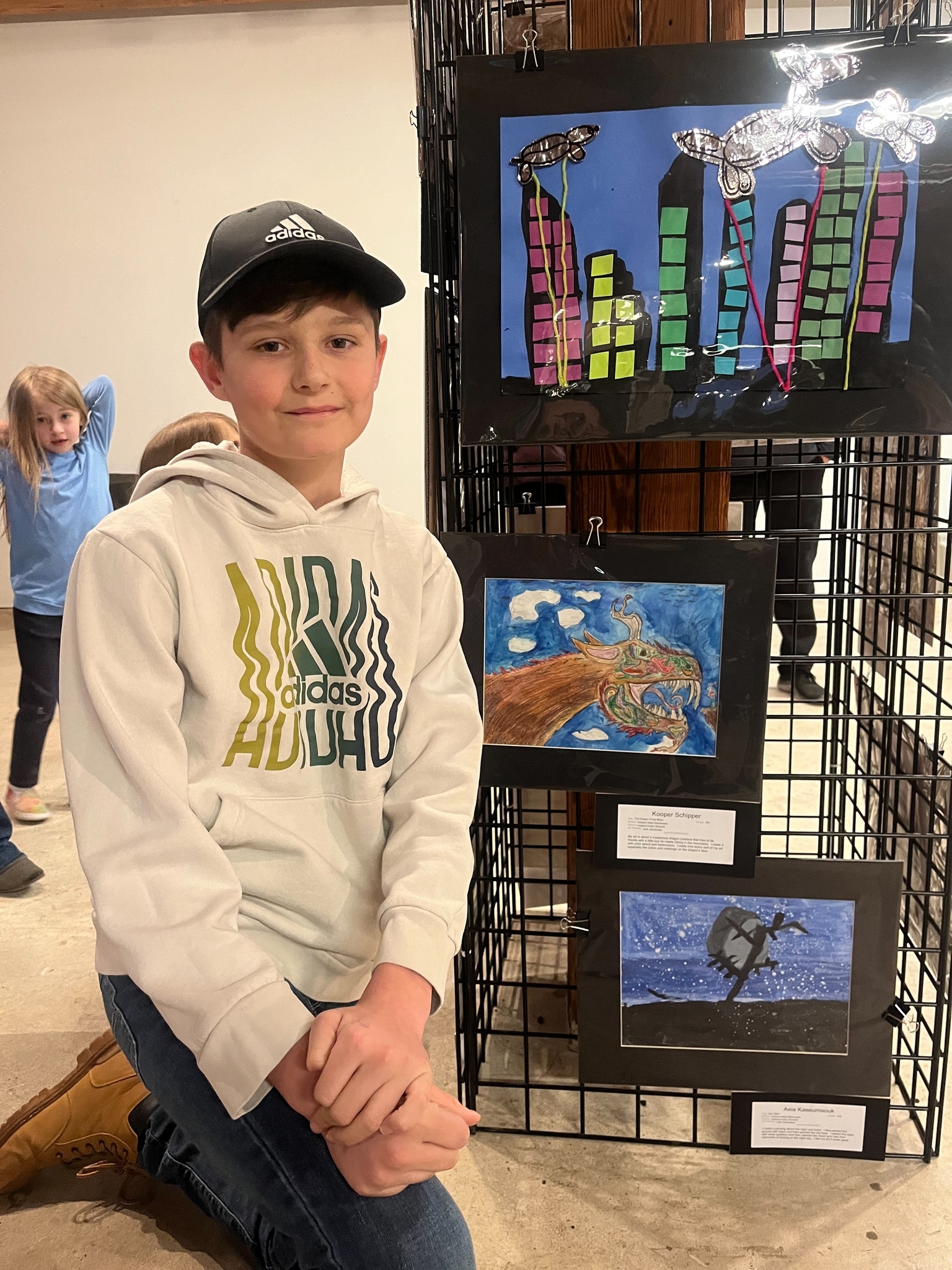 Congratulations Kooper!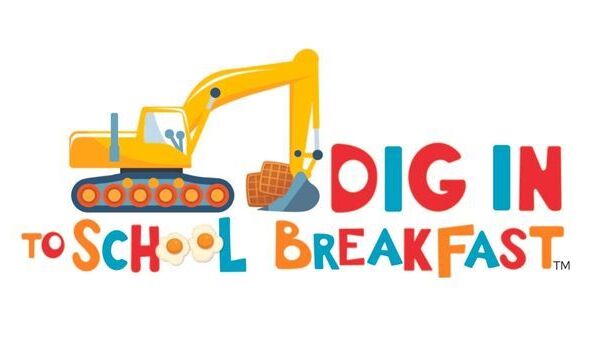 National School Breakfast Week is March 6-10
Dig in to School Breakfast
Celebrate National School Breakfast Week with special menus each morning to BUILD a great FOUNDATION for your day!
Our goal for the week is to promote school breakfast as a nutritious & healthy way for students to build their day and increase the student participation! The average number of students served, district wide, is 688 students per day. We'd love to serve more students, especially since breakfast is free for all students!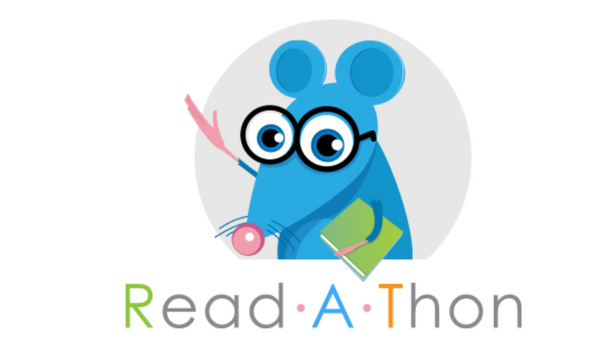 PTO Read-A-Thon
March is Reading Month. Read-A-Thon makes it easy, fun, and rewarding to practice reading at home and at school. Friends and family support your child's reading efforts by making a donation to their personal Read-A-Thon page. Students earn prizes for themselves AND their classroom and school!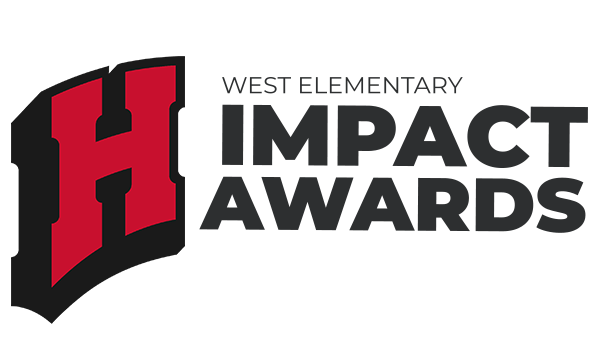 Power H Impact Awards - West
Holland Public Schools has received a $7,000 annual donation to launch an award program that honors the impact HPS Staff is having on our students and our community. We are inviting students, staff, and parents to nominate any West Employee for a Power H Impact Award.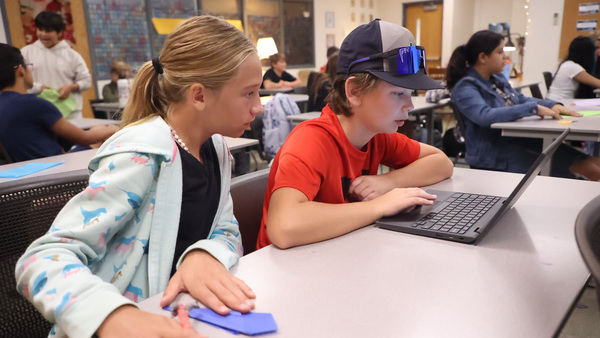 PATH Information Night
PATH (Program for Academically Talented at Hope) a program for academically advanced middle-school students that provides advanced coursework in Math, Writing, and/or Science on Hope's campus. All current 5th through 7th grade students and parents who are interested in learning more about the program are welcome to attend. The meeting is available in-person at Holland Middle School or online at the following link.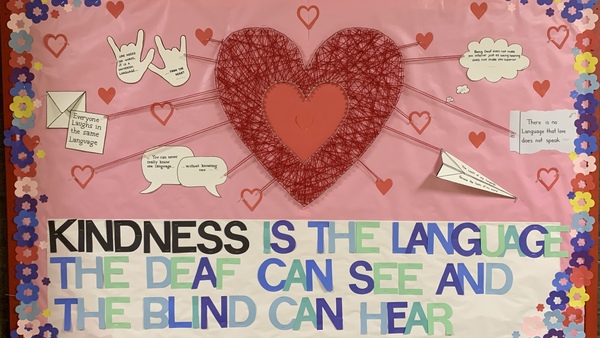 Step Up to Learning at Holland Middle School
Tour Holland Middle School | Meet your Ttachers | Find out about electives | Learn more about clubs & teams | And More...
Monday, February 13, 6-8pm
For families of current 5th grade students - or students considering enrolling at Holland Middle School for the 2023-24 school year.
West Calendar
West Calendar

Previous

March

2023

Next

S
M
T
W
T
F
S
1

Mar 1

Read-A-Thon is back to celebrate March is Reading Month with a District-Wide PTO Fundraiser!

2

Mar 2

Read-A-Thon is back to celebrate March is Reading Month with a District-Wide PTO Fundraiser!

3

Mar 3

Read-A-Thon is back to celebrate March is Reading Month with a District-Wide PTO Fundraiser!

4

Mar 4

Read-A-Thon is back to celebrate March is Reading Month with a District-Wide PTO Fundraiser!

5

Mar 5

Read-A-Thon is back to celebrate March is Reading Month with a District-Wide PTO Fundraiser!

6

Mar 6

Read-A-Thon is back to celebrate March is Reading Month with a District-Wide PTO Fundraiser!

National School Breakfast Week

7

Mar 7

Read-A-Thon is back to celebrate March is Reading Month with a District-Wide PTO Fundraiser!

National School Breakfast Week

8

Mar 8

Read-A-Thon is back to celebrate March is Reading Month with a District-Wide PTO Fundraiser!

National School Breakfast Week

9

Mar 9

Read-A-Thon is back to celebrate March is Reading Month with a District-Wide PTO Fundraiser!

National School Breakfast Week

Half Day for ALL Students

10

Mar 10

Read-A-Thon is back to celebrate March is Reading Month with a District-Wide PTO Fundraiser!

National School Breakfast Week

Half Day for ALL Students

11

Mar 11

Read-A-Thon is back to celebrate March is Reading Month with a District-Wide PTO Fundraiser!

12

Mar 12

Read-A-Thon is back to celebrate March is Reading Month with a District-Wide PTO Fundraiser!

7:00 PM to 11:00 PM

13

Mar 13

Read-A-Thon is back to celebrate March is Reading Month with a District-Wide PTO Fundraiser!

14

Mar 14

Read-A-Thon is back to celebrate March is Reading Month with a District-Wide PTO Fundraiser!

15

Mar 15

Read-A-Thon is back to celebrate March is Reading Month with a District-Wide PTO Fundraiser!

16

Mar 16

Read-A-Thon is back to celebrate March is Reading Month with a District-Wide PTO Fundraiser!

17

Mar 17

Read-A-Thon is back to celebrate March is Reading Month with a District-Wide PTO Fundraiser!

18

Mar 18

Read-A-Thon is back to celebrate March is Reading Month with a District-Wide PTO Fundraiser!

19

Mar 19

Read-A-Thon is back to celebrate March is Reading Month with a District-Wide PTO Fundraiser!

20

Mar 20

Read-A-Thon is back to celebrate March is Reading Month with a District-Wide PTO Fundraiser!

21

Mar 21

Read-A-Thon is back to celebrate March is Reading Month with a District-Wide PTO Fundraiser!

22

Mar 22

Read-A-Thon is back to celebrate March is Reading Month with a District-Wide PTO Fundraiser!

23

Mar 23

Read-A-Thon is back to celebrate March is Reading Month with a District-Wide PTO Fundraiser!

24

Mar 24

Read-A-Thon is back to celebrate March is Reading Month with a District-Wide PTO Fundraiser!

25

Mar 25

Read-A-Thon is back to celebrate March is Reading Month with a District-Wide PTO Fundraiser!

26
27
28
29
30
31
Upcoming Events

Half Day for ALL students