The Holland High School Symphony Brings Back a Senior Tradition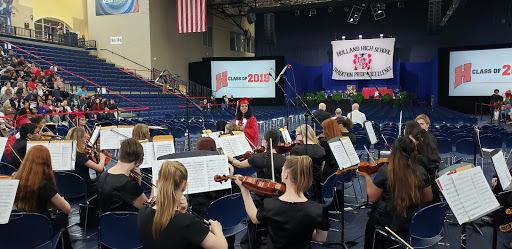 This last evening the Holland High School Orchestra Seniors joined the HHS Symphony Orchestra to bring back the tradition of the seniors performing in commencement cap and gown. This tradition harkens back to the 1990's when seniors performed with the orchestra held at the Holland Civic Center. This is an honor and recognition of their contributions made to the Holland Orchestra Program. Pictured here is Senior Concert Master Evelyn Timmermann conducting the tuning of the orchestra one last time.
Congratulations to three outstanding seniors who were recognized at the Final Orchestra Concert on May 20 held at the Holland High School Performing Arts Center. Evelyn Timmermann received the National Orchestra Award along with a $1000 stipend for summer study. This is in recognition of her outstanding support and performance with the Holland Orchestras. Angela Juarez and Julia Ortiz were recognized as exemplary senior musicians who have given back to our program through outstanding performances at festivals, and the caring, helpful manner to those around them to support learning in our ensembles. Congratulations Seniors.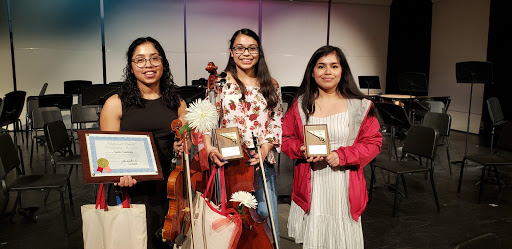 A Workshop with Rachel Barton Pine for String Players
Internationally Acclaimed Concert Violinist, Recording Artist,
Educator and Philanthropist
In both art and life, violinist Rachel Barton Pine has an extraordinary ability to connect with people. Celebrated as a leading interpreter of great classic and contemporary works, her performances combine her innate gift for emotional communication and her scholarly fascination with historical research. She plays with passion and conviction, thrilling audiences worldwide with her dazzling technique, lustrous tone, and infectious joy in music-making.
What:
A workshop presented by Rachel Barton Pine for high school aged string players or current string-playing members of all area youth orchestras. Students will learn the art of 'shredding' and other non-traditional styles of playing!
When:
Saturday, September 28, 2019 (all events at Hope College)
10am-12pm Workshop

12-1pm Lunch

1-3pm Tour of Hope, masterclass and panel discussions

3:30pm Attend HSO concert, "Rachel Barton Pine Plugged In"
Cost:
$20 per student (includes workshop, lunch, tour and concert)
More information:
Holland Symphony Office: 616-796-6780
Office Staff
Holland High
600 VanRaalte Avenue
Holland, MI 49423
Phone: 616-494-2200

Josh Rumpsa

Assistant Principal
School Times
7:45 - 2:55
Half day
7:45-11:15