Welcome to Holland Language Academy
What's Happening at HLA: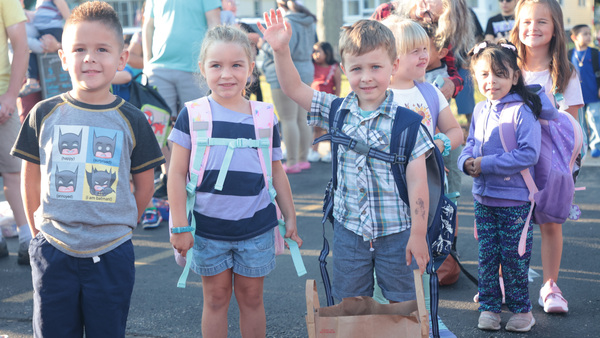 2023-2024 Academic Calendar
Holland Public Schools Administrators and members of the Holland Education Association have finalized the Academic Calendar for the 2023-2024 school year. Highlights of the calendar include:
Open House | August 21
First Day of School | August 23
Holiday Break | December 23-January 7
Mid-Winter Break | February 23-26
Spring Break | April 3-7
Tulip Time Parade - Half Day | May 9
Last Day of School | June 4
Also included in the calendar are Early Release Days on most Wednesdays during the school year. On these days, students will be released from school 60 minutes early in order to allow teachers a better opportunity for collaborative professional development.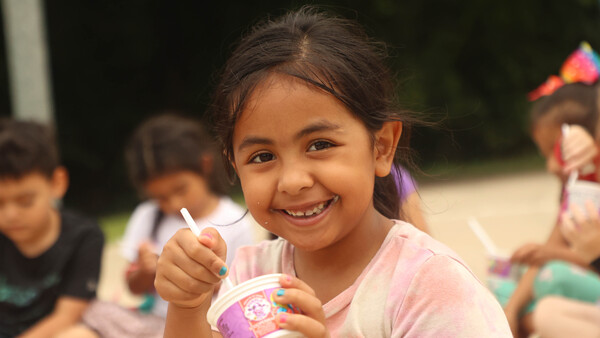 Summer School 2023
We'll focus on getting students ready for school in the fall (Tk and K), providing support with reading and math (grades 1-5), and keeping students on track for graduation (grades 6-11).
June 19-August 3 (No School July 3-7)
Monday-Thursday | 8am-12:30pm
Free Breakfast & Lunch for students
Transportation available for eligible families
2023-24 Student Registration
As we prepare for the start of the next school year, it's time register your student for 2023-24. This is something we ask ALL HPS families to do EVERY year.
Completing the registration lets us know your student(s) will be returning next year! It also lets you:
Review and update household contact information
Review and update student health information
Request transportation 2022-2023 school year (Deadline to request bussing is August 10)
Without this information, your student can not be added to a class list for next year OR have a class schedule created for them.
It doesn't take long to update this information in your Parent Portal account - but it is so important that you do it very soon!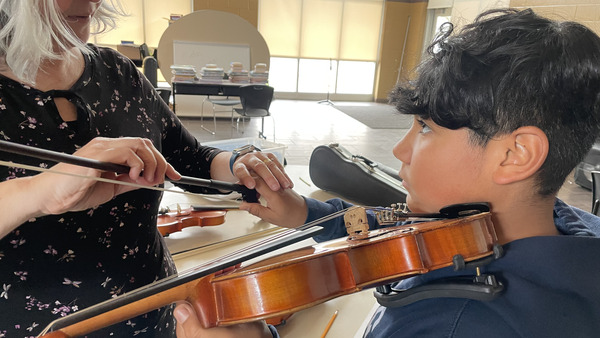 Get Your Orchestra Instrument for 6th-grade!
Attention parents of current 5th grade students interested in Orchestra during 6th Grade.
The Meyer Music instrument rental program will be explained:
Thursday, May 18 at HMS | 6:30-7:15pm (make up fitting start at 6pm).
Saturday, May 20 at HMS | 11am-12pm (make up fitting during this time).
You can even reserve the instrument at the meeting and it will be delivered to school in the fall! If your child was absent on instrument fitting day, this can be done at the meeting
Holland Public Schools announces winner of 1st Annual Power H IMPACT Awards.
HLA Instructional Assistant Oralia Mascorro honored for her impact on students for nearly a half-century.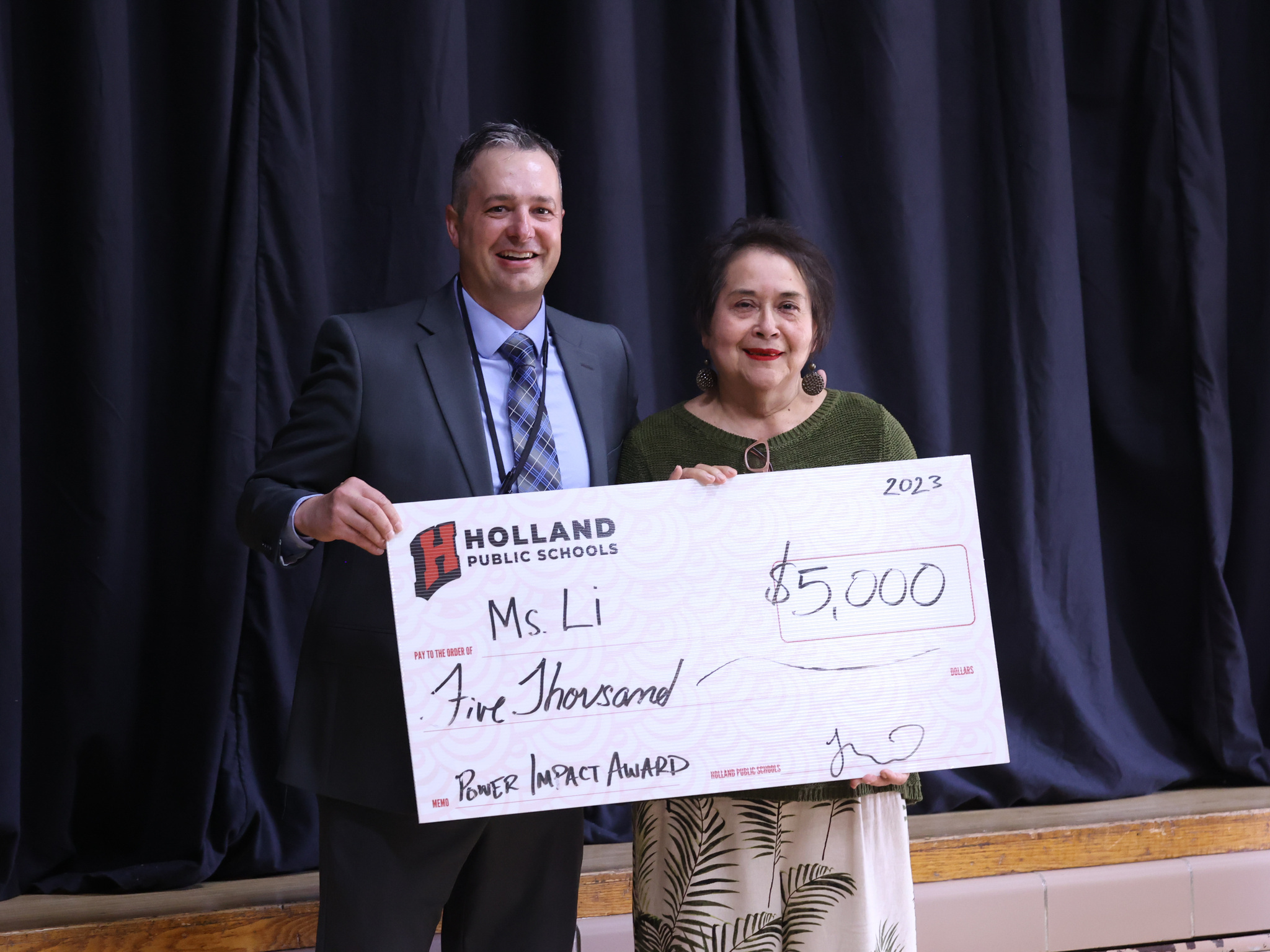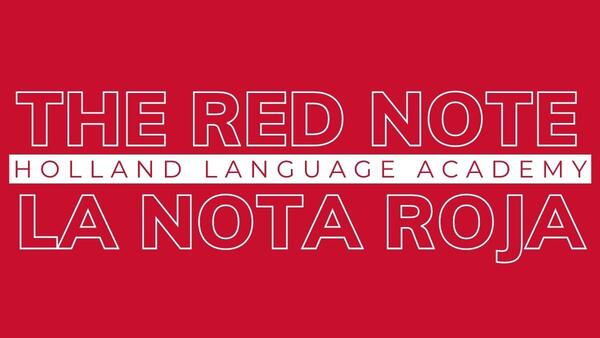 May 16, 2023
Holland Language Academy family,
With Tulip Time behind us, seniors last day at the High School, it sure feels like the final days are near. Many field trips are on the calendar, but we still have lots to accomplish. I keep reminding students it's important that we keep mentally focused on reaching our personal and classroom goals until the very end. Summer will officially begin at 11:35 on Tuesday, June 6. Until then, help us by getting students to school and on time as their attendance matters.
Warmest Regards, Principal Iliana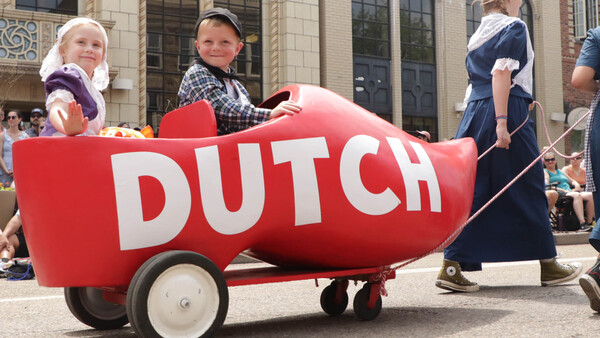 Raffle to Ride in the Big Red DUTCH Wooden Shoe During a TulipTime Parade!
Purchase a raffle ticket to give a special little person in your life the chance of a lifetime!
Ride in the famous Big Red Dutch Wooden Shoe ahead of the Holland High School Marching Band as they TipToe Through The Tulips during the Tulip Time KinderParade and VolksParade.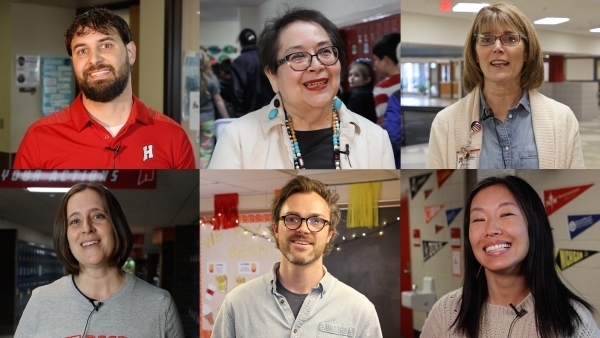 Power H IMPACT Award Finalists
Holland Public Schools is looking for community input to help determine a winner of the district's 1st Annual District-wide Power H IMPACT Award. Six finalists, one staff member from each building, were selected from among the hundreds of nominations from students, staff and families. The following finalists have already received a $1,000 cash prize and are eligible to receive an additional cash prize as the winner of the district-wide IMPACT Award:
Corene D'Addona, Speech & Language Pathologist at West Elementary

Oralia Mascorro, Instruction Assistant at Holland Language Academy

Tesha Post, Social Worker at Holland Heights Elementary

Karen Legg, Counselor at Holland Middle School

Nick Snarski, Center Room Coordinator at Jefferson Elementary

Jeff Kordich, Teacher at Holland High School/Holland Early College
2023 District Art Awards
Congratulations to the 10 winners of the District Art Awards.
Yena Cho | HTS Grade

2

Josue Olvera-Aguilera | HLA Grade 3

Marisol Bazan | JEF Grade

4

Kooper Schipper | WST Grade

5

Arcelia Garza | HMS Grade

6

Griffin Embil | HMS Grade

7

Amaya Hallacy | HMS Grade

8

Greta Christensen | HHS Grade

9

Jorge Arriola-Velez | HHS Grade

11

Alyssa Burlingame | HHS Grade

12
Artwork created by these students will be on display in the District Admin Building until next May.
Li Mascorro IMPACT Award Finalist
Li Mascarro has an impact at HLA by sharing her 46-years of history in the district with students and families.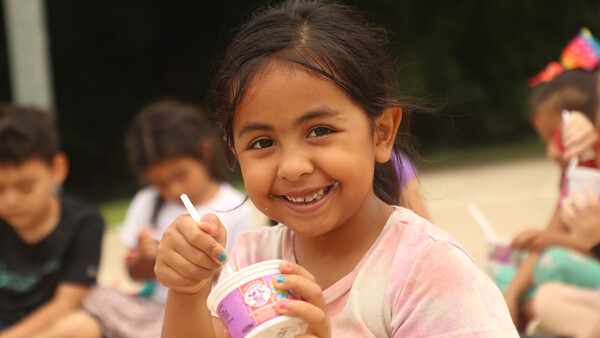 Summer School 2023
Summer School at HPS is packed with fun learning activities with specific help for students in Math and Reading.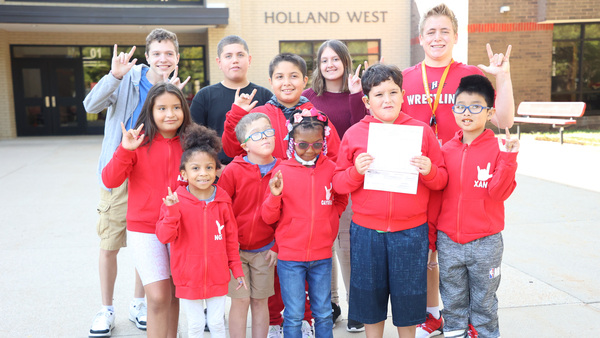 This is Me! | DHH Showcase
Our DHH students are incredibly talented! They are
Poets
Storytellers
Comedians
Actors
Dancers
See all their talents on display at Holland Middle School, Thursday, April 27, 6-8pm
HLA Calendar
HLA Calendar

Previous

May

2023

Next

S
M
T
W
T
F
S
1
2
3
4
5
6
7
8
9

May 9

6:00 PM to 7:30 PM

HLA EL Spring Concert (3rd-5th)

Location:

Holland High School, 600 Van Raalte Ave, Holland, MI 49423, USA (PAC)

Date: May 9 Time: 6PM - 7:30PM Location: HHS PAC 3rd, arrive @ 5:40, performance @ 6:00-6:25 4th, arrive @ 6:10, performance @ 6:35-7:00 5th, arrive @ 6:45, performance @ 7:05-7:30

10
11
12
13
14
15

May 15

Location:

HHS Art Gallery

Featuring the artwork of K-12 students from around the district. Opening Reception on May 16, 4:30-6pm (punch and snacks)

9:00 AM to 4:00 PM

16

May 16

Location:

HHS Art Gallery

Featuring the artwork of K-12 students from around the district. Opening Reception on May 16, 4:30-6pm (punch and snacks)

9:00 AM to 4:00 PM

4:30 PM to 6:00 PM

Opening Reception - HPS SPRING ART SHOW

Location:

HHS Art Gallery

Featuring the artwork of K-12 students from around the district. Snacks and Punch! NAHS Induction Ceremonies to follow at 6:30pm

6:00 PM to 7:30 PM

Location:

Holland Language Academy at Van Raalte 461 Van Raalte Ave, Holland, MI 49423, United States

Come learn about Latin Americans United for Progress (LAUP) and the many services they provide for our local Latino community: ESL, GED, and citizenship classes DHHS benefits assistance Document translation Mobile Mexican consulate youth programming And more! the presentation will be given in Spanish. Childcare will be available for children ages 4 and older. Open to ALL HPS families.

17

May 17

Location:

HHS Art Gallery

Featuring the artwork of K-12 students from around the district. Opening Reception on May 16, 4:30-6pm (punch and snacks)

18

May 18

Location:

HHS Art Gallery

Featuring the artwork of K-12 students from around the district. Opening Reception on May 16, 4:30-6pm (punch and snacks)

9:00 AM to 4:00 PM

19

May 19

Location:

HHS Art Gallery

Featuring the artwork of K-12 students from around the district. Opening Reception on May 16, 4:30-6pm (punch and snacks)

9:00 AM to 4:00 PM

20
21
22
23
24
25
26
27
28
29
30
31

May 31

6:00 PM to 7:30 PM
Upcoming Events

Time:

12:00 PM to 3:00 PM