Nature-Based Learning at Holland Heights
Holland Heights Elementary is partnering with the Outdoor Discovery Center Education Network to provide kids with a TUITION-FREE Nature-Based Learning Experience that will help them learn, read, and grow.
Nature-based educations provides experiences and lessons beyond the classroom in our neighborhood, school grounds, and local parks.
Regular visits to the classroom from ODC teachers and nature experts.
Lessons that help kids make sense of the world around them related to our classroom learning goals.
Explorations that help tie together our literacy with the world around us.
Nature-based education is open to ALL K-5 students in 2023-2024.
For more information about enrolling at Holland Heights for Nature-Based Education, email Mr. Derr or contact the office at 494-2750.
If your student lives inside the HPS district, but NOT in the Holland Heights neighborhood, and you want them to attend nature-based Holland Heights, you'll need to fill out the Internal Transfer Form (Spanish)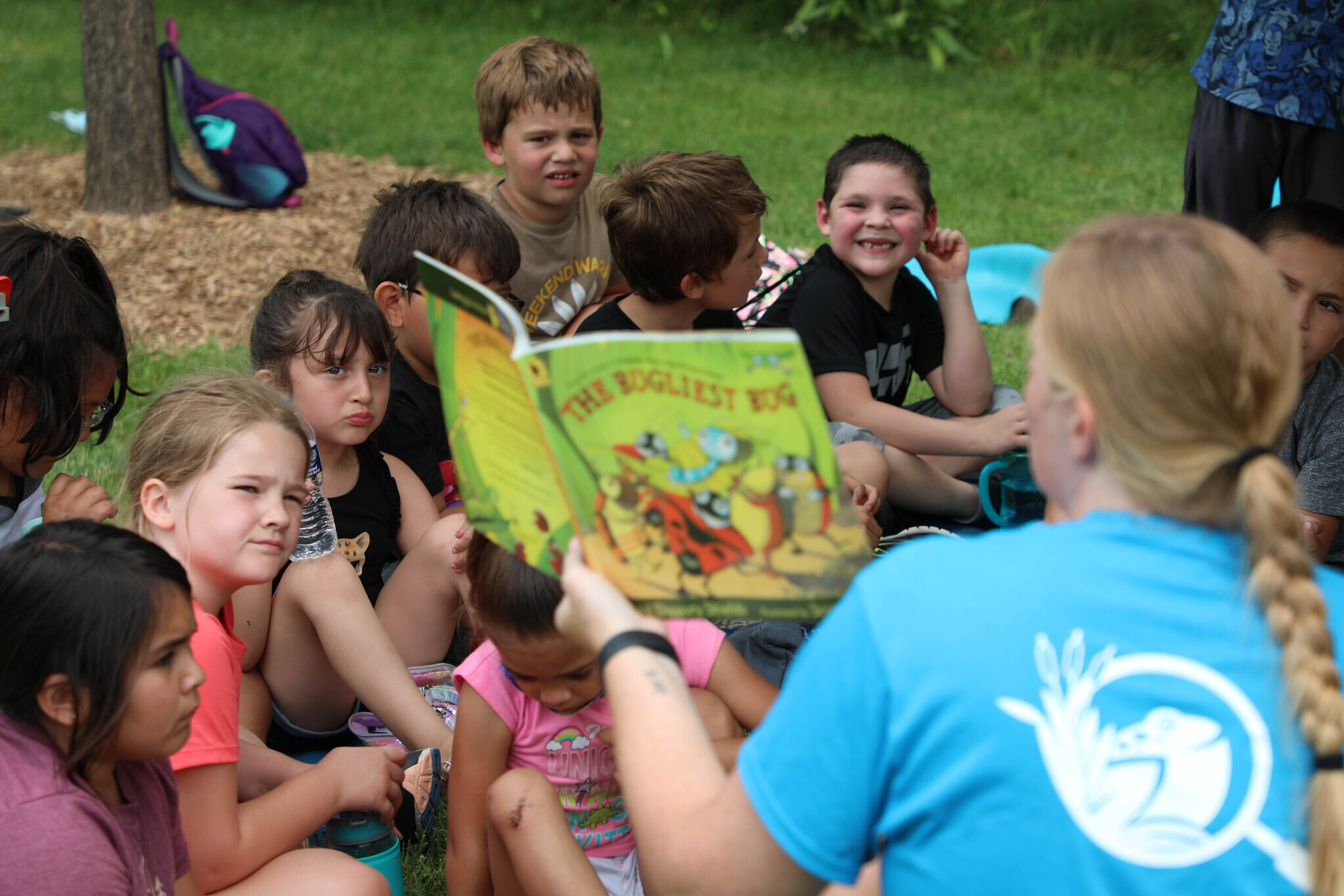 Children and the Outdoors Naturally Go Together!
Nature-based Education focuses on educating the whole child through experience-based and project-based experiences aimed at delivering content, skills, and context to students.
This holistic educational model emphasizes play and learning at a young age and grows and evolves to include hands-on, project and inquiry-based investigations as the student matures.
The focus is on building the executive function, soft skills, and cognitive growth of a child while establishing a connection to the places they live, work, play and learn.
---
Learning, playing and exploring in the outdoors has been directly linked to improved school attendance and achievement.

Unstructured outdoor play has been proven to foster connections with nature for children and youth of all ages, families, and communities.

Outdoor learning experiences at all ages can yield significant benefits for brain development, motor skill development, team building, and an overall increase in comprehension, retention and engagement in curriculum.

Recent research indicates that development of social and emotional skills in these types of environments is a necessary precursor to formal learning objectives among pre kindergarten aged children.
FAQs about Nature-Based Education at Holland Heights:
---
Will my child be outside all day? No.
There will still be meaningful learning that goes on in our classrooms in a traditional way. However, your child will get regular opportunities to learn in settings outside of the class as well.
---
Will my child be missing out because of this program? No.
In fact, this program is meant to enhance your child's learning experience with more REAL activities and opportunities to build knowledge and relationships with your teacher.
---
What if my child is nervous about being outside? No problem.
Just as always, we welcome each child where they are and work to meet their needs and give them a way to voice their feelings and concerns. We also will help you with outdoor clothing and gear if that is an issue!
Why Nature-based Education?
Supports multiple development domains: Nature is important to children's development in every major way—intellectually, emotionally, socially, spiritually and physically (Kellert, 2005).
Supports creativity and problem solving: Studies of children in schoolyards found that children engage in more creative forms of play in the green areas. They also played more cooperatively (Bell and Dyment, 2006). Play in nature is especially important for developing capacities for creativity, problem-solving, and intellectual development (Kellert, 2005).
Enhances cognitive abilities: Proximity to, views of, and daily exposure to natural settings increases children's ability to focus and enhances cognitive abilities (Wells, 2000).
Improves academic performance: Studies in the US show that schools that use outdoor classrooms and other forms of nature-based experiential education support significant student gains in social studies, science, language arts, and math. Students in outdoor science programs improved their science testing scores by 27% (American Institutes for Research, 2005).
Reduces Attention Deficit Disorder (ADD) symptoms: Contact with the natural world can significantly reduce symptoms of attention deficit disorder in children as young as five years old (Kuo and Taylor, 2004).
Increases physical activity: Children who experience school grounds with diverse natural settings are more physically active, more aware of nutrition, more civil to one another and more creative (Bell and Dyment, 2006).
Improves nutrition: Children who grow their own food are more likely to eat fruits and vegetables (Bell & Dyment, 2008) and to show higher levels of knowledge about nutrition (Waliczek, & Zajicek, 2006). They are also more likely to continue healthy eating habits throughout their lives (Morris & Zidenberg-Cherr, 2002).
Improves eyesight: More time spent outdoors is related to reduced rates of nearsightedness, also known as myopia, in children and adolescents (American Academy of Ophthalmology, 2011).
Improves social relations: Children will be smarter, better able to get along with others, healthier and happier when they have regular opportunities for free and unstructured play in the out-of-doors (Burdette and Whitaker, 2005).
Improves self-discipline: Access to green spaces, and even a view of green settings, enhances peace, self-control and self-discipline within inner city youth, and particularly in girls (Taylor, Kuo and Sullivan, 2001).
Reduces stress: Green plants and vistas reduce stress among highly stressed children. Locations with greater number of plants, greener views, and access to natural play areas show more significant results (Wells and Evans, 2003).