HPS N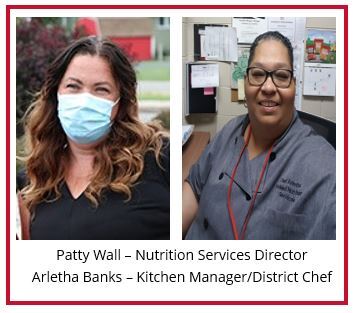 utrition Services provided more than 350,000 lunches and nearly 100,000 breakfasts to our school students as well as to local community programs this year!
Our hard-working staff of 29 employees, serving our 6 district buildings, follow all USDA nutrition guidelines for School Food Service as well as adhering to all State and Local safety regulations.
We strive to make our menus relevant to what the students enjoy eating. Some of our student favorite lunches:
Homemade pepperoni pizza
Asian-fusion noodle/rice bowls,
Oven baked chicken wings
Slow roasted maple bacon ribs - Delicious!
Fall 2023:
Breakfast & Lunch are available at each school. Every meal meets all USDA standards and we work hard to provide a variety of options to choose from. Thank you for choosing HPS Nutrition Services to meet the dietary needs of your student!
All students at HPS will be able to eat breakfast and lunch at NO-COST to them for the 2023-24 school year. This is a result of the Michigan State Legislature passing the Michigan School Meals Program which assists in providing funding for all public school meals.
Every family is asked to complete the Education Benefit Form (select "Apply for Benefit") which helps to provide critical funding for various programs for the entire District. If you need a paper application, please stop by your school office.
Special Dietary Needs
If your student has special dietary needs diagnosed by a licensed physician and the Medical Statement has been completed, we will comply with the request.

If your student does not have a disability, we will do our best to accommodate a reasonable request
Why complete the EBF if all meals are No-Cost?
Education Benefit Form –
This year, all meals are no-cost to all HPS students. However, we still need every household to fill out the Education Benefit Form. This is critical for HPS as it helps determine the amount of money our school district receives from a variety of State & Federal supplemental programs such as Title 1 A, At-Risk (31a), Title II A, E-Rate, and more.
These programs have the potential to offer supports & services for our students such as:
Instructional Supports (staff, supplies, materials, etc.)
Non-instructional services (counseling, social work, health services, etc.)
Professional Learning for staff
Parent & Community engagement supplies & activities
Technology
Pandemic-EBT
We kindly ask that all HPS families complete the EBF (click on "apply for benefit") as soon as possible. to ensure that additional funding for our district is available to meet the needs of every student! All information is kept 100% confidential. Thank you in advance for your help in allowing HPS to maximize the use of available State & Federal funds.
For the 2023-24 School Year, ALL STUDENTS qualify for NO-COST breakfast and lunch each school day. We ask all families to please complete the Education Benefit Form which will ensure continued Federal & State funding for our District. (Click Apply for Benefits to complete this Form - thank you!)
---
Food Service Staff
Director
Secretary
Kristin Thompson
Secretary
Kitchen Manager/District Chef
Arletha Banks
Kitchen Manager/District Chef