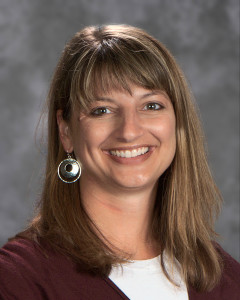 Holland Public Schools recruits, develops and retains team members who demonstrate a high degree of proficiency, community partners who support the vision/mission of the district, and volunteers who assist in the implementation of the district objectives for Human Services:
Ensure that students receive the best quality instruction and service available by highly qualified and certified staff

Strategically invest in employees
Increase the number of volunteers to support the academic, social, physical, and emotional needs of students
Katie Pennington
Associate Superintendent of Human Relations
Click here to see current job openings at HPS and to begin the application process.
If you are interested in applying for employment at Holland Public Schools, you must follow our online application process. Once you submit your online application, it will be available for immediate review online by our administrative staff. Please remember your user id and password, as we will not be able to retrieve those for you. Our Human Resources Office will send you an e-mail verifying receipt of your application.
You must also upload support documents with your application. We require (for teaching and administrative positions) your resume, transcripts, certificates, and letters of recommendation. All other applicants may upload documents including any of the above.
PLEASE DO NOT MAIL OR BRING COPIES OF YOUR APPLICATION, RESUME, TRANSCRIPTS, LETTERS OF RECOMMENDATION OR ADDITIONAL SUPPORT DOCUMENTS TO THE DISTRICT UNLESS REQUESTED.
DUE TO SPACE LIMITATIONS, UNSOLICITED HARD COPY DOCUMENTS ARE DISCARDED.
Thank you for your interest in Holland Public Schools.
We look forward to reviewing your online application and support documents when positions become available. We wish you well in attaining your career goals.
Click here to see current job openings at HPS and to begin the application process.
---
Apply to be a Substitute Teacher, Substitute IA, Substitute Secretary, Food Service, or Playground Supervision
Thank you for your interest in being a substitute in HPS.
Please follow these simple instructions:
Go to www.EDUstaff.org
Click "Start Application" in the top left corner
Complete all steps of the online application
Please send all Questions to EDUStaff at:
After you are registered, please contact Linda Schaap (Monday – Friday from 9 a.m. – 1:00 p.m.) at 616-494-2034 to discuss positions you wish to accept for substitute teaching.
Associate Superintendent
Katie Pennington
Associate Superintendent
Administrative Assistant
LeeAnne Archer
Administrative Assistant
Pupil Accounting
Amanda Ortega
Pupil Accounting
Benefits Specialist
Brian Shingledecker
Benefits Specialist
Substitute Coordinator
Linda Schaap
Substitute Coordinator

Human Resources Office Hours:

Monday-Friday from 8:00 AM - 4:30 PM.
616-494-2025
fax: 616-392-8225