March 29, 2022
Mr. Boerman Named Regional Teacher of the Year by MDE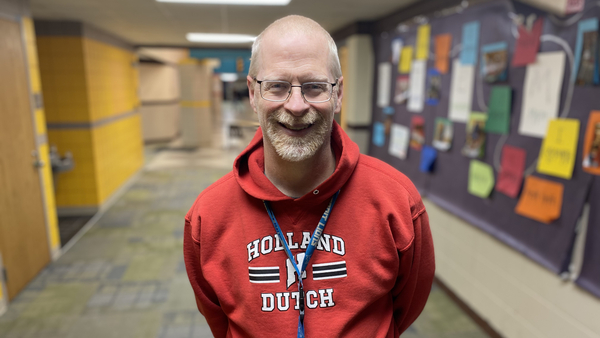 Middle School STEM Teacher Bill Boerman in the running for 2022 Michigan Teacher of the Year Award.
The Michigan Department of Education (MDE) organizes the teacher of the year program to honor and elevate teacher voice. Honorees are able to share their experiences and knowledge as they work with stakeholders to strengthen Michigan's public schools for our students and our educators.
"The Regional Teachers of the Year play key roles in their schools and communities, and also in our statewide effort to improve our schools," said State Superintendent Dr. Michael F. Rice. "They offer insights about the needs of our 1.5 million school children and more than 90,000 educators. We are grateful for their leadership and dedication to the teaching profession and look forward to working with them during the next school year."
This year, MDE received more than 275 nominations for teacher of the year from students, staff, and community members across the state. Those nominees were invited to participate in a multi-part, competitive application process through which the 10 RTOYs were ultimately selected. The 2021-22 honorees were chosen for their dedication to the teaching profession, as evidenced by their commitment to their students and track record of service in the teaching profession. A map of the 10 RTOY regions can be found on the MDE website.
Together, the RTOYs comprise the Michigan Teacher Leadership Advisory Council (MTLAC). The mission of the MTLAC is to bring teacher voice to a wider audience, including direct work with MDE to provide input on proposed policies and initiatives, and help to share valuable information and resources with their colleagues in their respective regions.
The next step in the process is for each RTOY to interview with a panel of statewide education stakeholders, with one individual selected as the 2021-22 Michigan Teacher of the Year (MTOY). The MTOY has a seat at the State Board of Education table as a non-voting member; attends several national conferences with fellow state teachers of the year from other U.S. states and territories, representing the experiences of Michigan's teachers and students; and will be Michigan's candidate for national teacher of the year.
Program expenses for Michigan's teacher of the year program are covered through a generous partnership with the Meemic Foundation.