February 16, 2022
HPS to drop mask mandates.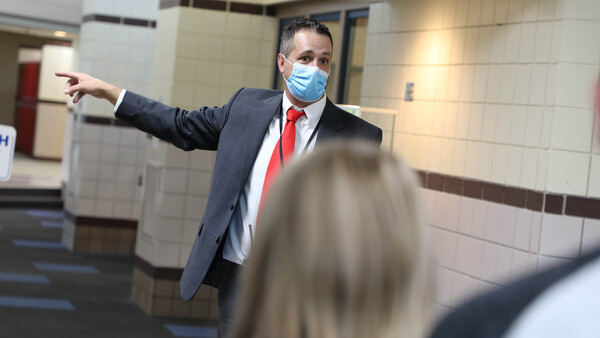 Interim Superintendent Nick Cassidy announces that Holland Public Schools will no longer require masks to be worn during the school day, effective Monday, February 21.
---
Dear HPS Families,
As COVID numbers continue to decline, HPS will be making adjustments to our COVID mitigation strategies. Effective Monday, February 21, Holland Public Schools will move to "mask optional" and will no longer require masks to be worn during the school day.
This change comes as the Michigan Department of Health and Human Services is expiring the Public Health Advisory on Masking in Indoor Public Settings, including school settings. Additionally, the Ottawa County Health Department is considering adjusting their isolation requirements for students who test positive for COVID. The change being considered would reduce the number of school days missed by students.
Masks will still be required on public transportation, including school buses.
We are now approaching the 2 year anniversary of COVID changing our world. The impact it has had on Education and our students has been profound. Our Seniors have not had a normal year of school since they were freshmen. Our 1st-graders have never known school without masks.
HPS has done much during these two years which highlights our dedication to our students and their well-being. We have kept our doors open as much, or more, as any other public school in West Michigan. Our staff has covered classes, taken on extra assignments, sanitized tables, delivered meals, given up their duty-free lunches, and have implemented every covid mitigation strategy that has been asked of them. This has been done during a time when our profession has been under intense pressure and scrutiny.
We have been closely monitoring COVID case counts and also the days that students and staff are out of school due to COVID. With COVID numbers sharply declining, it is time that we start our return to normal and peel back some of the mitigation measures that we have implemented for nearly 2 years.
However, some of our mitigation efforts will remain in place at Holland Public Schools:
Masks will still be available at all of our schools upon student entry.
We will still have hand sanitizer available
We will continue with regular cleaning of shared surfaces.
We will also continue to ask that all individuals consistently self-monitor and test if they develop symptoms.
As I have shared repeatedly, we will do everything we can to keep staff and students in the building and our doors open to serve our community. This has been the driving force to continuing masking when the order was dropped in early January. With Omicron spreading quickly and larger isolation periods for students in schools without universal masking, it was not the time to remove this mitigation strategy. At the same time, we have known that these protective measures do have some negative impacts on our staff and students.
While case numbers remain higher than we would like, they continue to fall. All school-aged children and staff have had the opportunity to receive vaccinations and boosters. A large portion of our community has developed natural immunity or resistance. There are now treatments and therapeutics available which can greatly reduce the negative effects of Covid. Last week COVID cases were down 47% in Ottawa County and fell another 45% this week. There was a 59% reduction in cases among school-age kids last week and another 34% decrease this week. 63.5% of Ottawa County residents aged 5 and older have been vaccinated.
As we prepare for this gradual transition back to normal, I think it is imperative to model and teach that negative comments or judgment towards an individual's choice to mask, or not, will not be tolerated. There will be individuals in our school community who will have increased anxiety with masks no longer being required.
We remain steadfast in our commitment to our students and staff to provide safe, secure, and predictable learning environments. Thank you for your continued patience and support.
Nick Cassidy


Interim Superintendent - Holland Public Schools