August 28, 2023
Jefferson Back to School News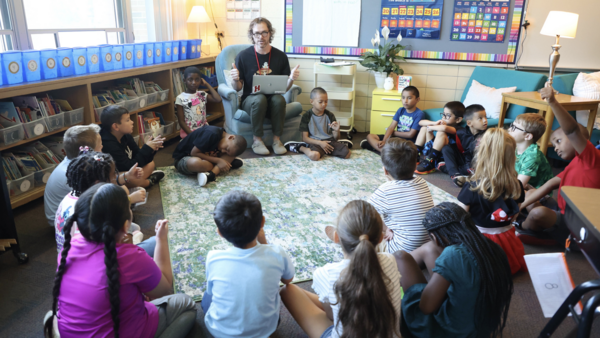 Dear Jefferson Families,
Welcome back to school! Our Jefferson students ROCKED the first week of school– pushing through the hot weather to make the first three days of this year the best ever!!!
This year we are welcoming several new classroom teachers and support staff to our Jefferson Family. Kendall Harmening is our new first grade teacher. Kendall has many years of experience in the classroom and is excited to be teaching in Holland! We have two new second grade teachers, Michelle Bruinsma and Nick Snarski. Michelle is new to HPS, but also has many years of experience. Nick has worked for HPS for multiple years and is now moving into a classroom teacher position. Maribeth Slusher is joining us as a third grade teacher. Maribeth has many years as a classroom teacher position, and is also very excited to be teaching for HPS. Please help welcome these new faces!!!
Besides new teachers starting at Jefferson, we are also starting up our Books and Games Morning Program. It is exciting to be able to offer this before school programming to support our Jefferson families! Read more about the program below.
As the year begins we need help reminding our Jefferson students about school expectations. Please review our Jefferson POWER expectations with your child(ren). POWER stands for Pride, Own Your Actions, Wise Choices, Engaged, and Respect. Can your child(ren) explain how to have POWER in each school setting (bathroom, playground, cafeteria, etc.)?
Please contact our administrative team with any questions or concerns! Welcome to the 2023 - 2024 school year!!!
Warmly,
Sara Folkert, Principal
Jennifer Heinritz, Assistant Principal
Books and Games
This year Jefferson has a morning Books and Games Morning Program. The program is held each day from 7:30 AM until the beginning of the school day. During this hour of time students play board games, read, work on homework, or do art activities under the supervision of Jefferson staff. Students attending the club are also able to eat a school breakfast.
Arriving at Books and Games:
Students must be dropped off between 7:30 - 7:45 AM. Students arriving after this time frame will not be able to participate for the day and will need to stay with a parent or guardian until 8:15 when the playground has supervision.
Students MUST be signed up at the following link before attending the club: Books and Games Sign-up.
Donations: A HUGE SHOUT OUT to Central Wesleyan for donating items to our Books and Games program! We are still looking for donations of new or gently used board games, as well as fun art supplies! Please bring your donations to the office or send them with your child to the morning program. Thanks!
Morning Drop-off for ALL Students
Morning Drop-Off begins at 8:15 AM. There is no adult supervision before 8:15 AM. Students may not be on the playground before this time.
When dropping off students:
Pull your vehicle all of the way forward to the curve (by the playground gate) to unload your student(s).
After your student(s) has exited your vehicle, please pull forward, out of the way, so that the next car may unload.
Students may only be dropped at the curb by the playground. Students may not be dropped off in the outer lane of the parking lot, on the street, or in the front of the building.
Please park in the parking lot if you need to stay longer or get out of your car with your child. This will help keep traffic moving!
If you park and walk up to the playground, please say good-bye at the gate. Parents are not allowed to be on the playground during school hours.
Dropping students on the

VanRaalte

Avenue side of the building is not allowed due to traffic and lack of supervision.
Afternoon Pick Up for TK and Kindergarten Students
Transitional Kindergarten (TK) and Kindergarten students should be picked up at the West doors on

VanRaalte

Avenue, Door #13.
Siblings of TK and Kindergarten students will also picked up at door #13.
Please park in the angled parking on

VanRaalte

and walk up to the classroom teacher to pick-up your child.
Afternoon Pick Up for 1st - 5th grade Students
1st - 5th graders will be picked up in the parking lot. There is a "drive" lane and a "pick-up" lane. Students may only be picked up at the curb, not in the "drive" lane.
No parking in the pick up or drive lanes. We are trying to keep traffic moving quickly and safely for everyone.
Sibling groups will be picked up at the youngest child's waiting place. This will allow parents to only have to make one stop.
Please do not motion students across the traffic lanes to the parking lot, or motion students into the traffic lanes to get into your vehicle. We want to keep our students safe!
You may park in the parking lot and walk-up to the building to get your student. If you chose to park, then please only cross at the cross-walk.
Please do not motion students across 32nd Street to get into your car. This is very dangerous.
Thank you for following our procedures to help ensure the safety of all!
Jefferson Power H School Store
The Jefferson Power H Store kicked-off last year and has been a BIG hit with students!!! The Power H Store is a school store where students can spend the Power H bucks they earn for following our school-wide POWER expectations. Students visit the store on a rotating basis about every two weeks. This year we would like to invite volunteers to run the store! Volunteer blocks are broken into 2-3 hour increments. Volunteers must have a volunteer form on file with HPS. Please follow the sign-up link to volunteer: Power H Store Volunteer Sign-up
Our Jefferson students love the wide variety of items in the Power H Store!! We are so thankful for the donations we have received over the past year. Please consider donating gently used or new stuffed animals and games, bags of suckers or other small wrapped candy, or visit our Amazon Wish List.
Early Release on Wednesdays
This year students will be released from school 60 minutes early in order to allow teachers a better opportunity for collaborative professional development. Release time on Wednesdays is 2:36 pm. Thank you for your support with this important initiative!!!