August 10, 2022
Check your Mailbox!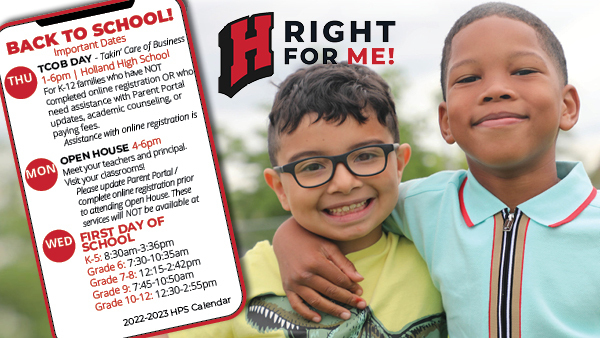 Did you get the Summer Mailing in your mailbox this week?
AUGUST 18 | TCOB DAY - Takin' Care of Business
1-6pm | Holland High School
For K-12 families who have NOT completed online registration OR who need assistance with Parent Portal updates, academic counseling, or paying fees.
Assistance with online registration is also available during summer office hours at Holland High & District Admin Building.
AUGUST 22 | OPEN HOUSE 4-6pm
Meet your teachers and principal.
Visit your classrooms!
Please update Parent Portal / complete online registration prior to attending Open House. These services will NOT be available at Open House.
AUGUST 24 | FIRST DAY OF SCHOOL
K-5: 8:30am-3:36pm
Grade 6: 7:30-10:35am
Grade 7-8: 12:15-2:42pm
Grade 9: 7:45-10:50am
Grade 10-12: 12:30-2:55pm
SEPTEMBE 2-5| HOLIDAY BREAK
---
Every Student Succeeds Act
ESSA (signed into law in Dec. 2015) is considered the nation's general education law. ESSA requires Title 1 Schools engage families by developing strong home school connections. Families will learn how to increase support for their student(s) in school and at home through school family nights. Family engagement will be focused around literacy and math.
Title 1 buildings in Holland Public Schools include Jefferson, West, Holland Heights, Holland Language Academy, and Holland Middle. All staff in these buildings are highly qualified and meet the ESSA standards.
Personal Curriculum
School districts in Michigan must inform parents that they will develop a Personal Curriculum (PC) for any student at the request of the student's parent or guardian or, if the student is at least 18 years old, at the student's request. PC can also be requested by emancipated minor, teacher, or school conselor. PC is a process to modify specific credit requirements and/or content expectations based on the individual learning needs of a student. It is designed to serve students who want to accelerate or go beyond the Michigan Merit Curriculum (MMC) requirements and students who need to individualize learning requirements to meet the MMC requirements.
Family Educational Right to Privacy
The Family Educational Rights and Privacy Act (FERPA) is a federal law which stipulates the maintenance and disclosure of students' educational records in public schools. Every parent (or student who is 18 or older) has these rights under FERPA:
to inspect and review their student's educational recordsto request amendment of their student's educational records – in order to correct inaccurate or misleading information
to consent to the disclosure of personally identifiable information in the student's educational records, except to the extent that disclosure is allowed by law without consent
to obtain a copy of the district's FERPA policy
to register any complaints regarding the district's FERPA procedures with the U.S. Department of Education
In compliance with federal regulations, the Holland Public School District has established the following guidelines concerning student records:
Each student's records will be kept in a confidential file located at the student's school office. The information in a student's record file will be available for review only by the parents or legal guardian of a student, adult student (18 years or older), and those designated by federal law or district regulations. A parent, guardian or adult student has the right to request a change or addition to a student's records and to either obtain a hearing with district officials or file a complaint with the U.S. Office of Education if not satisfied with the accuracy of the records or with the district's compliance with the Federal Education Rights and Privacy Act.
This serves as your HPS public notice to students and their parents of the districts intent to make available, upon request, certain information known as "directory information." The Board designates as student "directory information" the following: a student's name, address, telephone number, date and place of birth, photograph, major field of study, participation in officially recognized activities and sports, height and weight, if a member of an athletic team, dates of attendance, date of graduation, awards received, or any other information which would not generally be considered harmful or an invasion of privacy, if disclosed.
Parents, guardians and adult students may refuse to allow the district to disclose any or all of such "directory information" upon written notification to the district within 30 days after receipt of this public notice. Parents, guardians and adult students may also request that the district does not release information to military recruiters without prior written consent. No liability shall attach to any member, officer or employee of this district specifically as a consequence of permitting access or furnishing student records in accordance with the school dstrict's policy and regulations.
A school official is a person employed by the Board as an administrator, supervisor, teacher/instructor (including substitutes), or support staff member (including health or medical staff and law enforcement unit personnel); and a person serving on the Board. The Board further designates the following individuals and entities as "school officials" for the purpose of FERPA:
persons or companies with whom the Board has contracted to perform a specific task (such as an attorney, auditor, insurance representative, or medical consultant);
contractors, consultants, volunteers, or other parties to whom the Board has outsourced a service or function otherwise performed by the Board employees (e.g. a therapist, authorized information technology (IT) staff, and approved online educational service providers).
The above-identified outside parties must (a) perform institutional services or functions for which the Board would otherwise use its employees, (b) be under the direct control of the Board with respect to the use and maintenance of education records, and (c) be subject to the requirements of 34 C.F.R. 99.33(a) governing the use and re-disclosure of PII from education records.
Health, Safety & Security
The Safety of Everyone in our Schools is Our Top Priority – and Everyone's Responsibility.
We require a completed "volunteer form" from every classroom visitor and guest during the school day. If you'd like to volunteer, help out in your child's class, or help with a field trip, you'll need to fill out a volunteer form. The form is available in every school office and on our district website.
A school day safety procedure is in place at every school building in Holland Public Schools. We ask that parents and guests wait in the main school office for their student and not walk down the hall to the classroom. This saves instructional time and improves building security considerably.
HPS also uses security cameras to videotape activity where there is no expectation of privacy (hallways, lobbies, parking lots, cafeterias, etc.). The security cameras are not monitored by school officials all of the time, but the video recordings may be identified and used later as deemed appropriate.
Chicken Pox Waiver Information
This is a reminder to families who have waived the vaccine requirements. If a communicable disease breaks out, your child will be excluded from school for at least 21 days per direction from the Ottawa County Health Department.
Insect and Pest Management
Holland Public Schools has adopted an Integrated Pest Management program. Inherent with this are the District's efforts to reduce pesticide use as much as possible. While it may occasionally be necessary to apply a pesticide, this program does not rely on routine pesticide applications to resolve problems. We use various techniques such as habitat alteration, sanitation, mechanical means, exclusion, etc. to prevent pest from becoming a problem. As required by Michigan law, you will receive advanced notice of non-emergency application of a pesticide (insecticide, fungicide, or herbicide), other than bait or gel formulation, which is made to the school, school grounds, or buildings. This advance notice of a pesticide application will be given 48 hours before the application by the following two methods: 1) Posting at the primary entrances to your child's school. The entrances that will be posted are the main entrance and those that have a sidewalk that leads directly to a parking lot. 2) Posting in the common area located by the main office of the School. Please note that notification is not given for use of sanitizers, germicides, disinfectants or anti-microbial cleaners.
In certain emergencies, such as an infestation of stinging insects, pesticides may be applied without prior notice to prevent injury to students, but you will be promptly notified following any such application, via the two posting methods identified (above).
You may review the school's Integrated Pest Management program and records of any pesticide application upon request by contacting our Facilities Department at 616-494-2960 or email pbrandl@hollandpublicschools.org.
Parents or guardians of children attending the school are also entitled to receive the advance notice of a pesticide application, other than a bait or gel formulation, by first class United States mail postmarked at least 3 days before the application, if they so request. If you would like to be notified by mail please contact the Facilities Department by emailing pbrandl@hollandpublicschools.org. Please provide your name, mailing address and what school(s) your child or children attend and they will put your name on the advance notification by US Mail list.
Asbestos and Lead Management Plan
In compliance with the U.S. Environmental Protection Agency Asbestos Hazard Emergency Response Act, in the fall of 1988, Holland Public Schools had inspections performed in each of the district's school buildings for asbestos and lead containing building materials. The inspection findings and management plans have been on file in each administrative office since that time.
All work occurring in our schools since 1988 has been performed in accordance with federal and state regulations. Anyone may view our asbestos and lead management plans during normal school hours. Please call the Facilities Department at 494-2960 if you have any questions.
HPS Policies, Reports and Guidelines available at www.hollandpublicschoosl.org
Please click on the "Policies" link on our District website to review district policies. The student handbook contains important information, learning/safety/health expectations.
Please note video surveillance and electronic monitoring in the student handbook. Please click on the "Academics" tab to review the AER Report, also available at each building.
Anti-Bullying • Student Safety Data (SDS) • Annual Education Report (AER) • HPS Instructional Technology Use
Free & Reduced Price School Meals Applications are available online.
Questions? Contact Patricia Wall, Nutrition Services 494-2245.
HPS Non-Discrimination Statement
Holland Public Schools does not discriminate on the basis of race, color, national origin, sex (including sexual orientation or transgender identity), disability, age, religion, height, weight, marital or family status military status, ancestry, genetic information, or any other legally protected category. Everyone is welcome at our school events as well. Call 494-2005 and we will make reasonable accommodations for disabled persons. Inquiries regarding our district's non-discrimination policies should be directed to: Anna Clawson, Assistant Director of Student Services, Holland Public Schools, 320 W. 24th St., Holland, MI 49423 (616) 494-2025.