February 23, 2022
Special Lunch for Black History Month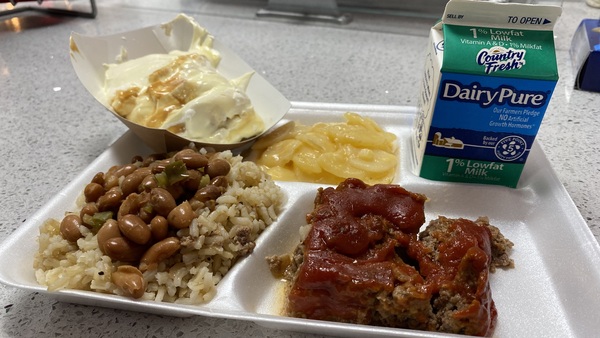 Students at HMS and HHS enjoy a Soul Food-inspired menu for lunch!
Special Menu:
Home-style Meatloaf
Season Red Beans & Rice, Cheesy Potatoes, and Banana Pudding
Soul Food how it became:
by Chef Millie Peartree and Felicia Lalomia, Authors, Delish Magazine
Trying to differentiate soul food from Southern food shouldn't be complicated. While not all Southern food is considered soul food, all soul food is definitely Southern. Soul food is an ethnic cuisine traditionally prepared and eaten by African- Americans in the Southern United States. In the late 19th century, the Black Church became a gathering place for the Black community and impacted the development of what is now considered soul food. Particularly in rural areas, foods like fried chicken, fried fish, sweet potato pie, red drinks, black-eyed peas, and more were served during Emancipation celebrations and church gatherings. In the 20th century, more than six million Southern Black people decided to leave due to poor economic conditions and intense racial oppression. From 1916 to 1970, waves of people moved from their homes, a massive relocation now called "The Great Migration" They brought their culinary traditions with them and preparing these foods helped build new communities and served as a reminder of home.
During the Transatlantic Slave Trade, enslaved African people were given meager food rations that were low in quality and nutritional value. We shouldn't have to take the brunt of a stigma that was brought to our front door.

Did you know fried chicken came to America in the 1900s by Scottish immigrants? Black folks just spiced it up and paired it with now-famous collard greens. Collard greens—one of
the oldest members of the cabbage family—are also deep in our history and date back to prehistoric times. The ancient Greeks grew kale and collards, although they
made no distinction between them. But we did! (Fun Fact: In 2011, collards became the official vegetable of South Carolina.

Food tells stories and sometimes the history makes you appreciate a certain cuisine a little more. Happy eating!!!!!