February 10, 2022
Black History Month | Special Lunch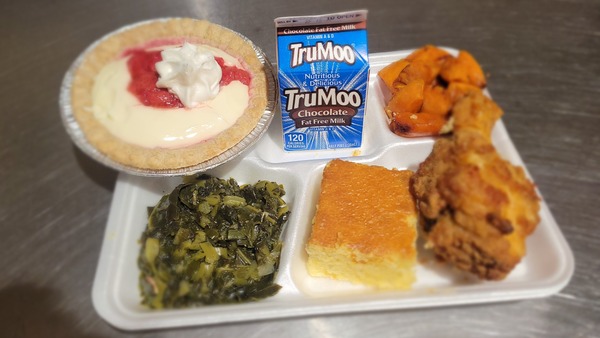 Students at HMS and HHS enjoy a Soul Food-inspired menu for lunch!
Celebrating Black History Menu
WG Oven Fried Chicken

Season Collard Greens

Oven Roasted Sweet Potatoes

WG Cornbread

Strawberry Tartlets w/Whipped Topping
Where Soul Food Really Comes From
Adrian E. Miller, James Beard Award winning author
It's really the food of the interior Deep South, that landlocked area of mainly Georgia, Mississippi, Alabama—essentially what used to be called the Cotton Belt and the Black Belt. It's the food of that area that has been transported across the United States by African-American migrants who left during the Great Migration.
Why is soul food called Soul Food?
Soul Food derived from prized southern dishes during the American slavery era. Soul Food was mostly known as Southern or comfort food, and is now the foundation for bringing back memories of family dinners and special celebrations. This method of cooking also introduced the foundation from which many popular dishes are made today. Soul food tends to be more intense in terms of flavors and seasoning; it's going to be sweeter, spicier, saltier.
What people should know about Soul Food
When people hear "soul food" some just think, really unhealthy and fried. And there's some justification to that. Please be encouraged to reassess soul food, because if we look at what nutritionists are telling us to eat these days, it's leafy greens, sweet potatoes, more fish, more legumes. All of those things are the building blocks of soul food.