January 13, 2022
UPDATE: HPS responds to changes in COVID protocols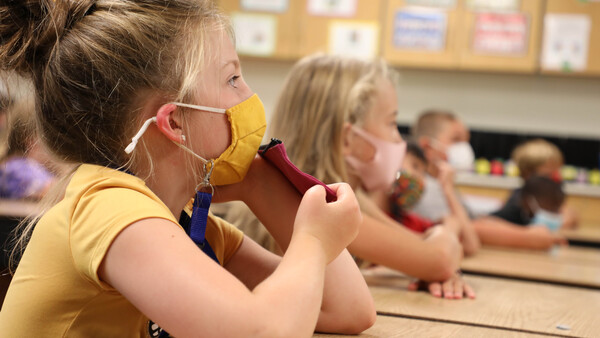 Contact-tracing dropped, Quarantine and Isolation timelines reduced, Masks still required at HPS.
---
As you may have heard, the Ottawa County Health Department has adopted the CDC guidelines which will impact the way in which we are addressing Covid cases in our schools. While some of the changes will have an impact on our current operations, most will not change our approach. The major changes are described below and the complete order from the Ottawa County Department can be found here.
It has become increasingly apparent that schools cannot be the one of the only institutions who are implementing all of the covid mitigation measures and hope for decreased community spread. At this time, everyone needs to act as if they are a close contact and regularly check for symptoms and stay home and test when appropriate.
We have reached the highest case rates of the pandemic and have experienced an 83% increase in cases in the last weeked with a 105% increase among students. The positivity rate is now at a pandemic high of 34.8%, while the threshold for being deemed "high transmission" is 8%.
Contact Tracing will no longer be a requirement. We will be determining what is our best approach, but this will be a significant change in terms of the expectations that were placed on staff and the communication we have had with families regarding exposures. At this time we will still be recording cases and looking for patterns among student groups, but the intensive contact tracing and parent communication will stop.
Here is the explanation from the health department-
"It is evident that the number of cases of COVID-19 in all settings have exceeded the case investigation and contact tracing capacity of the public health system and its partners; however, household transmission of COVID-19 is common. Because risk of transmission is as high as 53% within households, household members who are not sick but have been exposed to COVID-19 pose a higher risk to the community if they return to public activities before a quarantine period has been completed. Therefore, this Order prioritizes quarantine for household close contacts."
Isolation and Quarantine Timelines have been reduced to 5 days in a universally masked district if conditions are met. For those who test positive for Covid, they will be required to isolate at home. Isolation will be 5 days from the onset of symptoms and the student/staff member can return to school on day 6 if they are fever free and their symptoms are resolving.
They must also agree to wear an appropriate, well fitted mask from days 6-10. Household close contacts, if unvaccinated, will need to quarantine for 5 days from the end of the household Covid positives isolation period and can return to school on day 6 while wearing an appropriate, well fitted mask for days 6-10. Students who are sent home with symptoms will need to be quarantined for 10 days unless they receive a negative COVID-19 PCR test (not a home rapid test) or a note from their Health Care Provider stating their illness is not Covid related. Sports will require a 10 day quarantine and isolation period as athletes do not consistently wear masks during practices and competitions.
We will continue to require masks to be worn during the school day as this allows the possibility for our staff and students to return to school earlier than if we were mask optional. We will continue to monitor metrics from other districts who are not requiring masks and will make decisions based on what will keep our staff and students in school.
We continue to monitor covid numbers and staffing and are taking it day-by-day right now. We are committed to in-person learning and know that remote learning is not best for kids. We will avoid remote learning, if at all possible, but we need to be prepared for this if we cannot adequately staff our classrooms. We also know that if we are forced to go remote it most likely would not be for just a day. We need to balance that with the fact that we are already at 5 "snow days" and there has been no discussion around leniency on snow days allotted by the state.
Please know that our staff is committed to serving our students and this community.
Nick Cassidy,
Interim Superintendent | Holland Public Schools