December 1, 2021
Change in Leadership at Holland Public Schools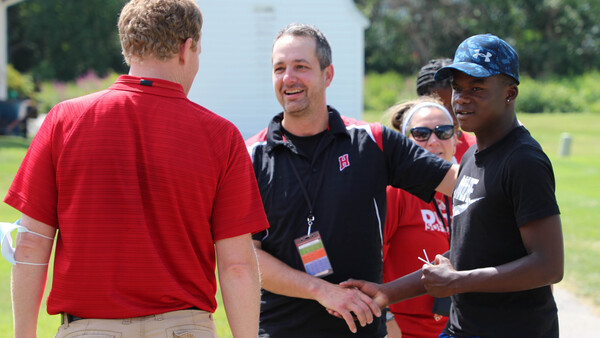 Board of Education announces separation with Shanie Keelean.
HMS Principal Nick Cassidy named Interim Superintendent.
---
During a special meeting of the Board of Education on Tuesday, November 30, 2021, trustees announced a mutual separation agreement has been reached with Superintendent Shanie Keelean.
Mrs. Keelean was hired as Superintendent of Holland Public Schools on July 1, 2021 after an intense search process following the retirement of long-time Superintendent Brian Davis.
"Mrs. Keelean's talents, gifts and approach ultimately are not in alignment with what the Board envisioned to help further the District's priorities at this time," said Board President Phil Meyer on behalf of the Board. "This does not diminish Mrs. Keelean's educational experience and talents."
The full statement from the Board of Education regarding the separation with Mrs. Keelean can be read below.
Trustees were clear there had been no professional misconduct or impropriety and that the separation was a mutual agreement with Mrs. Keelean. Members of the Board of Education whole-heartedly wish her success in her next opportunity and thank Mrs. Keelean for her service to Holland Public Schools.
The separation agreement takes effect immediately.
HMS Principal Nick Cassidy has been named Interim Superintendent until a permanent Superintendent is hired.
"Mr. Cassidy's responsibility will be to hold us steady, build confidence, to provide guidance for the District, dealing with the day-to-day responsibilities of educating our students, and enabling our staff to be most productive," stated President Meyer.
An introduction of Interim Superintendent Cassidy from the Board of Education can be read below.
The new search for a permanent Superintendent will likely last through the end of the current school year. At that time Mr. Cassidy will return to his responsibilities as Principal of Holland Middle School.
---
The following statement was read during the special meeting of the Board of Education by President Phil Meyer on behalf of the Board:
November 30, 2021

Following the retirement of our former long-time Superintendent, the Board of Education went through an intense search process to identify and select Shanie Keelean as our Superintendent, with her term beginning in July of this year.

As the former Superintendent had established patterns, policies, and expectations throughout the community and within Holland Public Schools, the Board of Education was excited to build on our District's successes with a fresh voice and new ideas with Mrs. Keelean, an experienced educator with excellent credentials. The Board was excited about her intelligence, energy, and hard work and found her to be personable and well-prepared to readily and with knowledge discuss matters of educational substance. Her prior experience with diverse schools and a diverse range of students and families with varying needs was a key attraction and is certainly a strength she brings to her daily work. These traits were evident from the start as were her abilities to identify issues requiring attention and to collect and analyze data.

Collectively, we recognize that change is difficult and that Mrs. Keelean's talents, gifts and approach ultimately are not in alignment with what the Board envisioned to help further the District's priorities at this time. This does not diminish Mrs. Keelean's educational experience and talents. Mrs. Keelean and the Board have reached a mutual separation agreement, effective November 30, 2021. We also want to be clear that there has been no professional misconduct or impropriety and our separation was a mutual agreement.

The Board of Education and Holland Public Schools whole heartedly wish Mrs. Keelean success in her next educational opportunity. We wish her the best and thank her for her service to our District.

***************

In order to move forward, the Board has decided to name an Interim Superintendent whose responsibility will be to hold us steady, build confidence and provide guidance for the District dealing with the day-to-day responsibilities of educating our students and enabling our staff to be most productive, all while the Board undertakes anew the process of selecting a new Superintendent.

We are excited to announce that Nick Cassidy, currently our Principal at Holland Middle School, has accepted this call as our Interim Superintendent for a period expected to last until a permanent Superintendent is hired- anticipated to last through the end of the current school year- at which time Mr. Cassidy will return to his current responsibilities at the Middle School.

Mr. Cassidy has a Bachelor of Arts in Education from Saginaw Valley State University (minors in Social Studies and Language Arts), and a Masters in Educational Leadership and an Educational Specialist Degree in Educational Leadership and Administration from Georgia State University. In addition to teaching Middle School Social Studies, Mr. Cassidy has five years of experience as an Assistant Principal before returning to Michigan in 2013 as Principal of the Holland East K-7.

Since 2018, Mr. Cassidy has served as principal of Holland Middle School. Throughout these years, Mr. Cassidy has received accolades for his efforts to provide strong leadership, build strong building culture, engaged families, and a strong academic environment. He has also engaged with numerous community partners on behalf of his School and District. We welcome Mr. Cassidy into his new role and responsibilities and thank him for taking on this important responsibility.

Philip L. Meyer, President

Board of Education

School District of the City of Holland