October 18, 2021
Generous Musicians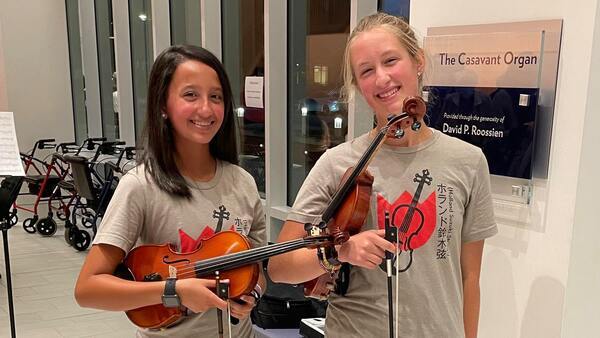 Congratulations to Eleanor McMullen and Leila Sundararajan and THANK YOU for your hard work and dedication, and your generosity to the Holland Orchestras.
The Holland Orchestras Applaud the generosity of two of their own.
8th Grader Leila Sundararajan and 9th Grader Eleanor McMullen recently presented the Holland Orchestras a check to put towards the support of the Holland Public Schools Orchestra program. The two violinists who are also part of the Holland Suzuki Program performed as a duo this summer as street performers in downtown Holland Mi. They donated their entire earnings to the orchestra program.
Both Leila and Eleanor are strong members of their ensembles, have attended Blue Lake Fine Arts Camp over the summer, and have superior ratings at the Michigan School Band and Orchestra Association Solo and Ensemble Festival. Eleanor McMullen was recognized as one of the outstanding middle school violin soloists in the State of Michigan in the 2021 solo ensemble festival.