August 21, 2021
HOLLAND PUBLIC SCHOOLS RELEASES  COVID PROTOCOLS FOR START OF SCHOOL YEAR.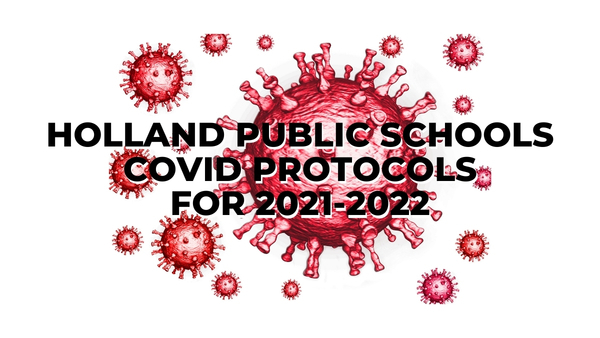 Vaccines to be encouraged. Face coverings will be required.
---
Holland Public Schools provides all students and staff with powerful learning opportunities in safe, secure, and predictable environments. While the last 19-months have been anything but predictable, we do know there are protocols we can put in place that will help keep our students healthy - and in school.
To start the 2021-2022 school year:
Holland Public School will encourage EVERYONE who can to receive a COVID vaccination.
A face covering WILL BE REQUIRED for all staff/students/visitors when inside an HPS building and while riding an HPS bus/transportation regardless of vaccination status.
Meals will be eaten in classrooms OR in cafeterias with assigned seating.
Social distancing of 6-feet will be encouraged when possible.
Playground cohorting practices will continue this year.
Proper hand-washing and sanitizing will be encouraged by staff.
Self-screening for symptoms will be required for anyone entering an HPS building. (Please see the district website for symptoms for which to screen.)
Anyone showing symptoms will be encouraged to get tested for COVID 19, and asked not to return to school until symptoms have improved and remain fever free for 24-hours.
In the event of a student/staff positive test result, close contacts will be notified and asked to quarantine IF they are experiencing symptoms.
A quarantine will be ordered in the event of a COVID outbreak (defined as two or more associated cases in one setting).
Volunteers and visitors are encouraged to be vaccinated and will be required to follow district guidelines in HPS buildings.
Field trips will be limited until further notice.
Participants and fans will follow the requirements of MHSAA for Indoor Athletic events at HPS facilities (practices and competitions).
These protocols for the coming school year were put in place after hearing the latest information, guidelines, and strong recommendations from local and state public health officials. We will continue to work with these public health experts to monitor the spread of COVID-19 in the area and to establish best practices to provide healthy learning environments.
HPS Superintendent Shanie J. Keelean says, "Starting the school year with a requirement in place for everyone to wear a mask is the best way to ensure that our students and staff stay in school without getting contracting COVID or being sent home due to a quarantine. Our hope is that we will be able to take the masks off soon."