District COVID-19 Response
HPS' COVID-19 Preparedness and Response Plan:
HPS' Continuity of Learning and Covid-19 Respose Plan:
A weekly

COVID

-19 dashboard will only be published during the summer months if there are new cases or quarantines to report among students participating in summer school activities.
Health Department COVID Information:
This document includes this information and more:
COVID-19 School Checklist
What Happens When Someone at School Gets COVID-19?
When a Student/Staff Person Should Stay Home and Will Be Sent Home
COVID-19 Fact Sheet for School and Parent Use
PARENT COVID-19 Information:
Face-to-Face Instruction
(Covid-19 SYMPTOMS)
Any ONE of these:

OR Any TWO of these:

Cough

Shortness of breath/difficulty breathing

Loss of taste or smell

Fever of ≥100.4 or feeling feverish

Chills

Muscle aches

Sore throat

Diarrhea, vomiting, abdominal pain

Congestion or runny nose

Headache

Fatigue
If your child is showing any of the symptom above, please notify the school and keep the student home from school. Self-isolate at home and contact your child's medical provider for direction and possible COVID-19 testing.
---
Online Learning
If you have connection issues with your device, please email our HelpDesk team at HL1to1@oaisd.org.
Please be as descriptive as possible when describing your issue so they can begin working on a fix for your problem.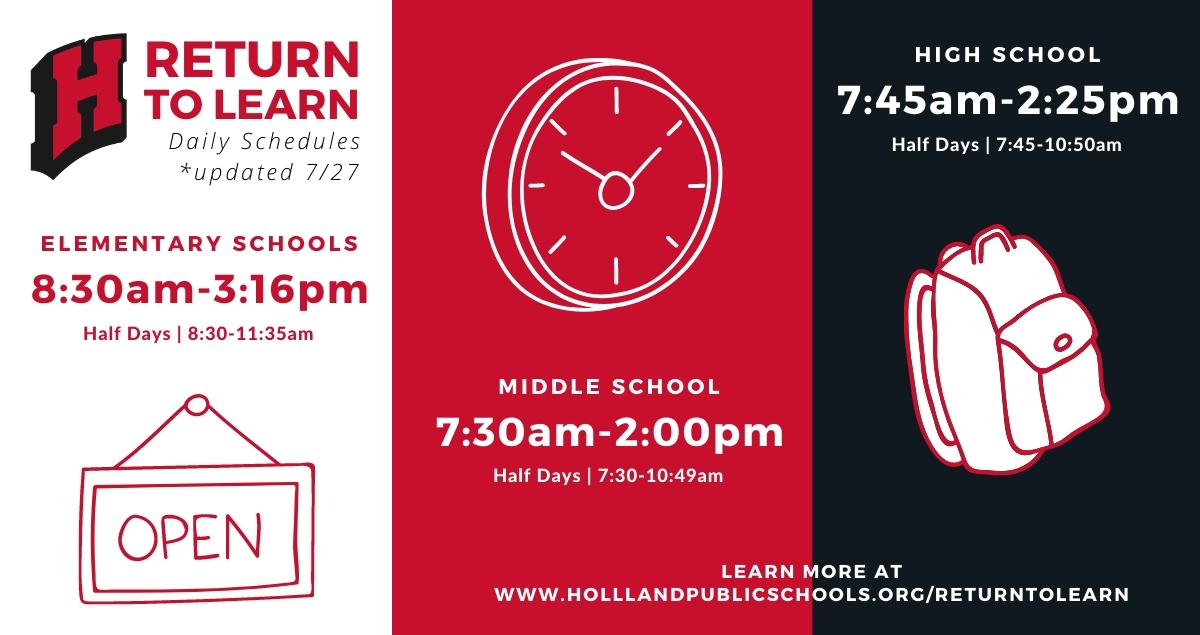 Return to Learn - Daily schedules (updated 7/27)
Elementary Schools: 8:30am-3:16pm | Half Days: 8:30-11:35am
Middle School: 7:30am-2pm | Half Days: 7:30-10:49am
High School: 7:45am-2:25pm | Half Days: 7:45-10:50am
Return to Learn Virtual Town Hall Meetings
Holland Public School hosted a series of meetings to discuss the district's Return To Learn Options: Face-to-Face Instruction OR Online Learning.
July 21, 2020 | Return to Learn Highlights
July 21, 2020
HPS Families,
More than 125 days have passed since our classrooms and schools have seen students. While I know we all enjoy summer break, I cannot wait to see our students and staff return to school in just five weeks!
All summer, we have had over 100 staff, administrators, parents, and other volunteers working on how we will get back to school in the fall. After Governor Whitmer released her Return to School Roadmap a few weeks ago, these committed individuals have been reviewing the required and strongly recommended protocols for returning to school and putting plans together for Holland Public Schools' Return to Learn plan.
While there is no perfect plan, our intent is to do as much as possible, practical, feasible, and sustainable with the safety of our staff and students as a top priority. As HPS employees, our focus has been on building relationships, social-emotional learning, along with academic instruction and feedback. We also recognize the importance of a consistent learning management system that improves communication and feedback on student performance. Finally, our plans will include multiple options for parents and students to engage in learning with us. We have left the medical science of COVID-19 to our health experts and will follow ALL of their recommendations.
We also listened to your feedback on parent surveys. We've worked to accommodate as many of the suggestions possible where themes and patterns emerged. Here are the current highlights of our RETURN TO LEARN plan:
Full-day, face-to-face instruction will be available for ALL students starting Wednesday, August 26 with academic support, tutoring and mentoring, etc. (assuming that we are still in Phase 4-6)
We are finalizing new schedules at each of our schools to accommodate the best hygiene, safety, and social distancing protocols by creating cohorts of students. These schedules provide full-day options for GSRP, ECSE, TK-8 and blended learning options for students in grades 9-12 where appropriate. Details surrounding these schedules are set to be finalized July 27.
All students will be required to wear a mask while in hallways and other common areas, including busses. (HPS will provide each student with a mask to wear while at school. Students are also able to wear/bring their own masks from home in accordance with our student code of conduct and dress code guidelines.)
Transportation to and from school will be available with required health and safety protocols.
Students in the Middle and High School will be required to wear a mask all day with the exception of lunchtime and during planned sensory breaks.
Elementary School students will be able to remove their mask while in their classroom. These students will only interact with their teacher(s) and cohort. We will also stagger recess and lunch schedules to limit exposure to anyone from outside their cohort.
Should our regional recovery phase be downgraded and HPS be required to limit attendance or to close again (this would happen during Phase 1-3), a remote learning plan, similar to but more robust than what was provided in the spring, will continue via online instruction using Google Classroom as our district wide Learning Management System. HLA and HEC will use Canvas as their LMS.
We anticipate there may be families in the district who will not be ready to send their students back to school for some time. We are currently working with several vendor organizations who will provide robust and grade-appropriate on-line learning options for these students. These current vendors include Michigan Virtual High School, Odysseyware and Accelerate.
Families who select this online learning option for their student are choosing not to be present in school for face-face instruction.
Because the district does not have the capacity to allow students to transition in and out of learning platforms, families who select this option will be assigned to an online classroom for the entire semester.
Selecting the online learning option for safety or health related concerns, may also exclude a student from participating in extra-curricular activities outside of the school day where the same safety protocols will be enforced.
On Monday July 27, the district is intending to publish the final draft of the Return to Learn plan to explain learning options, schedule changes, and health and safety protocols. Before August 3, we will ask families to complete a survey selecting a learning option right for their student:
HPS' Return to Learn plan with face-to-face instruction at school
On-line instruction option
Once we know how many students to expect for each learning option, we will be able to make staffing assignments and classroom placements. Student class-lists and schedules will begin to be posted on August 14, along with class supply lists.
We are also exploring ideas for how to host an Open House at each of our schools. Please keep an eye out for information about an Open House from the principal of your school.
Re-opening schools is important. As we finalize our plans, we will err on the side of caution for the safety and health of our staff and students. We will also extend grace, understanding, and appreciation as we navigate this unchartered territory.
Respectfully,
Dr. Brian Davis
Superintendent - Holland Public Schools
P.S. Now is a great time to update the information in your Parent Portal account. We ask everyone to review/update this information each spring. Not only does the information help us stay in touch with you, but it helps us build class lists, build bus routes, and more. So, if you haven't done this yet, now is a perfect time!
Return To Learn
Special Ed Town Hall Meeting
HHS Town Hall Meeting
Spanish Town Hall Meeting
Elementary Town Hall Meeting
Middle School Town Hall Meeting

Contact us with your questions at our COVID-19 Email Hotline: CovidQA@hollandpublicschools.org
Do you have specifics question regarding our Return to Learn plans?
Be sure to include your topic and grade level/building in the subject line

---