January 4, 2021
Dr. Brian Davis Announces Retirement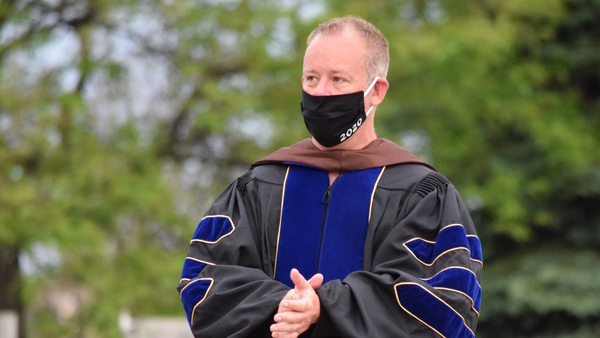 ---
After careful thought and reflection, I wanted to let you know that I have communicated my intent to the HPS Board of Education to retire from Holland Public Schools effective June 30, 2021. Nearly twenty-five years ago, when I made the decision to leave the classroom, I did so wanting to have a greater systemic impact. I loved teaching, but I aspired to do more. Now, as I look at my next chapter of leadership, I have opportunities to impact even more students and more communities.
It has indeed been a true pleasure and joy to serve in our district for the past 21 years as the Principal of Lakeview School, Assistant Superintendent of Teaching & Learning, and now 13 years in my current role. As Superintendent, I have had the chance to watch the incoming class of 2021 as Kindergarteners grow and mature into the young adults that they are today and I can't wait to celebrate their accomplishments at commencement this year.
HPS has been my home, my family, my energy, and my true passion. It has truly been right for me! Together, we have surmounted many obstacles, invested in proactive opportunities, grown and nurtured innovation, built new facilities, won regional/state/national championships in academics, sports, and other extra-curricular activities; but most importantly committed ourselves to serving each child through a lens of equity and inclusion. Our mission to embrace, engage, and empower each child for success in an ever-changing world continues to serve us well.
While there may never be a good time to depart or communicate a message such as this, I do so confident that our core mission/values, compassionate and talented staff, strong building/district leadership, fiscal capacity, community partnerships, and caring families will ensure that the work continues.
The HPS Board of Education is committed to a transparent and inclusive process to select the next superintendent. We begin this work now in order that there is ample time to engage those who desire to be part of the process, and to allow for a successful transition over the coming months.
HPS will always be and have a place in my heart and I look forward to finishing the next six months with you, and watching all of the greatness yet to occur in the coming years.

Superintendent Brian Davis, Ph.D
PRESS RELEASE:
Dr. Brian Davis Announces Retirement
HPS Board of Education to Identify Search Firm to Select Next Superintendent.
January 4, 2021 | For Immediate Release
Contact: Jason Craner, HPS Communications Director
jcraner@hollandpublicschools.org | (o) 616.494.2066 | (c) 616.886.7250
At the HPS Board of Education Work Session on January 4, 2021, Dr. Brian Davis announced his retirement as Superintendent of Holland Public Schools effective June 30, 2021. After 21 years of serving in the district as an elementary principal, Assistant Superintendent of Teaching for Learning, and thirteen years in his current role, members of the Board of Education thank him for his exemplary and vision-focused work for the district.
During his tenure, Dr. Davis responded to a revamped school funding model, changes in school choice practices, and multiple state/federal reform initiatives. With the pending impact of each of these, as a school leader he had to be proactive, reflective, and critical in the efforts to respond. He helped to plan, implement, and lead multiple strategic plan initiatives.
Board of Education President Philip Meyer said, "Despite many school reorganization plans, we believe Holland Pubic Schools has emerged stronger and more committed to each child under the leadership of Dr. Davis."
Accomplishments include the implementation of a Two-Way Bilingual Immersion Program, Holland Early College, Holland Virtual Tech, STEM, Project-Lead The Way, Interconnected PBIS/Mental Health Models, doubling of AP course offerings, becoming a 1:1 technology district, the passage of the Build 21 bond in 2010, multiple operational, enhancement, sinking fund, and special education millages, and expanding to over 50 community partners.
"Embracing these challenges and changes, through Dr. Davis' leadership and the exceptional efforts of our strong and committed leadership team and staff, the vision and mission of the district has remained our compass." -BOE President Philip Meyer
Dr. Davis has served on multiple boards in the community while also serving in leadership roles with the Michigan Association of Superintendents and Administrators, the Middle Cities Education Association and as a panelist for the Michigan School Finance Research Collaborative. In each of these roles, the knowledge gained and the connections made consistently have served the interests of our District. In 2011 he was named the MASA Region 3 and State Superintendent of the Year.
As the 12th person to hold the office, Dr. Davis leaves Holland Public Schools as the third-longest seated superintendent of the district.
"The Board of Education and I thank Dr. Davis whole-heartedly for his service to the District, his commitment to our children, families and staff, and wish him well in his future endeavors serving to improve the education and well-being of our youth." -BOE President Philip Meyer
Over the coming weeks, the Board of Education will be working to identify a search firm to engage the community in an inclusive process that leads to the selection of a new superintendent. With this advance notice, it will afford us the necessary time to do so and to provide for a successful transition and change in leadership.
At Holland Public Schools we embrace, engage, and empower each student for success in an ever-changing world. No matter the student, Holland Public Schools offer programs that are RIGHT FOR ME!