May 8, 2023
Holland Public Schools announces winner of 1st Annual Power H IMPACT Awards.
HLA Instructional Assistant Oralia Mascorro honored for her impact on students for nearly a half-century.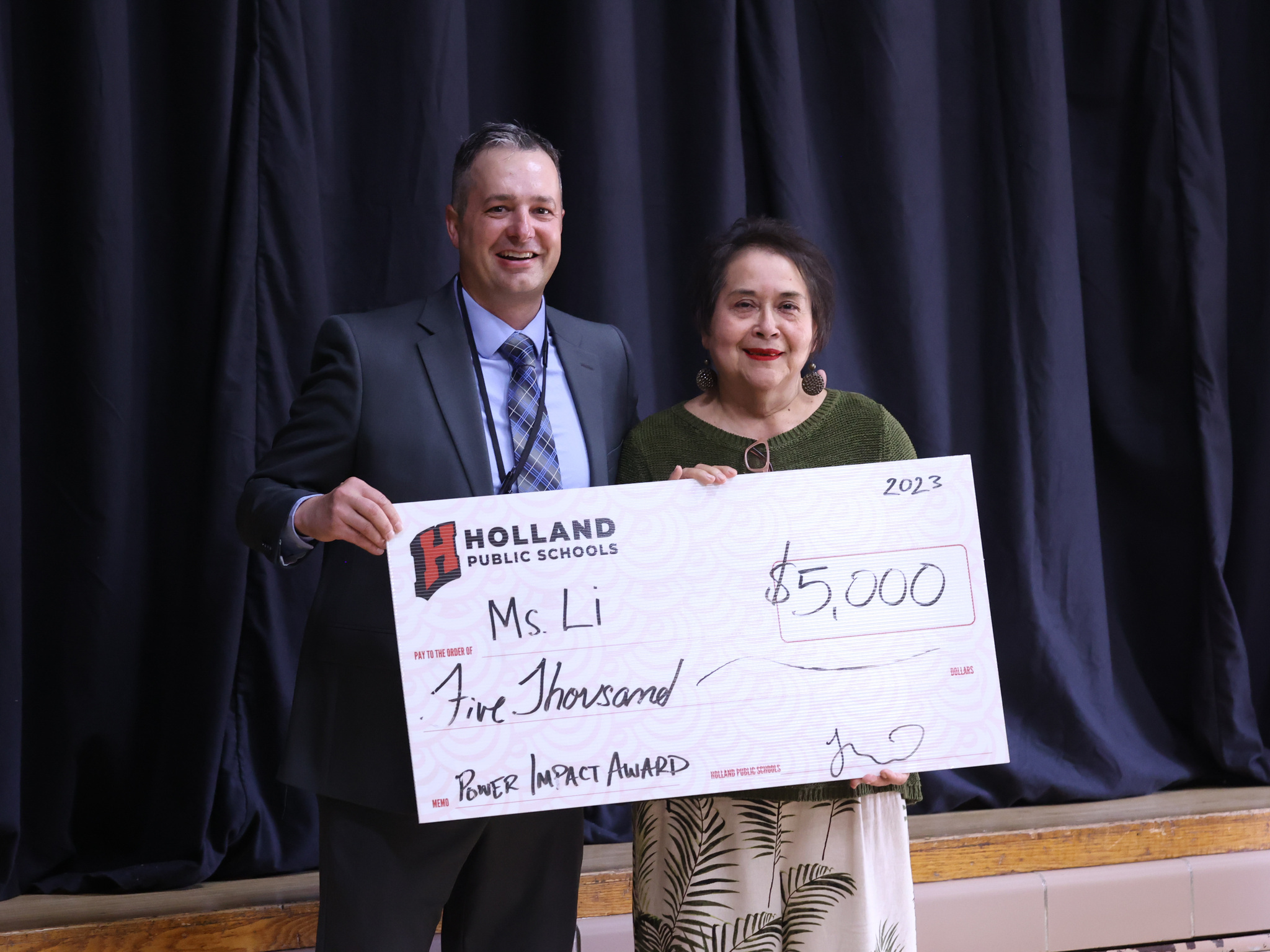 Holland Public Schools is kicking off Teacher Appreciation Week by announcing the winner of the district's 1st Annual District-wide Power H IMPACT Award. Oralia Mascorro was recognized today during an all-school assembly at Holland Language Academy where Superintendent Nick Cassidy awarded her with a check for $5,000.
Ms. Li (as the students call her) has been with Holland Public Schools for 46 years. "One of the reasons that I have stayed is that I've always been able to help the Hispanic population; to be a part of their learning, doing better, knowing more, and being the next generation that does better than their parents ever did. And I like being a part of that in the community. That's awesome that we do that. And here (at HLA), we are passing on our language and our culture for other people to learn and grow with us."
Superintendent Cassidy said, "As a district we want to celebrate the qualities that Li Mascorro has exemplified in this district for 46 years. She displays a passion for education, believes in students, and makes everyone around her better. Li has earned respect from students, teachers, and the community because of her hard work and dedication. As I met with the other finalists, every single one of them stated that they hoped that Li was the winner."
Six finalists, one staff member from each building, were selected from among the hundreds of nominations from students, staff and families. Finalists were then selected by colleagues and each received a $1,000 cash prize. The winner of the award, along with the $5000 cash prize, was selected from among the finalists by a group of community partners. The used social media data from videos of each finalist to help determine the winner. Cash prizes for the IMPACT Award were supplied by an anonymous donor in the City of Holland.
Watch the videos featuring IMPACT Award Finalists at:
• Facebook: https://www.facebook.com/hollandpublicschools
• Twitter: https://twitter.com/hpsProud
• Instagram: https://www.instagram.com/holland_public_schools
• YouTube: https://youtube.com/playlist?list=PLMWrJZMfCjztBnNnsgWiLw70xlPo8nLv4
On Thursday, Mrs. Li will lead all HPS students in the Tulip Time KinderParade!
A link to pictures of the school-wide assembly and of Ms. Li receiving the news are available at www.hollandpublicschools.org. All pictures on HPS' SmugMug account can be used in publications and online with a credit to Holland Public Schools.