April 30, 2023
Raffle to Ride in the Big Red DUTCH Wooden Shoe During a TulipTime Parade!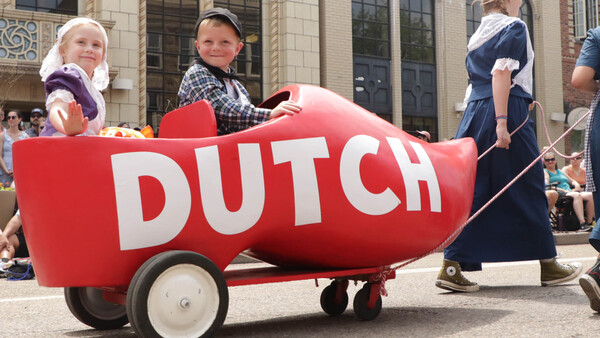 Purchase a raffle ticket to give a special little person in your life the chance of a lifetime!
Ride in the famous Big Red Dutch Wooden Shoe ahead of the Holland High School Marching Band as they TipToe Through The Tulips during the Tulip Time KinderParade and VolksParade.
2 different child shoe riders will be selected for each parade.
Only 1 child per entry. This is a random raffle drawing. Child siblings or other related family members are in no way guaranteed to be selected from the random drawing and/or ride together in the wooden shoe."
Select from KinderParade: Thursday, May 11th/Friday, May 12th OR VolksParade: Saturday, May 13th. (You may not select both parade days.)
Those who select Thursday, May 11th/Friday, May 12th as an option MUST have availability on Friday, May 12th in case the Thursday, May 11th parade gets postponed until Friday due to inclement weather.
1 parent or adult family member (18 or older) of the child must be available and willing to pull the shoe during the parade while walking the 1.2 miles (Thursday/Friday parade) or the 2.4 miles (Saturday parade).
Child wooden shoe riders must wear a traditional Dutch costume (not provided by the Holland Bands). Parent/family member shoe puller must wear a traditional Dutch costume (not provided) or a red shirt/jacket and black pants (not provided).
Each parade begins at 2 p.m. Child shoe rider and accompanying adult pulling the shoe must be in the Holland High School's line-up area (TBD) in downtown Holland no later than 1:30 p.m.