March 25, 2023
Teachers Live Here - Update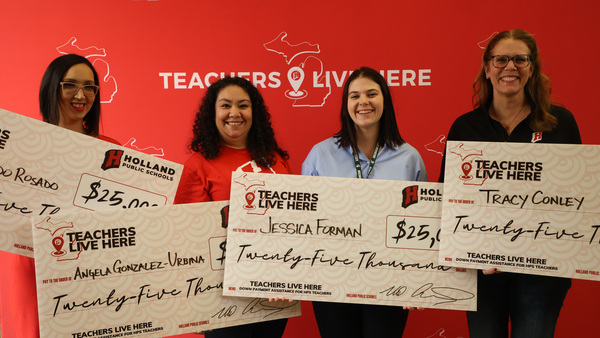 Four additional Holland Public Schools Teachers awarded $25,000 through Teachers Live Here program.
---
Two months after launching the Teachers Live Here program, Holland Public Schools is proud to introduce the following teachers as recipients of a $25,000 grant toward the down payment of a home in or near the school district.
Tracy Conley – Holland Middle School, Art
"I've always dreamed of living in a community where the district makes me feel like I belong and where I am accepted. I can't think of a better city that Holland."
Jessica Forman – Holland High School, Social Studies
"I have really come to love the community I have found here, and I am excited about the opportunity to grow that community and better be of service to my students."
Angela Gonzalez-Urbina – Holland Language Academy, Grades 2 & 3
"Being born and raised in Holland has given me the opportunities to have diverse experiences, both in my career and in my personal life. I want the same opportunity for my twin sons: Emmanuel and Emiliano."
Alba Mercado Rosado – Holland Language Academy, Kindergarten
"Deep down in my heart I long to belong to a community where I can show my passion for teaching, helping, and above all making others feel welcome."
Holland Public Schools will award five additional $25,000 grants to teachers in the district before June 30. On July 1 a second Teachers Live Here cycle will begin with additional 10 grants available for teachers who want to live in the Holland-area. The 2023-2024 cycle concludes on June 30, 2024. HPS Administrators and members of the Holland Educational Foundation meet each month to review applications.
An investment from an anonymous donor in the City of Holland is funding the Teacher Live Here program at Holland Public Schools. It is aimed at retaining and recruiting the best educators to the district. Each year, 10 HPS teachers will receive $25,000 each toward the down payment of a home in or near the school district. In exchange, teachers who receive the funding will stay in the district for at least the next five years.
UPDATE: With the help of a Teachers Liver Here grant, Lillian Snoeyink recently closed on the purchase of a home within the HPS district boundaries. Snoeyink is a 1st-grade teacher at Holland Language Academy and was the first recipient of a Teachers Live Here grant on January 24, 2023.