February 21, 2023
James Baer awarded MHSAA Scholar Athlete Award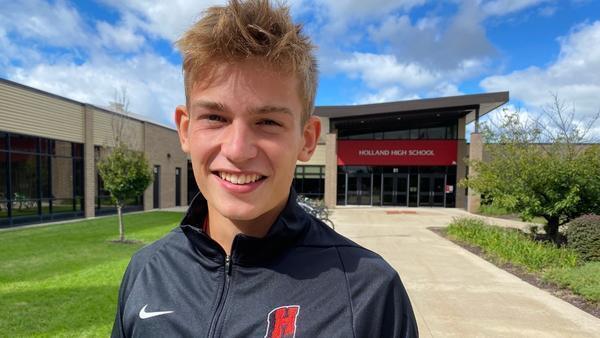 The Michigan High School Athletic Association has selected HHS Senior James Baer among 14 student-athletes from Class A member schools to receive scholarships through the MHSAA/Farm Bureau Insurance Scholar-Athlete Award program.
Students applying for the Scholar-Athlete Award must be carrying at least a 3.5 (on a 4.0 scale) grade-point average and have previously won a letter in a varsity sport in which the Michigan High School Athletic Association sponsors a postseason tournament. Other requirements for the applicants were to show active participation in other school and community activities and produce an essay on the importance of sportsmanship in educational athletics.
Competing in fourth varsity season on swimming & diving team and played second season of varsity tennis in the fall. Will compete in second varsity season of track & field this spring and also played junior varsity soccer as a freshman and sophomore. Earned all-state in swimming as a three-time Finals qualifier entering this season, and reached Finals flight quarterfinals in tennis. Serving as captain of swim & dive team and was captain of tennis team in the fall. Participating in second years of National Honor Society, serving on the executive board, and student senate. Participating in second year of chess club, as team captain, and also second year of quiz bowl. Selected for school's top show choir in first year, as a senior, and was lead in school musical as a junior. Is undecided where he will attend college, but intends to study economics.

Essay Quote: "Ultimately, high school sports are outlets for student athletes to gain mental fortitude while learning valuable cooperative and leadership abilities. I am a naturally competitive person who is driven by goals; however, upon entering high school I quickly realized that I stood to gain more through building relationships with teammates and competitors than through setting records or winning matches."
Baer is the third HHS Senior to receive the award in the last two years, joining Ellie Zomer and Greta Vanzetten from the Class of 2022.