October 31, 2022
HHS Student earns Creativity in Leadership Award from CultureWorks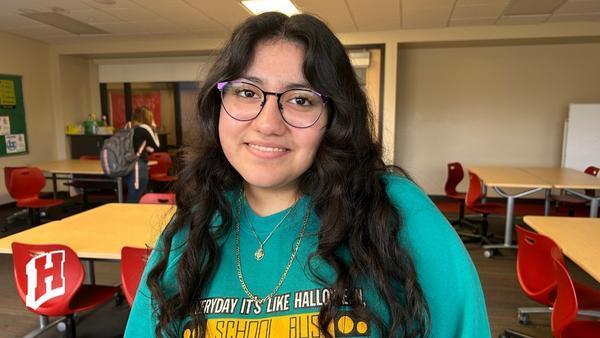 Congratulations to Josephine Suarez, recipient of the 2022 CultureWorks Creativity in Leadership Award!
This award is given to a CultureWorks high school student who displays remarkable creative talent as a young artist or designer. The recipient cares deeply for the community as a creative leader and displays a collaborative spirit and the ability to genuinely listen and communicate with peers on projects. Finally, the recipient of this award has found the community of CultureWorks to be a significant part of their creative and personal development.
As Executive Director of CultureWorks, and as a teacher and mentor of our Student Advisory Council, I've had the privilege of knowing and working alongside Josephine Suarez for over 3 years.

We meet with our Student Advisory Council on a weekly basis throughout the school year to engage in team building and leadership development, explore relevant topics and current events through the arts, and make decisions regarding marketing, branding, and programming.

Josephine has volunteered over 120 hours with SAC and at special events, and throughout that time she demonstrated an eagerness to serve others through creativity personal acts of service.

Josephine has always offered a consistent, nurturing presence in class, meetings, and in our transportation program. She shows a genuine appreciation for and interest in the well-being of others, always asking about how my day is going whenever I picked her up from school to bring her to class.

She's an effective listener and communicator in group situations, and wants to make sure all voices are heard in our community.

Josephine desires authentic and meaningful relationships that lead to a more just and equitable community, and she is willing to work hard to reach these goals. Josephine has also demonstrated a high level of creativity and artistry at CultureWorks.

She excelled in our graphic design class where she developed a comprehensive logo and branding scheme for a fictional mental health clinic. Her concept was thorough and well-designed, and her desire to create a welcoming, healing, space was evident.

- Emily Christensen, Cultureworks, Executive Director
Josephine will be recognized by CultureWorks at their Fall Benefit on November 10 at 6pm.