June 1, 2022
HHS Partners with Dance United for Mindful Movement Initiative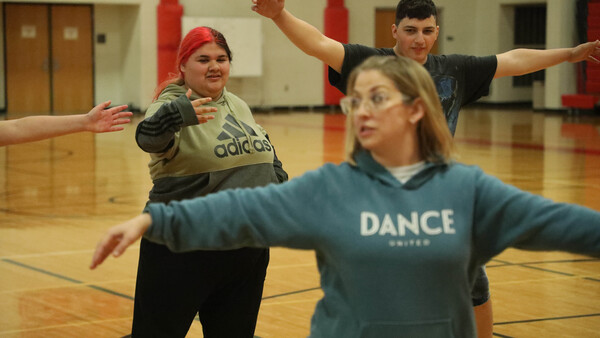 HHS Students practice mindfulness through movement.
---
This Spring a select group of Holland High School students participated in a unique community partnership aimed at integrating greater mindfulness and movement into the typical school week. This initiative involved six 45-minute dance lessons led by Catie Hauch, MA, CAS who is the founder and a primary instructor of Dance United, a popular dance studio in Holland. Dance lessons were hosted in the high school's auxiliary gym during a scheduled break in the students' academic instruction once a week from April to June 2022.
During each lesson, students practiced various mindfulness

exercises and dance movements that encouraged them to slow down their minds and bodies, notice any reactions taking place, and navigate those reactions effectively while in a safe and fun group environment.

The evidence base for this initiative supports the conclusion

that when mindfulness is practiced within schools, students experience reduced stress and increased attentiveness (Gutierrez, 2019).

In addition, research studies also show that students who are at-risk of academic difficulties tend to learn better through kinesthetic movement (Boykin & Cunningham, 2001).

Student and teacher survey measures were included in the implementation of this initiative to help determine its impact on the academic and behavioral outcomes of the participating students and help guide the development of future mindfulness programming.
The Holland High School social work team comprised of Jessica Garza, Leah Koopman, Lauren Gray (OCSN), and Frankie Wamsley (Arbor Circle) along with the administration and students themselves would like to express their deepest appreciation to Catie for volunteering her time and talents to our school. "Catie did a phenomenal job guiding these students through the various mindfulness exercises and connecting with each of them on a personal level regardless of their abilities," stated Wamsley. "We are grateful for her and Jessica Garza in creating this beaut
iful partnership which, due to the pandemic, was 2 years in the making but well worth the persistence."
Boykin, A. W., & Cunningham, R. T. (2001). "The effects of movement expressiveness in story content and learning context on the cognitive performance of African American children. Journal of Negro Education, 32, 256-263.