April 16, 2022
High Honors for HHS Musicians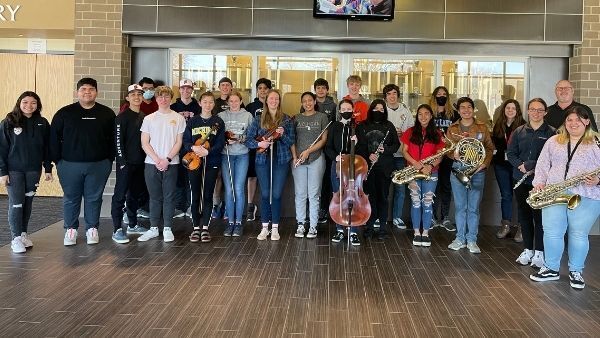 Congratulations to our band and orchestra students who participated in the Michigan School Band and Orchestra State Solo and Ensemble Festival.
25 Band and Orchestra students earned the opportunity to perform at this festival after they had qualified at the district level in February. Several students performed scale proficiency examinations as well as performing solos on their specific instrument. This festival was virtual this year, requiring students to submit their performance and examinations for review to judges from across the state.
Students receiving a 1st division rating are:
Violin Duet: Alisa Masonand Meredith Walters - Pastorale by Archangelo Corelli
Cello Solo Proficiency 1: Abigail Fahrion - Sonata in E Minor by Bernhard Romberg
Violin Solo: Eleanor McMullen- Concerto No. 2 in G Major by F. Sietz
Alto Saxophone and French Horn Duet: Adrian Castillo & Emerson Johnson - Allegretto grazioso by Giuseppe Concone, arr. Larry Clark
Flute and Clarinet Duet: Jaelynn Ybarra-Brandon and Sam Hoffman - Arietta by Paul Koepke
Clarinet Duet: David Jimenez and Jasmine Samudio-Valle - #17 from Selected Duets for Clarinet Vol. 1
Flute and Clarinet Trio: Kierian Overbeek, David Jimenez, & Jasmine Samudio-Valle - The Cuban Dancer by Joseph Fried
Percussion Ensemble: Sam Lunn, Benjamin Logan, Monika Ortega, Jared Pedraza, Connor Huizinga, Marcus Ruiz, Hunter Tripp, Moses Ortega Velez, & Dyami Campos - Stormbreak by Jim Casella
Students receiving a 2nd division are:
Alto Saxophone Solo: Melina Garcia - Allegretto Brillante by J. Demersseman arr. By H. Voxman
Alto Saxophone Proficiency 1 Solo: Emerson Johnson - Andante & Allegro by Andre Chailleux
Flute Proficiency 1 Solo: Kristin Messer - Fantaisie by James C. Lewallen
Alto and Tenor Saxophone Duet: Kristin Messer & Sofia Angulo - Two-Part Fugue by H. Gee
We are very proud of their hard work they have invested in their musical development and the dedication they demonstrate towards the performing arts here at Holland Public Schools.