March 26, 2022
Blogpost: Women Lead HPS - Lanada Avinger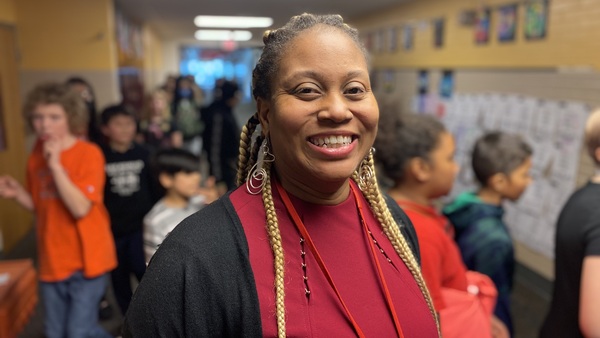 During Women's History Month, HPS is honoring women who lead in the district.
Lanada Avinger is the Principal of Jefferson Elementary. Ms. Avinger reflects leadership and the impact she's having on Holland Public Schools.
---
Describe your role at HPS
I am honored and privileged to serve as Elementary School Principal at Jefferson. I diligently work towards facilitating an environment that is safe, respectful and loving for our students to learn and grow. It is important that our students learn and grow academically and social-emotionally. I depend on the support of our wonderful staff, which includes teachers, instructional assistants, cafeteria workers, school nurse, parents and the community, to help me create all of these positive learning experiences.
What drives you to be a leader at HPS? What does success look like for you?
I have been a teacher and instructional coach for grades 9 - 12 for at least 15 of my 20 years in education. To have the opportunity to work alongside young learners is a very humbling as well as rewarding experience for me. To me, success looks like the bright smile on young learners faces when they feel safe, loved, are being productively curious
Who is a leader who has influenced you as a leader?
My Grandmother (RIH) and my mom are my most influential leaders. My grandparents spent a great amount of time with me when I was a child. My grandmother always encouraged me to do my best. It didn't matter if I were to be the president of the United States or a custodian, any choice I made required nothing but my best. One of her most famous sayings was, if you're not going to do it right, don't do it at all. My mom was my example. At a very young age, I observed my mom complete 2 bachelors and 1 masters degree. I sat in college lecture halls with my mom mimicking her and other college students taking notes.
What struggles do you face as a leader? How do you overcome?
Growth, change, adjustments….all take time and have to follow its own path towards success that leaders may not know all of the time. In my experience, being a leader not only requires having skill sets that are adaptable, resilient and transformational, you also have to have faith and patience. Faith allows you to see growth even when it looks like nothing is growing. As far as patience, I reflect on Romans 5:3-5 And not only so, but we glory in tribulations also: knowing that tribulation worketh patience; 4And patience, experience; and experience, hope: This is how I overcome challenging times.
What advice/encouragement do you have for other leaders
Know your calling and your passion. Great leadership experiences are sustainable and productive when you are where you are supposed to be and you're glad about it.
Be open to learning.
Be willing to take thoughtful risks.
Know that you're always building and molding your team.