March 22, 2022
HMS students advance is National History Day Competition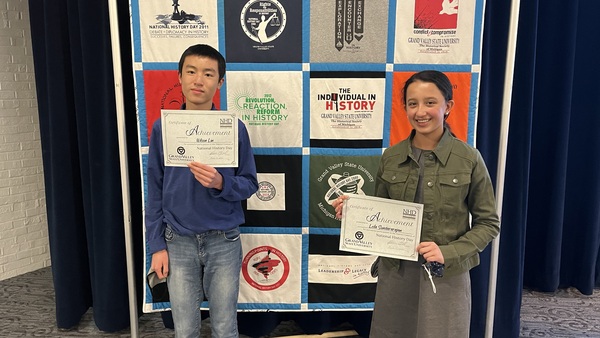 Impressive showing for 8th Graders Leila Sundararajan and Wilson Lin.
Holland Middle School is proud to recognize the accomplishments of 8th graders Leila Sundararajan and Wilson Lin at the Region 4 National History Day Competition. Following months of research and refinement both students advanced in the Junior Division Essay Category. Leila composed her piece on the fight for women's suffrage while Wilson wrote about a little known border dispute between Great Britain and the United States known as "The Pig War". Not only did both students compose well written essays but they were also part of the interview process with the judges at the in-person event held at GVSU on March 19.
As a result of their impressive showing at the Regional NHD competition both students have advanced to the state level competition. With a short window to refine their essays based on the judges feedback, the awards ceremony for the state competition will be held on April 30 where both students will find out if they have advanced to the National History Day finals held virtually at the University of Maryland.
No matter the outcome Leila and Wilson have upheld a long tradition of success at Holland Public Schools and National History Day.