January 18, 2023
Baer and Whiteman named Finalists for MHSAA Scholar Athlete Award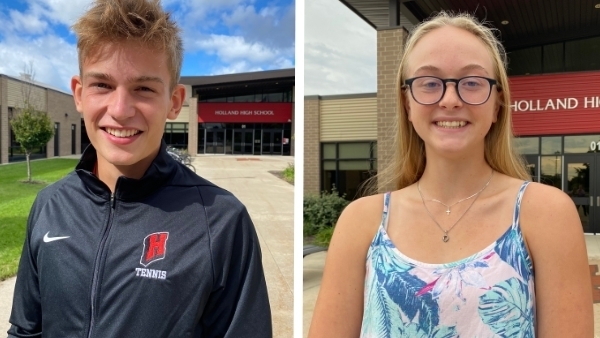 Two Holland High School Athletes are among 120 finalists for the Michigan High School Athletic Association's Scholar-Athlete Awards for the 2022-23 school year.
James Baer (Tennis and Swimming)
Eva Whiteman (Swimming and Track & Field)
This year, 1,440 applications were received from around the state. The applications were judged by a 65-member committee of school coaches, counselors, faculty members, administrators and board members from MHSAA member schools.
To be eligible for the award, students must have a cumulative grade-point average of 3.50 (on a 4.0 scale) and previously have won a varsity letter in at least one sport in which the MHSAA sponsors a postseason tournament. Students also were asked to respond to a series of short essay questions, submit two letters of recommendation and a 500-word essay on the importance of sportsmanship in educational athletics.
Whiteman and Baer are the only athletes from Holland area schools to be named as finalists for the award.
Selection of the 32 scholarship recipients will take place in early February. Class A scholarship recipients will be announced Feb. 21.
Last year, Greta Vanzetten and Ellie Zomer were both named MHSAA Scholar Athlete Scholarship Winners.