May 15, 2023
5/15 Weekly Newsletter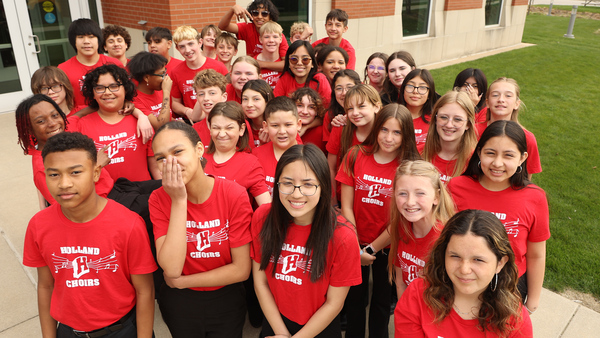 Week of May 15th
Hi Families!
6th graders had an awesome field trip today to the ODC, we had the senior class of 2023 walk our halls today for their last time as HPS students, and we have a slew of sporting events tonight! Busy! Busy!
A few highlights in the newsletter:
Open Enrollment for anyone interested in Summer School- TRANSPORTATION AVAILABLE!
Parent/Family Appreciation Breakfast is May 25th from 7:30-9:00am.- Invites will be sent out this week!
Chromebook Collection is June 2nd- Make sure computers are brought in if they have been taken home. Broken computers need to be paid for too!
A reminder of all of our 8th grade fun that is coming up soon!
Lastly, a HUGE thank you for the teacher appreciation support this past week!
HMS Weekly Newsletter 5/15/23
LUNCH MENU: Link
SAVE THE DATES for 8th Grade Parents:
Please mark your calendars for a couple of important 8th Grade dates.
8TH GRADE AWARDS: We are planning an 8th grade awards ceremony on the last day of school June 6 from 9:00-10:35. Parents are welcome to attend. We will send more detailed information later this year but please save the date!
"Farewell Dance": The 8th grade student council is planning a "Farewell Dance" on June 2 from 7:00-9:00 pm. This will be a dress-up style dance with a "Hollywood'' theme. We are in need of 8th grade parent donations and

chaperones

for this event. Please check this sign up genius if you are interested in helping or donating items for the dance.
8th Graders will visit the

MiCareerQuest

hands-on career exploration in Grand Rapids for part of the day on May 24
Michigan's Adventure all day on May 31 We do want to make sure parents are aware that we have talked to the students about these trips. We are hoping that the trips will provide some additional motivation for students to maintain positive behavior as we enter the last stretch of the school year. We have set the following field trip behavior understanding in place.
Students have been told the behavior expectations in order to ensure they are able to attend the trips.

Specifically, students may not have any disciplinary infractions related to the use of any controlled substances (tobacco, vapes, etc) or any disciplinary infractions related to fighting, physical violence,and/or threats. (March 17 UNTIL the field trip)
If students violate these basic expectations, they will not be able to attend and we will be unable to refund the money paid.
Students Attending Sporting Events as a Spectator: To ensure safety, please make sure that if your students are attending sporting events, that they have an adult with them. This does not need to be their own guardian.
Summer Opportunities:
For Current 5th- 7th graders:
Summer School Programs: MONDAY -THURSDAY -8am-12:30pm

This is a blend of ELA and Math supports for students. There are 60 spots available and invitations will go out first. If there are available spots after that point, then we will open it up to all interested.
Current 8th graders:
July 10-August 3: Located at Holland High School
DHH-Language Acquisition
July 11-Aug 3: Tuesdays/Thursdays-half day and Wednesdays full day experience(T/W/T) at West
ESY (Extended School Year)-needs based on IEP team decision
July 10-August 3: services will vary at West and HHS.
Camps and Programs:
Other HMS News:
Positive Notes about Staff: Did you know that every week we send out an email to the entire HMS staff with positive notes collected by staff, students, and parents? If you have a positive note about a staff member, please email it to Mrs. Bair at rbair@hollandpublicschools.org. You will be included in the email on Friday and you will make someone's day.
Nurse's Corner:
Optimizing your space to improve your mental health is something that anyone can benefit from. For those living with mental health conditions, it is one tool of many that can be used to improve and support your mental well-being. For tips on improving your space, go here- Healthy Home Environments
Request your free Covid test kit here- Covid-19 At-Home Test Request Form
Mark your Calendars:
May 24 8th grade Career Quest
May 25th Parent Appreciation Breakfast 7:30-9:30
May 26th- Pep assembly (Spring Sports)
May 29 NO SCHOOL for All Students and Staff | Memorial Day
May 30 Classes/School Resumes
May 31st 8th grade Michigan Adventures
June 2-
Carnival and Cook-out- Grade Levels Rotate
8th Grade Dress-Up Hollywood Dance 7:00-9:00 pm
Chromebooks due
June 6-