August 12, 2022
Holland Heights Back to School Information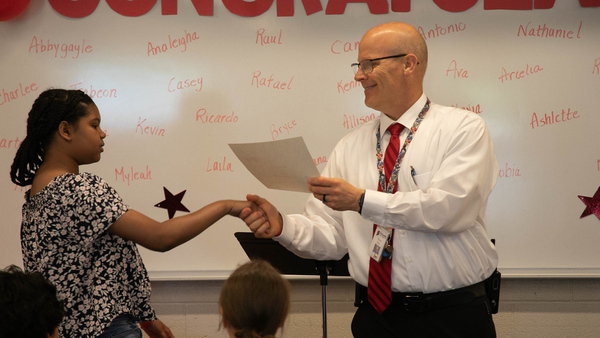 Welcome back to Holland Heights for the 22-23 school year. We are excited to see all of you as we begin the new school year. There are a few things I want you to be aware of before we start. So, please make sure to read over the following information carefully.
Registration - Make sure you have registered your child for this year, especially if you need transportation. Most of you have already done this, but if you haven't, please do so right away. This will help us know of any changes over the summer and to officially let us know your child is returning. This can be done on the district website.
Open House - Monday August 22 for 4-6 PM is our school open house. Here you can see your child's teacher and classroom.
Class Lists - These will be posted on the front windows of the building on Friday Aug. 19 at 4:00 PM.
School Begins at 8:30, but the doors open for breakfast at 8:00 if you child will be eating breakfast at school. This is free to all students!!! Once your child is done eating, they will be sent outside to line up in their appropriate areas. If your child doesn't eat breakfast at school, we will have supervision in the line up areas starting at 8:15 every morning. The playground is not an option in the morning. The bell rings at 8:29 every day, so plan accordingly as to when you will be dropping your child off at school.
End of the day - The school day ends at 3:36. Please be patient when picking up at the end of the day, since we know it will be busy with cars pulling in and out on 12th street. The back parking lot loop should be where our 3rd, 4th and 5th graders are picked up to help reduce the number of cars on 12th street. The TK-2 students will exit the school from the doors on 12th Street. Parents can park in one of the spots on 12th Street or on one of the side streets and walk over to the school to pick up your child. Do not park in the street or on the North side of 12th street. That is a No Parking Zone since it's a two way street and there isn't room to safely park there with the other cars pulling out of spots by the school. It's about student safety so please abide by these expectations.
Lunch forms - Please be sure to fill out the lunch form for your child either online or fill out a paper copy you can get in the office. The online version is the best way for us to keep track of, but either way you choose, we need ALL families to fill this form out. Those forms help determine funding for school lunches, whether or not you qualify for Free or Reduced lunch. Thank you for doing this.
---
We are excited to get back to partnering with you to support the growth and learning of your child. We will continue to encourage your child give their best effort every day, so please continue to encourage your child to come to school with a positive attitude and to give their best effort, even when it's difficult. We will also be continuing with our POWER expectations, so feel free to discuss those with your child before we start up this fall.