December 6, 2021
Quiz Bowl Competes in Berrien Springs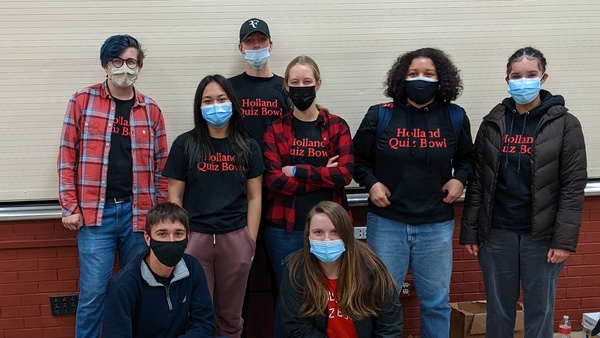 The fall season comes to an end for the Dutch Nerd Army!
In Quiz Bowl action Saturday, Dec. 4, the Dutch Nerd Army (DNA) traveled to Berrien Springs to compete in the Swim N Win Invitational. This is a regional-level tournament that attracted 18 teams from schools in Michigan and NW Indiana.
The Holland A team (I pity the fool!) of Trent Burgess, Will Green, Andrew Lubbers, and Alyssa Price went 5-1 in the morning to qualify for the top bracket in afternoon competition. They then went 2-3 against the best teams there to finish 4th place overall. Burgess was the 6th highest scorer among all individuals in the competition. St. Joseph of South Bend, IN was the tournament champion.
The Holland B team of Eleanor McMullen, Alina Pin, Maria Rocha, Melania Rocha, and Ben Rund-Scott had a tough morning, but came back in the afternoon to win two matches. The two freshmen were competing in their first varsity level competition.
In January and February, the team hopes to add another date to the league champions banner in the commons when they compete in the Allegan County Quiz Bowl league. Thanks to all of you for your support of these great kids!