November 1, 2022
Native American Heritage Month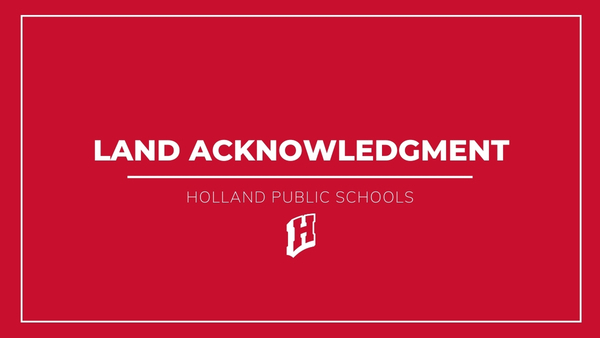 Land Acknowledgment: Acknowledging place and honoring people.
---
Holland Public Schools would like to acknowledge that our community and our schools are built on the beautiful ancestral lands of the Anishinaabe people, the People of the Three fires: the Ojibwe, Odawa, and Potawatomi.

We are, therefore, guests on this land and are grateful for the people who have stewarded it throughout the generations.

We acknowledge the histories and traditions of the people who originated here first and who are STILL here.

We strive to be good stewards of this place and our privilege. We have a lot more to learn and to do.

Thank you for sharing this place with us.
---
This video accompanies #HonorNativeLand—a guide and call-to-action to spread the practice of acknowledgment of traditional Native lands: