Welcome to

Holland Public Schools

Monday,March 19, 2018 the Board of Education approved 6-1 a restructure plan for the 2018-2019 school year.
Holland Heights, Jefferson and West will provide programming for students in Early Childhood Special Education, GSRP and TK through grade 5.
Holland Language Academy will serve students K-5.
East will become Holland Middle School serving students in grades 6-8
Holland High School will serve students 9-12 with its traditional program and HVRT and Holland Early College as two school-within-a-school models.
A Question & Answer page is under construction for your review. Question and Answer Page
Mission Statement
World Ready

College * Career * Community
Holland Public Schools Seeks RFP for Marketing & Communication Services
Holland Public Schools (HPS), a PreK-12 city public school district in West Michigan, serving a diverse school community, requests proposals for comprehensive marketing and communication services. With this Request for Proposal (RFP), HPS seeks to acquire the services of a qualified and demonstrated successful marketing/communication firm to support district level marketing and communication services. HPS invites proposals from interested marketing/communication agencies with experience in the PreK-12 education setting with demonstrated experience in brand development and management; marketing; social media strategy, implementation, and management; website design and development; market research; proactive media relations; crisis communication; expert positioning to address public perception; and community relations. Experience working within a diverse school community is also expected.
To download the proposal, click here HPS RFP
School Operations:
School is operating on a normal schedule today.
Join Us for New School Open Houses!
Our PreK-5th Grade Schools and Middle School will be hosting an open house for your child to come explore their new school for the 2018-2019 School year.
May 22nd- Prek-5th Grade Open Houses: 6:30pm-7:30pm
Holland Jefferson- 282 W. 30th St
Holland Heights - 856 E. 12th St
Holland West - 500 W. 24th St
May 30th - Holland Middle School - 373 E. 24th St
4:00pm-5:00pm - Current 5th Graders
5:30pm-6:30pm - Current 6th Graders
7:00pm-8:00pm - Current 7th Graders

Escuchen esta informacion en espanol en el 494-2865.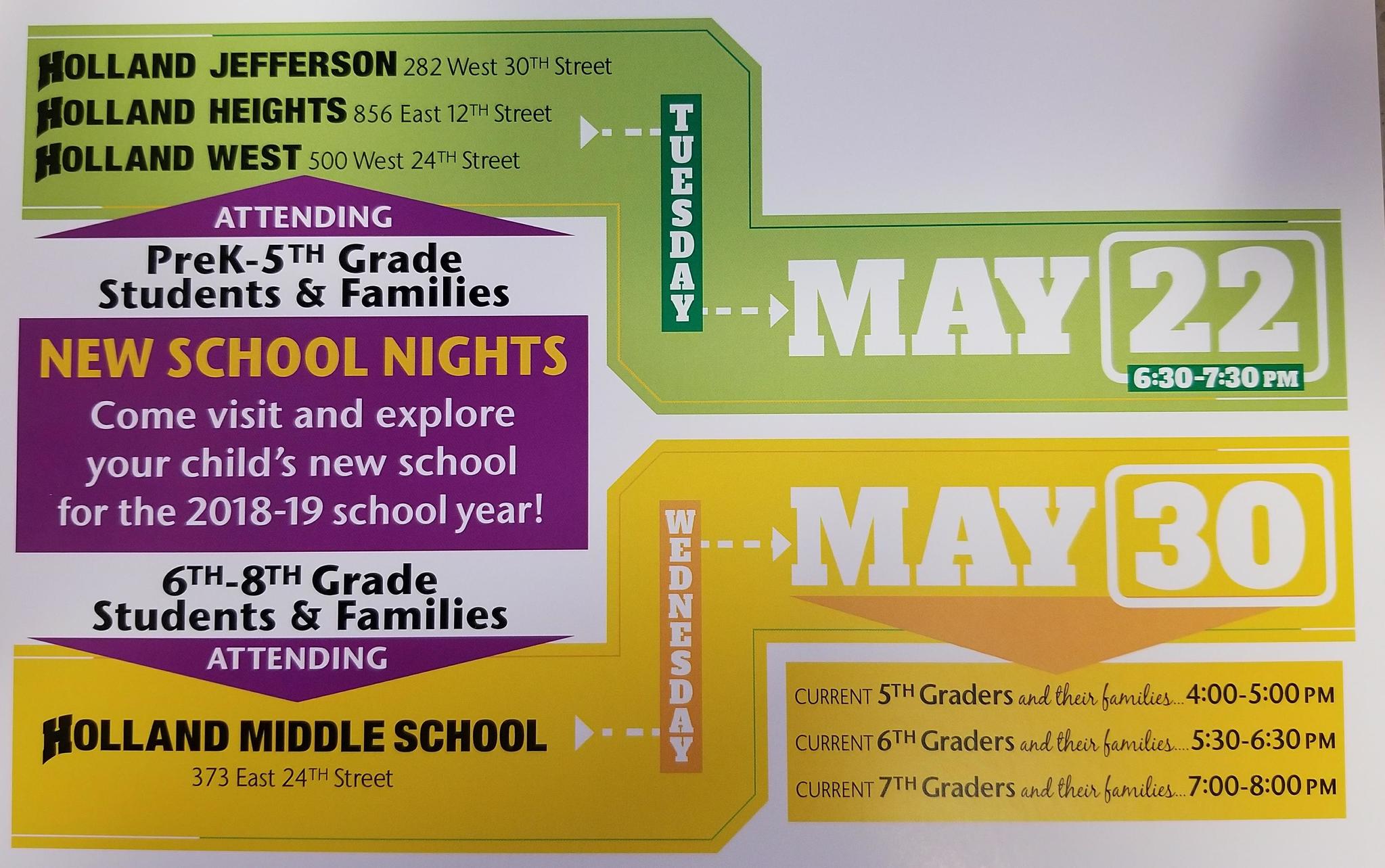 Spotlights
Holland High School Receives New Grant from Motus Integrated Technologies to Prepare Students with In-Demand STEM Knowledge and Skills. Learn more here
Holland High School Theatre Presents "A Christmas Story" Auditions.
A CHRISTMAS STORY, the musical this winter! Show runs November 29 thru Dec. 9, 2018.This delightful family fun musical has been on tour, and after 4 years of trying, we have finally been given the rights for this one time to produce this delightful musical (based on the movie of the same name).
We will be auditioning student grades 3rd thru 11th for this show. All auditions will be together and will be held on May 22, 23 and 25th. If you want more information and/or can share with your students (especially our friends at the K-7s, as there are a LOT of roles for our younger performers), please share the info below:
www.hpstheatrechristmasstory.weebly.com or Google Classroom at nat007. See art work attached, It has audition info on the bottom!
A Chrismas Story Flyer (Includes Audition information)