DeComposer Festival
The Holland High School Orchestras and Jazz Band present a fun evening of spooky music and laughter for the whole family. Come to the DeComposers Festival on Wednesday, October 24 for just $5.00. Two shows, 6:00 p.m. and 8:00 p.m. Come dressed to scare if you dare!!!
"Salute to Disney"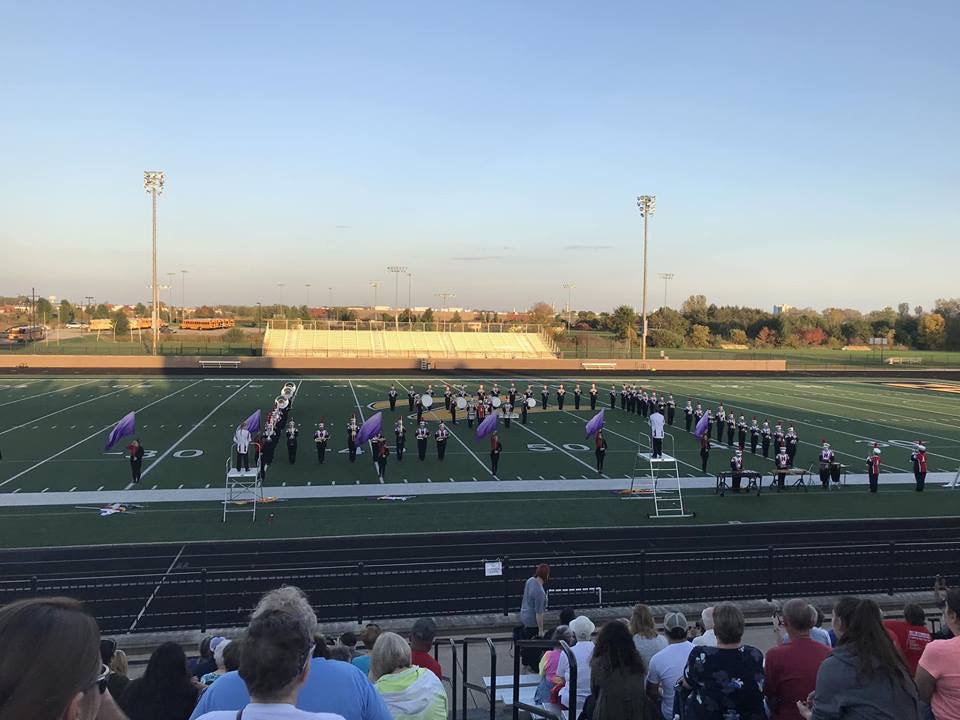 Wednesday, Oct. 10 the Holland High School Marching Band performed their "Salute to Disney" halftime show at the Michigan School Band and Orchestra Association's (MSBOA) District 10 Marching Band Festival in Zeeland.
The band entered this festival one classification higher than last year and received a Division 2 "Excellent" rating for their outstanding performance, being, in fact, half of a letter grade away from a Division 1 "Superior" rating.
Holland High School Boys Varsity Tennis finishes 3rd place at Regional Tournament
The Holland Boys Varsity Tennis team traveled to Forest Hills Northern for the regional tournament today. The Dutch had a strong showing, with all flights advancing to the quarterfinals. Six of the eight flights would then move onto the semifinal round.
Advancing to the finals at their respective flights were Sean O'Keefe (#2 singles) and Neil VanFaasen (#3 singles). Holland finished with 16 points, one point shy of qualifying for the Division 2 State Tournament. "It's difficult to find words adequate enough to describe this team," said Holland coach Kyle Kreps. "They have been a terrific group to coach and it was a great season. We were right in the mix today and each member on the team played a part in us getting 16 points. It is tough knowing how close we were to moving on, but it is comforting knowing that everyone left it all out on the court today. The guys can hold their heads high and be proud of their success".
Holland's 16 points at the regional tournament are the most points they have scored since the 2005 season.
Holland High School Boy's Varsity Soccer beat Hamilton High School 2-1
In a rainy, muddy match at Hamilton, Holland came away with a 2-1 win to end the regular season. Abraham Arellano scored the first goal of the match receiving a great pass from Hayden Drooger. Hamilton countered with a goal almost immediately. Holland's Issac Ryzenga hit the game-winner from a rebound in front of the goal. "It was a sloppy match due to the rain and mud, but we were able to overcome the elements and a very motivated Hamilton squad," said Holland coach Greg Ceithaml. "I thought we passed well given the conditions and our defense was able to improve as the game developed." Holland finishes the regular season 8-8-3.
A Little Night Music with a Harvest Feast
On October 27 at 6:00pm, Holland High Choirs present A Little Night Music with a Harvest Feast at First Reformed Church in Holland. This event will include 3 course gourmet dinner (prepared by our very own HHS accompanist Shari Munger - she made it through two rounds on Master Chef!), a dessert auction, and a variety show you won't want to miss! Tickets are $30 each and all proceeds will go toward funding Holland High Choirs' performance expenses including the purchase of concert uniforms as well as costs for the upcoming Vocal Dimensions show entitled The Greatest Vocals Show - 40th Anniversary Anthology this March. Purchase your ticket by October 24, 2018. Tickets are assigned seating. We would love to see as many of you there supporting our students as possible! Get your tickets today!
OK Green Conference meet for Boys and Girls Cross Country
Holland High School Girls Varsity Cross Country
On a blustery and windy day, the Lady Dutch traveled to Helder Park to race in the OK Green Conference meet hosted by Zeeland West. The Lady Dutch finished 5th at the conference meet. This finish, combined with a third place during the regular season, lead to tie for third in the overall conference standing. Senior Shayna Altvater, 19:24.48 was the conference champion, improving on her two previous 6th place finishes. Senior Jordyn Elders, 20:54.11, finished second for Holland and 13th overall. Elders was honorable mention All Conference. Sophomore Olivia DeGraaf, 21:40.01, ran a great back half of the race, finished 20th overall and third for Holland. Senior Natalie DeGraaf, 22:42.04, finished 34th overall and fourth for Holland. Freshman Julia Kooyer, 22:58.94, battling a cold, finished fifth for the Dutch and 36th overall. The Lady Dutch will compete next on Saturday October 27th in the MHSAA Regional hosted by Portage Central at Portage West Middle School.
Holland High School Boys Varsity Cross Country
On a blustery and chilly day, the Dutch traveled to Helder Park to race in the OK Green Conference Meet hosted by Zeeland West. The Dutch finished second in the conference meet to a talented Zeeland West squad. By virtue of the second place finish at the meet the Dutch maintained second place in the conference standing. The Dutch were lead by Senior Sam Martens, 16:18.78. Sam won the meet for a third straight year, becoming the first 3 time OK Green Cross County Champion. Well run Sam! Senior Brad Carter, 17:20.26, finished 6th overall earning a spot on the All Conference team. Seniors Jaeger Schippa, 18:12.52 & Alberto Castillo, 18:14.35, finished 19th & 20th respectively. Brad, Jaeger & Alberto all had lifetime best finishes in the OK Green Conference meet. Congrats boys! Rounding out the top five for Holland was Junior James Walton, 19:06.65, good for 32nd place. A noteworthy performance was turned in by Sophomore Noah Whiteman, 18:42.26, in the Junior Varsity race, placing fourth. The Dutch will race next on Saturday October 27 in the MHSSA Regional meet hosted by Portage Central at Portage West Middle School
Office Staff
Holland High
600 VanRaalte Avenue
Holland, MI 49423
Phone: 616-494-2200

School Times
7:45 - 3:01
Half day
7:45-10:55