Mission Statement: West K-7 is committed to providing an education of excellence that meets each student's interests, abilities, and needs within a common curricular framework. We believe all students can learn to communicate effectively, to think critically and creatively, and to solve problems cooperatively. Students will apply academic and social skills to become responsible lifelong learners and to appreciate uniqueness in self and others.
Summer Reading Club!
Tuesdays from 6:30 pm - 7:30 pm
at West
500 W. 24th Street
Every Tuesday except the 4th of July week.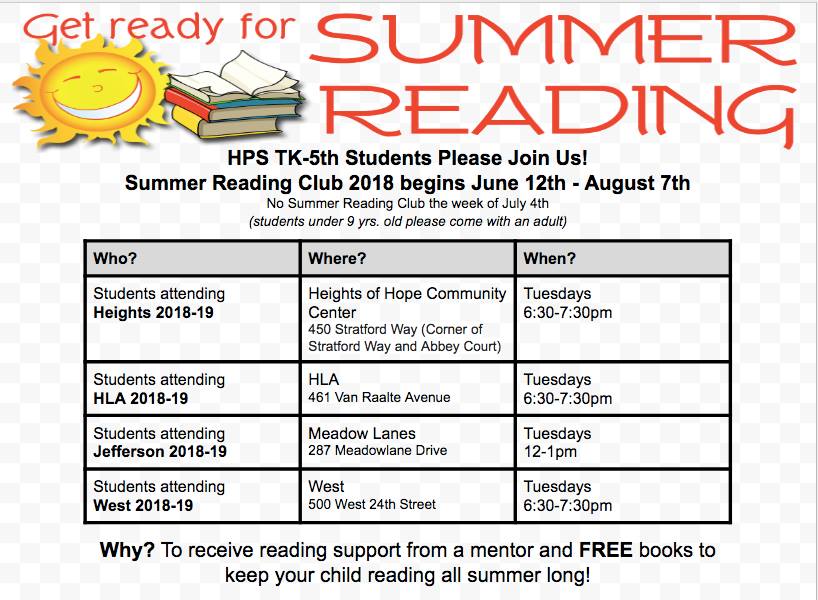 HPS Fall Open Houses- August 20, 2018
Open Houses
4:30-6:30 Heights, Jefferson, West, HLA
5:00-7:00 Holland Middle
6:00-8:00 Holland High
Thursday, August 23, 2018- First Student Day of School
*Link to the 2018/19 School Year Calendar
*Link to the Current Restructuring Updates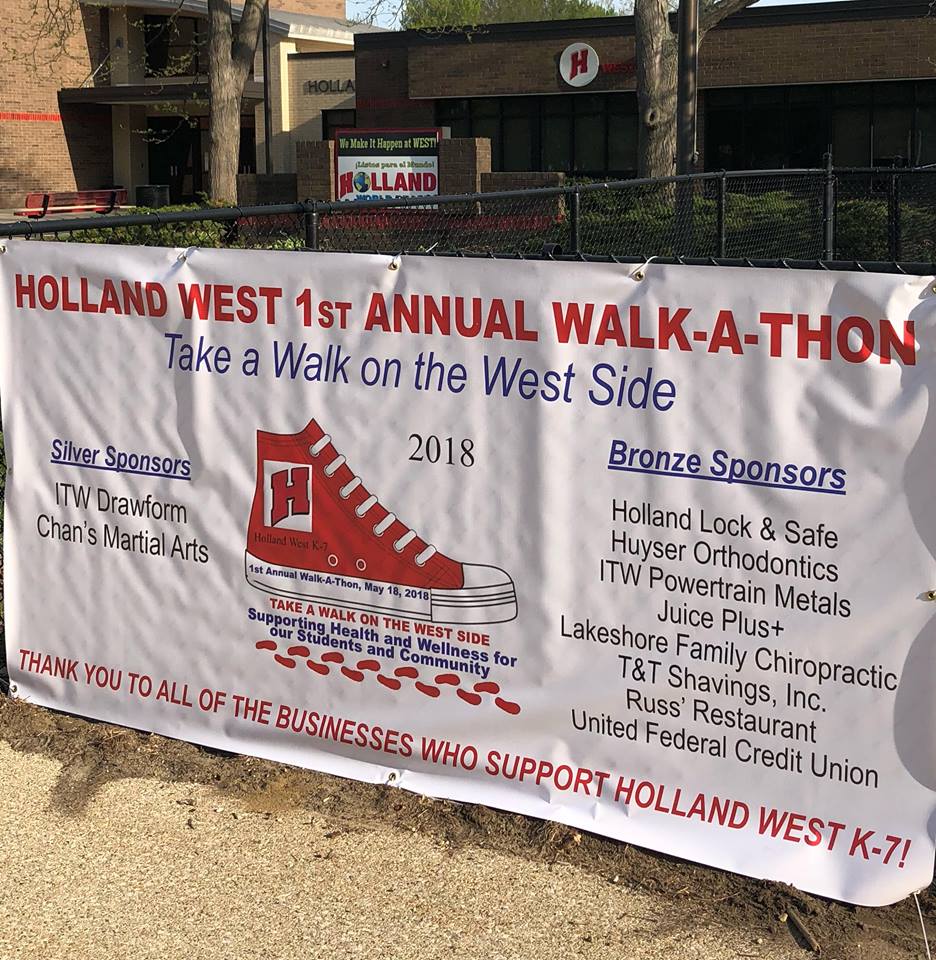 Thank you to our Community Sponsers for Making the 1st Annual West Walk-A-Thon a success! Thank you to our PTO for all of the hard work that was put in and a special thank you to co-chairs Missy Klinge and Kim House! West students were able to raise over $6000 for the PTO!
May 31 Newsletter
7th Grade Trip to Chicago
Tuesday, June 5 our 7th grade students will be traveling to Chicago for the day. Please have your 7th grade student be at school at 6:45am in the cafeteria. The West athletic entrance doors will be open. Buses will leave at 7am sharp. Students must pack a lunch, order school lunch, or bring money. Please be at school to pick up your student at 8:30pm in the West parking lot by the soccer field.
Thank you CMC!
​A heartfelt THANK YOU to Christ Memorial Church neighbors for their partnership again this year. They provided us with many, many supports such as Kid's Hope mentoring, staff lunch, prizes and snacks for our PBIS funds, and classroom supplies. The gratitude we have for them runs deep and we love working together with our community!
Lost & Found
Please have your student check the lost and found rack in the front entry way. The items left will be donated on the last day of school. Thank you!
Choir Concert
West, Jefferson, and HLA 1st and 3rd grade Choir concert at 7:15pm-8pm tonight in Christ Memorial Church located at 595 Graafschap Rd. West students should arrive at Christ Memorial Church at 7:00pm.
Get Ready to Read!
Did you know that children can lose up to 3 months of academic progress over one summer vacation? Reading a minimum of 6 books can help maintain reading levels while school is out of session. West is having a Summer Reading Club to help our students stay reading this summer! What is Summer Reading Club? A place to receive reading support from a mentor and FREE books to keep your student reading all summer long! West's reading club will be on Tuesday evenings from 6:30pm-7:30pm starting on June 12 and ending on August 7. There will not be club on Tuesday July 3 due to the 4th of July Holiday. Everyone is invited, but students less than 9 years old must come with an adult. Thank you!
6th/7th Grade Honors Assembly
On June 6, the last day of school, there will be an Honors Assembly for our 6th and 7th grade students. The Assembly begins at 9:15am and will be held in the West Cafeteria.
What's Happening at West
Our Girls on the Run team doing a Community Impact Project on a rainy day of no practice! The girls did an awesome job decorating lunch bags for Kids Hope. They should feel proud- they came up with some really positive messages.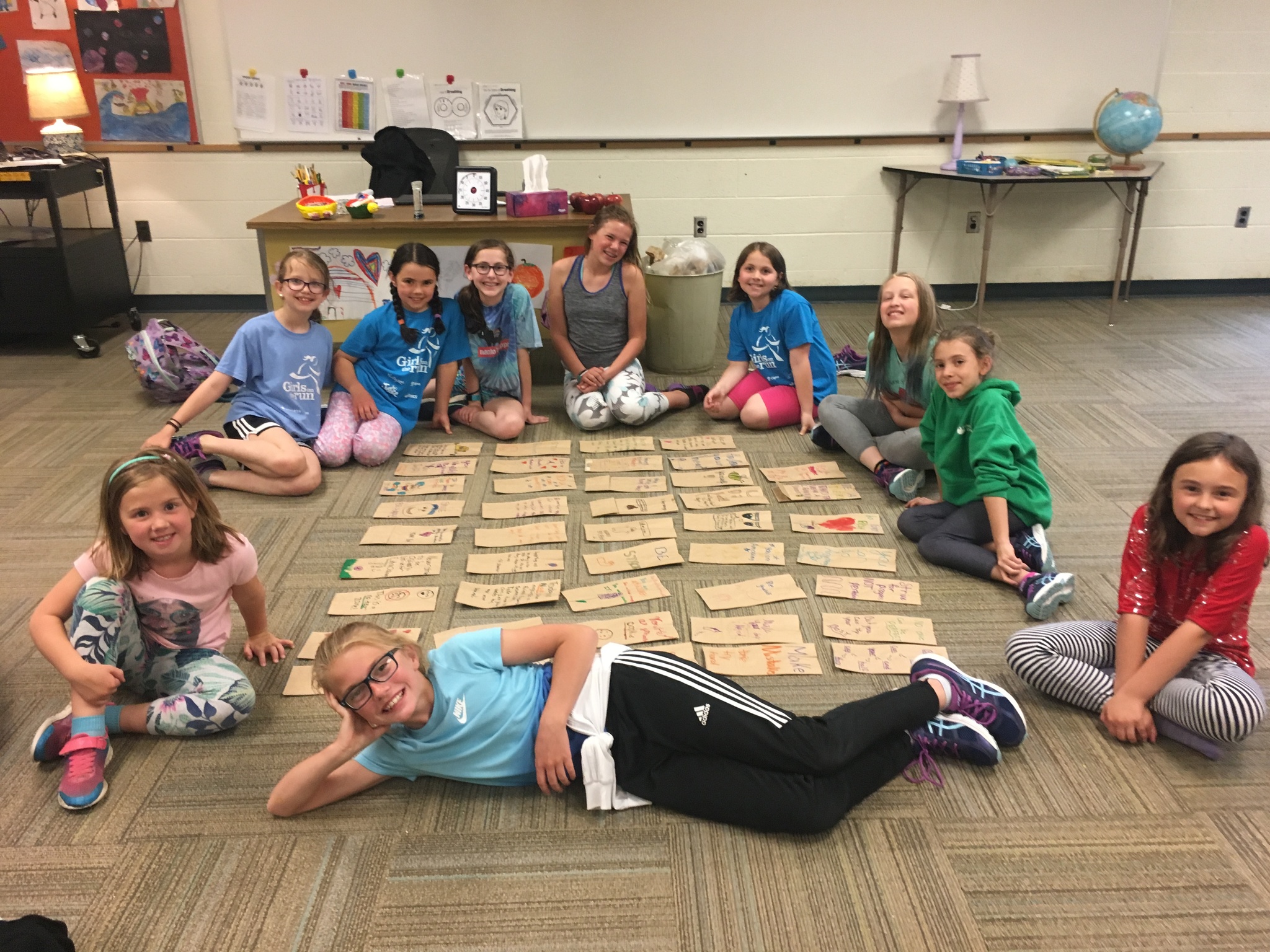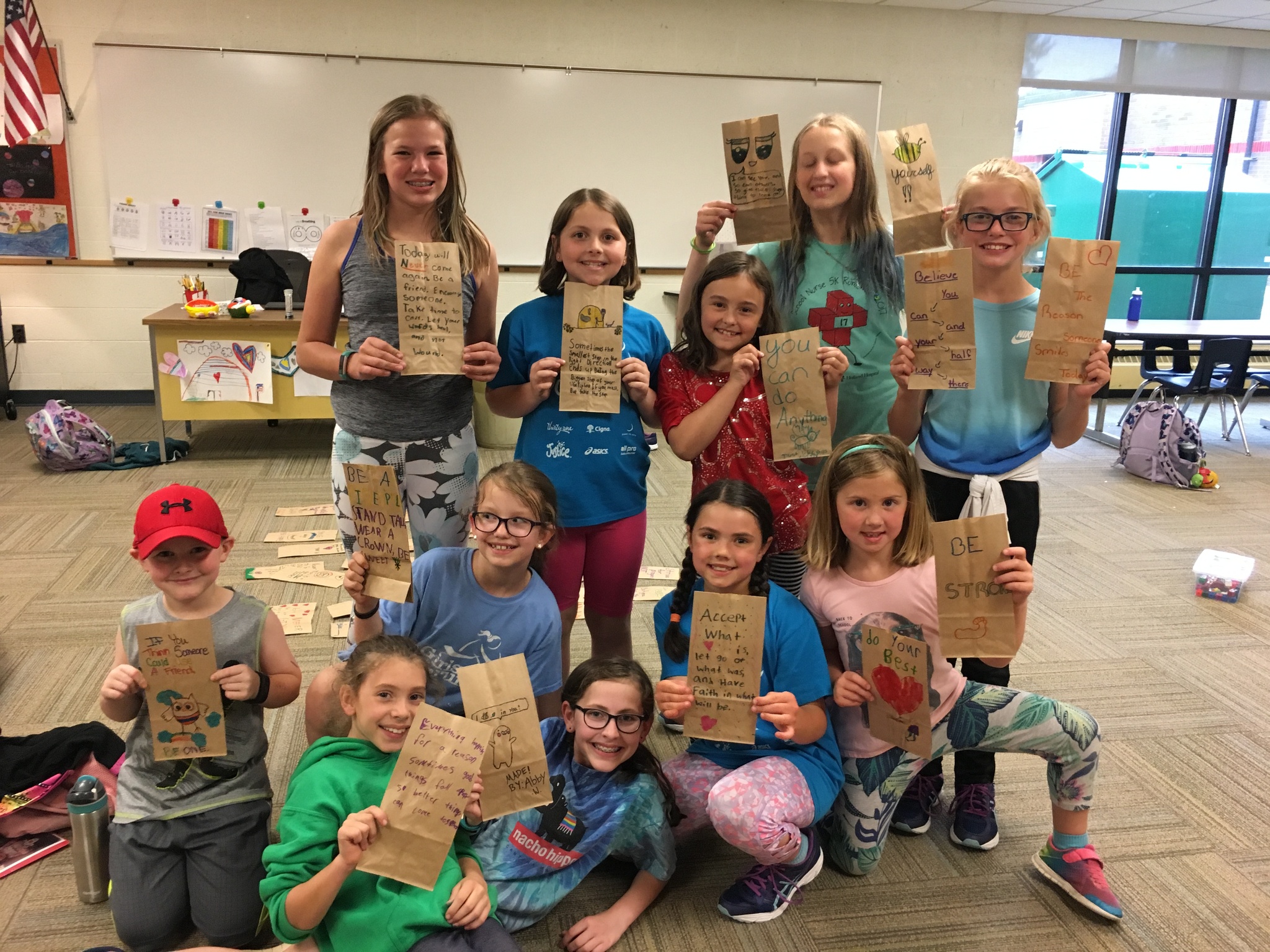 Many of our students were able to end the year with some very fun field trips! Thank you to our West PTO for helping fund some of these events, and to our many parent volunteers who make this possible by giving their time.
Kindergarten- Critter Barn
1st grade- Grand Rapids Children's museum and Zoo
2nd grade- Aquatic Center
3rd grade- Van Andel Museum and Windmill Island
4th grade-Aquatic Center
5th grade- BAM and Aquatic Center
6th grade- Camp Geneva
7th grade- Chicago
All School field day
West is proud to celebrate our Wall Stars: Sofia Angulo, Gabe Calanchi,T'nye Campos, Josh Coppernoll, Josiah Duch, Leinad Hollon, Ella Larsen, Brady MacLennan, Raven Manczak, Nathan Miller, Melanie Rodas-Figueroa, Marcus Ruiz, Anevaeh Salazar, Natalia Sanches, Abby VanIngen, and Milagro Wilson De La Cruz. Not pictured: Lexi Gibson, Lucianno Krauss and Brayden Snyder
Last week Friday Dr. Ramirez provided ICE CREAM and toppings to our 3rd-7th grade students who worked VERY hard during the M-STEP testing!