Welcome to

Holland Public Schools

Thank you for choosing Holland Public Schools as your district of choice. We have great students with even greater potential.

Thank you to everyone who contributed to a successful start. Many hands, feet, and hearts assisted in making the transition into a new school design as successful as possible.
VISION STATEMENT
Holland Public Schools
The Choice for Educational Excellence
Caring Staff, Innovative Programs, Committed Community
Right for Me

MISSION STATEMENT
Embrace, Engage and Empower each student for success in an ever changing world
The Board of Education is currently engaged in strategic planning. The above statements are a draft as of 8.13.18. Your input on these statements are welcome. Please contact the Superintendent's Office with your feedback.
School Operations:
School is operating on a normal schedule today.
Conferences:
Oct. 9 - TK - 5 - 3:50-6:50, Grades 6-12 - 4:30-7:30
Oct. 11 - TK - 5 - 12:00-3:00, Grades 6-12 - 12:30-3:30
Oct. 16 - TK - 5 - 3:50-6:50, Grades 6-12 - 5:30-8:30

Latest District News
Positive Behavior Intervention Supports
Check our our new POWER matrix for our PreK-5 Buildings for 18-19 below.
Important Messages from Dr. Brian Davis
What's New in HPS Podcasts
Spotlights
Holland High School Receives New Grant from Motus Integrated Technologies to Prepare Students with In-Demand STEM Knowledge and Skills. Learn more here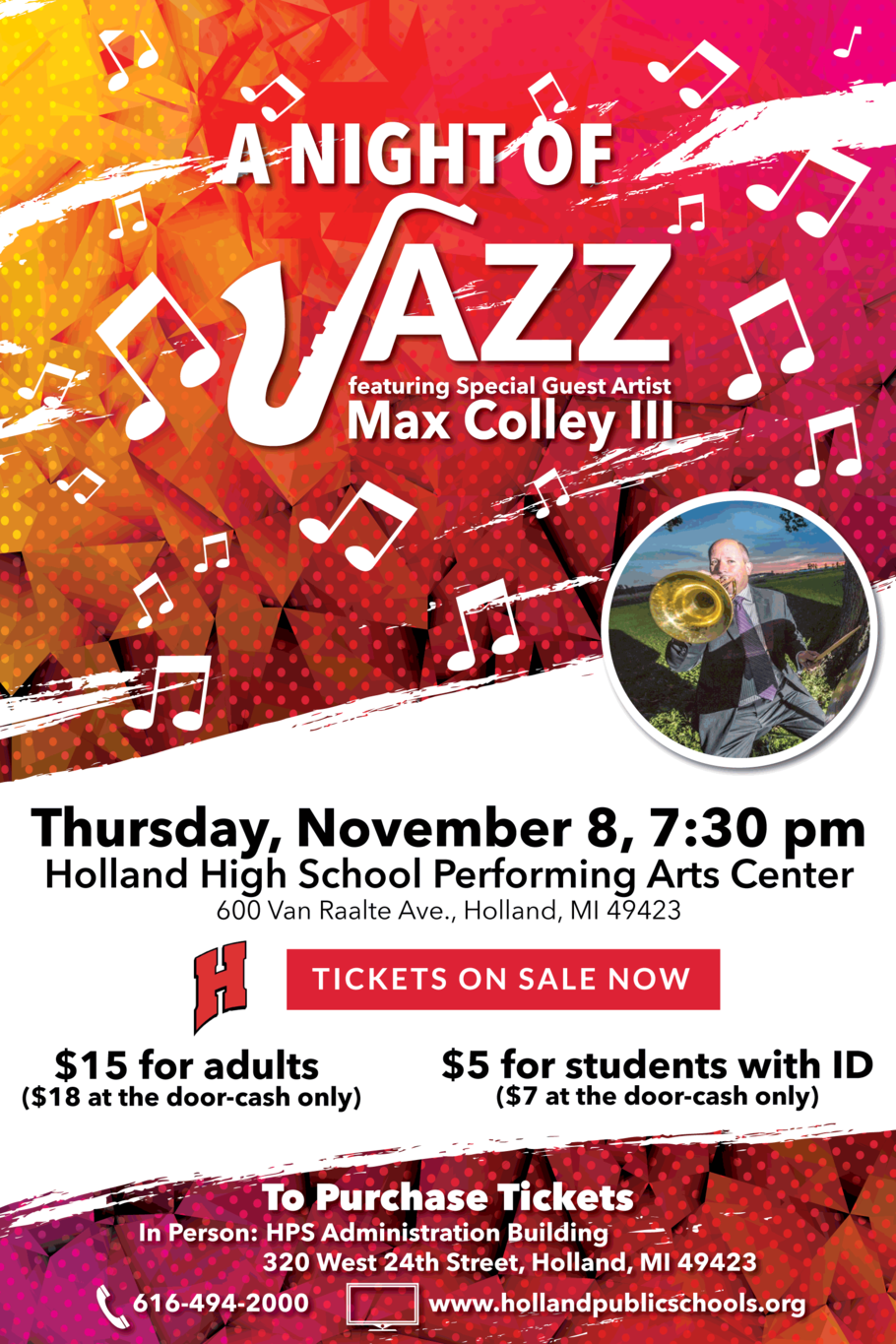 "Toes will be tapping and fingers snapping when the Holland High School Jazz Band presents: A Night of Jazz featuring Guest Artist Max Colley III. With a wide variety of jazz styles represented, everyone in the whole family will dig this special night! Come support the HHS Jazz Band on Thursday, Nov. 8 at 7:30 p.m. in the PAC of Holland High School!
Celebrate National School Lunch Week with us October 15-19, 2018!

NSLW is a nation-wide celebration of school cafeterias serving more than 30 million students a nutritious lunch each day!
Here at HPS we are PROUD to have served 35,000 lunches during September 2018.
Our focus for NSLW is to connect with students, families, faculty and staff the many things we love about school lunch as well as encourage students to try our new menus for a delicious, nutritious lunch.
Tasty nutritional meals. Educating your child about the importance of diet and good habits. This is what the Food Service Department in Holland Public Schools is all about! Please contact our office with your questions and comments.