Welcome to

Holland Public Schools

Thank you for choosing Holland Public Schools as your district of choice. We have great students with even greater potential.

Dec. 24 - Jan. 6 - Holiday Break
Jan. 7 - Classes Resume
VISION STATEMENT
Holland Public Schools
The Choice for Educational Excellence
Compassionate Staff, Leading Edge Programs, Committed Community
Right for Me

MISSION STATEMENT
Embrace, Engage, and Empower each student for success in an ever-changing world.
Core Values
We value…
Success for All-Our students develop their innate abilities to be life, career, and college ready.
Educational Excellence-We provide state and nationally recognized academic programs and extra-curricular activities measured by high standards of performance and personalized support.
Innovation-We continuously improve through the study and implementation of best practices and programs with high expectations for achievement.
Passion-We employ committed, talented, and passionate individuals who care for the students and families they serve.
Inclusion-It is our collective responsibility to foster respect, a sense of belonging, and success that honors each individual.
Equity-We ensure that our policies, practices, and programs serve our growing and evolving community.
Safety-We provide all students and staff powerful learning opportunities in safe, secure, and predictable environments.
Collaboration-We intentionally develop family and community partnerships to share the responsibility for the success of our students.
Proactive-We study and respond to the ever-changing needs of our community and intentionally invest the necessary resources to support our vision and mission.
School Operations
School is operating on a normal schedule today.
Latest District News
Positive Behavior Intervention Supports
Important Messages from Dr. Brian Davis
What's New in HPS Podcasts - Listen Here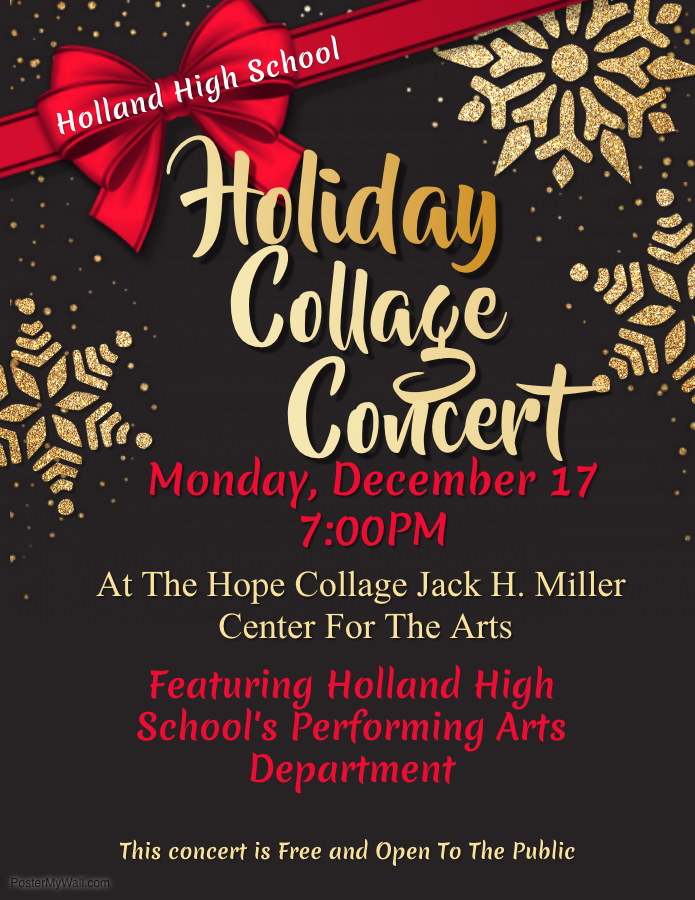 Come and enjoy the sounds of the season on Monday, Dec. 17 at 7:00 pm with the Holland High School Performing Arts Department. This evening features special guest artist violinist Diana Ladio from the Moxie Strings performing with the Holland High School Symphony Orchestra. Holland's very own choirs, bands, and orchestras will perform. The concert is free and open to the public.
Spotlights
Holland Middle School has added a Robotics program for the 2018-2019 school year. Teacher Amy Johansen led a group of enthusiastic, budding engineers who competed in the FTC Robotics Challenge at Allendale High School in early December. This group will continue next school year and is open to any newcomers who want to learn about teamwork and enhance their STEM skills.
In the fall of 2018, our restructured K-5 schools will feature the Challenge Program for academically advanced 4th and 5th-grade learners. This twice-weekly program is being facilitated by Ryan Harell.