Summer Reading Club!
Tuesdays from 6:30 pm - 7:30 pm
at HLA
416 Van Raalte Ave
Every Tuesday except the 4th of July week.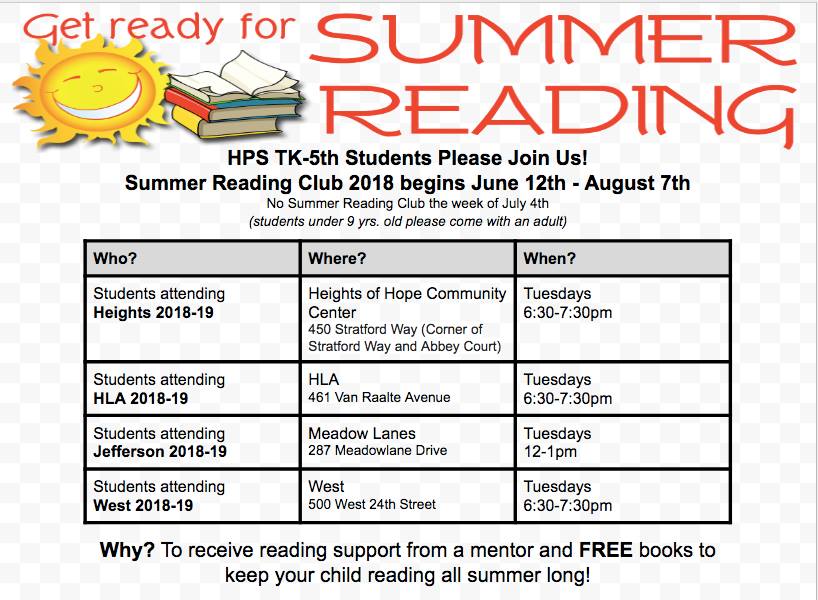 Open House- August 20, 2018
Monday, August 20, 2018
4:30-6:30: HLA K-5
5:00-7:00: Holland Middle School
6:00-8:00: Holland High School
First Day of School- August 23, 2018
Kindergarten 2018-2019
Dear Prospective Family:
Thank you for taking this opportunity to learn more about Holland Language Academy.
We are pleased that you are considering HLA for your child's educational needs. On behalf of our faculty and staff, I want you to know that we believe it truly is a privilege to partner in your child's learning.
As you come to know our school, you will discover that we are more than just a place to learn; we are a community. Holland Language Academy's students in kindergarten through seventh grade have the opportunity to excel academically in two languages, Spanish and English.
Our student body, faculty, and families are a healthy patchwork of races, religions, and ethnic backgrounds. The diversity at Holland Language Academy provides an opportunity for children of all backgrounds to experience and embrace different cultures and lifestyles.
We believe that our success as an educational community begins with your careful assessment of our school relative to your child's needs and your expectations, as well as our understanding of how we can provide the best education for your child.
We look forward to meeting you and your family.
Iliana Vásquez-Ochoa, Principal
Due Dates
Applications for CURRENT HLA FAMILIES must be submitted by Friday, January 12, 2018.
Applications for NEW FAMILIES must be submitted by Thursday, March 29, 2018.
Lottery will be held on Tuesday, May 29, 9:00am at the Administration Building of HPS.
Non-Resident Enrollment-Open Enrollment Period for 2018-2019
Holland Public Schools participates in the state's 105(c) non-resident enrollment program under the State School Aid Act [MCL 388.1705 and 388.1705c]. This allows parents who reside outside of the Holland Public Schools attendance boundaries to choose an HPS school for their child(ren) from the Ottawa, Allegan, Kent and Muskegon Intermediate School Districts.
2018-2019 School of Choice window for application is May 14 - June 18
Registration Checklist
Kindergarten Enrollment Eligibility: All children who are 5 years old on or before September 1, 2018 are eligible for enrollment into a HPS Kindergarten program.
The parent, legal guardian, or temporary custodian of any elementary age child enrolling in a Holland public school is required to submit proof of age and required medical records to the school.
Enrollment Forms:
Spanish Enrollment Form
English Enrollment Form
Other required documents for enrollment:
Copy of birth certificate.
Proof of residency. Please bring a current bill, lease agreement or license that shows your current address.
Photo ID of parent or guardian enrolling the student.
Current Immunization Records.
Proof of vision and hearing test.
Noche Familiar de Película / Family Movie Night
¡La Noche Familiar de Película ya viene! Aparte la fecha para el jueves, 8 de febrero. Película gratis para todas las familias, empieza a las 5:30 en la cafetería de HLA. Habrá comida para comprar.
MOVIE NIGHT IS COMING! Mark your calendars for Thursday, February 8. Free movie for all families, starting at 5:30 at HLA cafeteria. Food available for purchase.
Ropa para el Invierno / Clothing for Winter Weather
Ropa para el clima invernal
Su hijo debe traer ropa apropiada para el clima (pantalones para la nieve, chaquetas, gorros, guantes, botas). Hacemos todo lo posible para que los niños jueguen afuera y solo permanezcan adentro en casos de temperaturas extremadamente frías. Le pedimos a su hijo que traiga sus pantalones de nieve, chaquetas, etc. para poder disfrutar cómodamente del clima de Michigan.
Clothing for Winter Weather
Your child should bring plenty of warm clothes (snow pants, jackets, hats, gloves, boots). We make every effort to have the kids play outside and only stay indoors in cases of severe inclement weather or extremely cold temperatures. We ask that your child bring their snow pants, jackets, etc… to be able enjoy Michigan weather comfortably.
School Times
K – 5th Grade
7:48 am - 2:50 pm
6th – 7th Grade
7:46 am – 2:50 pm
Half Day
K – 5th
7:48 am – 10:51 am
6th – 7th
7:46 am – 10:46 am