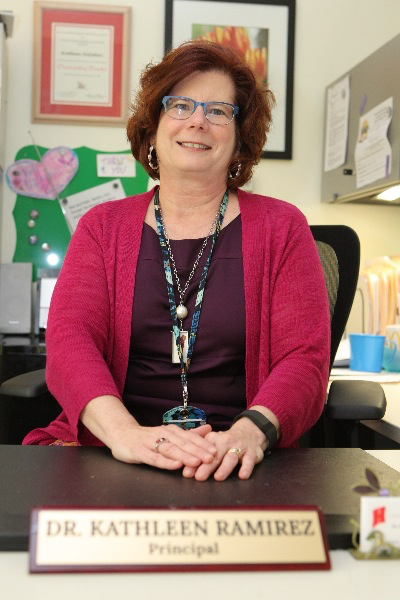 Don't expect a conventional answer if you ask West Elementary Principal Kathleen Ramirez what makes her an effective administrator.
She says it's her learning disability: Attention Deficit Hyperactivity Disorder.
"The blessing in ADHD is that it helps me relate to children, and parents of children, who struggle to learn," Ramirez said. "It makes me a better parent, teacher, and principal."
Ramirez, who joined Holland Public Schools in fall 2011, was diagnosed with ADHD in 2002, at age 41. About the same time her son Aria, now a 22-year-old college student, was also diagnosed with ADHD.
Admittedly, Ramirez coped well with distractibility. She had graduated from Arizona State University with bachelor's degrees in secondary education and business and won the University Award for Academic Scholarship at the University of Texas at Arlington, where she earned a master's degree in education leadership. A computers teacher, she was selected by her peers as the best teacher in the Fort Worth Intermediate School District.
Nevertheless, Ramirez said taking medicine prescribed for ADHD made a big difference in her ability to multi-task – a skill school principals must master.
Ramirez first became a principal with the Grand Rapids Diocese of Catholic Schools in 2003. She led St. James School for the year before it closed, then became principal of Immaculate Heart of Mary school for five years.
Most recently she served as principal of a preK-8 charter school in Racine, Wisc., but returned to West Michigan be closer to her 81-year-old mother, who lives in St. Joseph.
"The best part of any school is the people in it," Ramirez said. "I've got a great staff here. I'm enjoying getting to know the kids, their parents, and the community."
Ramirez has added a Tuesday through Thursday after-school homework club for fifth, sixth- and seventh-graders, and enlisted sixth- and seventh-graders to help with a new school safety program designed to ease traffic congestion around the school. A new Reading Buddies program convenes every Wednesday morning to build a sense of school community along with literacy skills.
To give students more opportunities to compete in areas other than sports, Ramirez had older students participate in the National Geography Bee this year and introduced the National Spelling Bee in 2012-13.
In addition to Aria, Ramirez has a daughter, Nicole, a web project manager, who lives in Wisconsin.