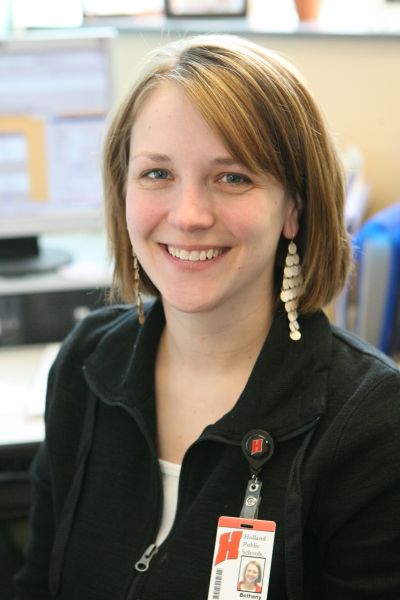 Hello! My name is Bethany Nichols and I job share with Sue Hemmeke to serve students in 9th -12th grade whose last name begins with A-Go. I believe that Holland High is an exciting place for students to learn and grow. Please know that the counseling department is committed to the academic and personal success of all students. We are also committed to providing an abundance of resources and encouragement, so please contact us at any time!
As a counselor, I strive to provide exceptional leadership in collaboration with other caring individuals to engage all students in their own personal, academic and future success. My approach to counseling is based on brief, solution focused and cognitive-behavioral counseling theories. By implementing these theories, I help students to articulate a desired change and magnify their personal strengths and resources as they seek to implement the change. I am available to consult with parents, teachers, administration and other faculty about many different aspects that promote or hinder student success and progress. Specific responsibilities include:
AP testing
NCAA Eligibility
Athletic Referrals
Prior to counseling, I received my Bachelor of Arts and teaching certificate from Hope College. I taught Mathematics and Spanish at the middle and high school levels for four years. I continued my formal education as a graduate student in the Master of Education in School Counseling Program at Grand Valley State University. Along the way, I married my best friend Sam Nichols and we currently have 3 children.
I am very excited to be part of the Holland High counseling department. I consider it a privilege to advocate for the students that I serve.
Please feel free to contact me by e-mail at bnichols@hollandpublicschools.org or by phone at 494-2213.