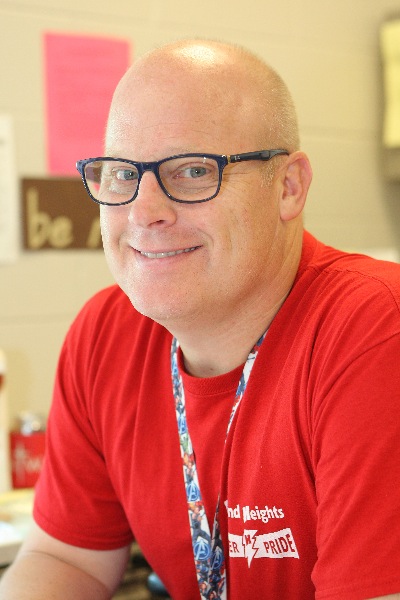 Kevin Derr has served as principal at Holland Heights since the 2009-2010 academic year.
But Derr's roots in Holland extend back to his own childhood. He grew up in the Tulip City, graduating from Holland High School in 1983.
"Holland is essentially the same city it was when I was growing up," Derr said. "The biggest change I see is that there are more things for kids and families to do. There are more opportunities, in general."
Derr need not look farther than his own school to see how opportunities for kids and families have multiplied.
In March 2017, the Boys and Girls Club of Greater Holland opened a satellite program at Holland Heights. Now Heights students can participate in Boys and Girls Club programming after school without having to cross U.S. 31 to get to the club's South Side Clubhouse and headquarters at 435 Van Raalte Ave.
The Boys and Girls Club of Greater Holland's North Side Club at 583 Riley St. began as a satellite program inside Pine Creek Elementary School.
While it's too early to say whether the new Boys and Girls Club satellite at Heights will generate enough attendance to warrant a third clubhouse on Holland's east neighborhood, Derr said he's very excited about how the satellite program will benefit Holland Heights students and families.
"The Boys and Girls Club board was thinking about doing another satellite program, and our kids had the least access to the club on Van Raalte," Derr said. "We're lucky they chose us."
Another plus, Derr said, is that the Michigan Department of Health and Human Services is now providing services at the school. A part-time social worker was placed in the school two years ago. During the 2016-2017 school year, a Pathway to Potential Success Coach was added.
Being able to receive state services at a neighborhood school saves residents a trip across town the DHHS headquarters on James Street, Derr said.
Another program that Derr says fortifies the close-family-friendly culture at Heights is "Be NICE," an area-wide initiative of the Mental Health Foundation of West Michigan. NICE is an acronym for:
N - Notice the signs of depression
I - Invite yourself to have a loving and caring conversation
C - Challenge the stigmas
E - Empower others and yourself
Derr's "Buddies" program also pairs Heights students from different grades for reading practice and literacy-building games. He holds monthly "celebrations of learning" to highlight students' accomplishments and positive character traits, such as empathy, accountability, and perseverance.
Derr earned his degree in education at Northwestern College in Orange City, Iowa. His oldest daughter, Allison, is a senior at Northwestern now, majoring in Elementary Education with a Math/Science focus. His wife, Judy, is a Holland Eye Clinic technician. Their son, Sutton, is a sophomore at Northwestern College majoring in Sports Management and minoring in Youth Ministry. Sutton is also playing on the NWC baseball team. Their younger daughter, Emily, is a Junior at Holland High and is in Theater and Girls Tennis.
Derr considers himself fortunate to have grown up in Holland and is happy that he and Judy are raising their family in the Tulip City. From the cozy environs of Holland Heights, he endeavors to cultivate the same appreciation for another generation of Holland residents.