2020-2021 School Year-Welcome HPS Family and Friends,
I would like to take this opportunity to personally extend my welcome to you and your family into the Holland Public Schools for the 2020-2021 school year. Thank you for selecting our school district as your district of choice for educational excellence. Our highly skilled and compassionate staff, leading edge programs, and partnerships with our committed community extend our legacy of success now for over 170 years.
This will likely continue to be a year of fluid change as we continue to implement recommended/required health safety guidelines in response to COVID-19. Nearly 100 employees, parents, students, and community partners are working diligently on our Return to School Plan for this fall. While our goal will be in-person instruction as much as possible, we are also preparing for some level of remote learning instruction.
I recognize that parents have many choices for the education of their children. At HPS, we take great care to honor and respect the responsibility that we have to educate the children of our community.
We work to embrace each child to ensure that we provide safe, secure and predictable learning environments where students are at the center of engagement.
We are committed to equity and inclusion. To those of us who are white, including the majority of our School Board and myself, we have the privilege of not experiencing racism. When we acknowledge this, we are taking a step forward. While we have made strides in our professional development, curriculum, and instructional and behavioral practices as a district, we recognize the need to reprioritize

our equity and inclusion efforts. This means more resources, more measurements of progress, more conversations about race, and even more openness to understanding the experiences of our students, families, and staff as they navigate life under this reality.

Leading a system-wide effort requires that we ensure that cultural responsiveness permeates all levels of the district, from teaching and learning to buses and buildings, to all levels of professional development and community engagement. We have a non-stop commitment to ensure that students leave our schools fully prepared to succeed in a society that is ever more racially, ethnically, and socioeconomically diverse; so that our graduates are educated, informed, and able to learn from our shared history.
We focus on learning that inspires innovation, critical thinking, and problem-solving to engage and empower each student for success in an ever-changing world.
We are a district that is just the right size to provide comprehensive programming to meet student interest and learning needs. We are also a district of just the right size where students are known on an individual basis. This provides us with a unique ability to demonstrate a true understanding of their personal interests and needs in a heart-felt and compassionate way. This assists us in fostering respect, a sense of belonging, and success that honors each individual.
Relationships are the key to all learning and we look forward to developing these relationships with you over the course of the school year. We want to intentionally develop family partnerships. As your child's first teacher, please share with us regularly the interests and gifts that your child already has and ideas that you have on how we can continue to further support their learning and future goals.
In the past decade, we have studied and implemented many new effective innovations that will prepare our students for an ever-changing world. This includes:
The expansion of our Advanced Placement classes at Holland High school and the offering of honors/advanced classes at Holland Middle School.
An elementary Challenge Program to provide extension/enrichment for our younger advanced learners.
The area's only Early College High School program to advance post-secondary achievements. Students can earn up to 62 direct transferable credits to any college/university in Michigan at the end of their 13th year and/or an Associate Degree. Our new program expansion and partnership with Davenport University makes this learning available here in Holland with multiple career pathway options.
The area's only Two-Way Bilingual Spanish Immersion

program where students from two different cultures come together to become bi-literate and bi-cultural. This program now serves students in grades PreK-8.

The area's only K-8 STEM (Science, Technology, Engineering, Mathematics) program leading into a three-year engineering pathway through Project Lead the Way at Holland High school. We not only want our students to be proficient in the core academics, we want our students to think like scientists and mathematicians.
Developing digital citizens recognizing the ways in which students will have to communicate and collaborate across multiple platforms. We now provide access to 1:1 devices in all of our buildings and classrooms.
Alternative pathways to graduation including participation with the Ottawa Area Intermediate School District Career-line Tech Center and our own Holland Virtual Tech Business Center for credit recovery and early graduation opportunities.
Dedicated learning and implementation of positive behavior intervention supports to support the emotional development of children alongside community-based wrap around services that support mental health and family needs.
An Intensive focus on early literacy to ensure that all students are able to read well and independently by the end of third grade.
These programs compliment a rich extra-curricular program including local, state, and nationally recognized performing arts, athletics, and academic extra-curricular options.
In addition to our programs; we have a learning environment where students and families from nearly 40 countries, speaking nearly 30 different languages, come together to learn each day. We place great value in our cultural diversity and view this as a defining strength as we prepare our students for the future. Alumni frequently share with me that this learning experience in HPS prepared them well for careers and continued learning in a diverse and ever-changing world.
Again, welcome to Holland Public Schools. It is great to have you part of our family and rich traditions. We have great students with even greater potential. I hope that you quickly learn and affirm why HPS is Right for Me! If there is anything that I or a member of my team can do to support you or your child, please do not hesitate to reach out to us. Your success is our success and together, our learners will do amazing things.
Warmly,
Dr. Brian Davis
Meet Dr. Brian Davis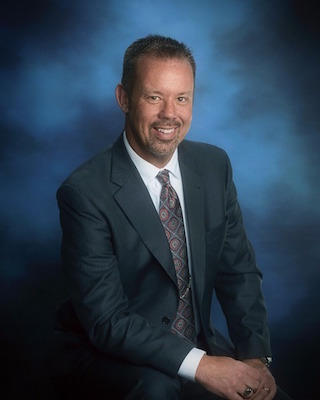 Dr. Davis is the current superintendent of Holland Public Schools. He is starting his 12th year as superintendent in the district and his 28th year in education. He has been in the district since July, 2000. He is the 12th superintendent in our rich history and the third longest seated superintendent of the district.
Superintendent Davis was born and raised in Hillsdale County. He grew up on a forty acre farm assisting his parents in raising crops and livestock throughout his childhood and high school years. He was very involved with 4-H and many extra-curricular activities in high school, especially in music. In high school, he was the drum major of the marching band for three years and was the recipient of the John Phillips Sousa Award. Following his senior year in high school, Dr. Davis was selected to play with the Michigan Lion's All-State Band as an alto saxophonist. This statewide band was comprised of over 300 talented musicians. As a participant in this band, he was able to travel to China, Hong Kong, and Taiwan as part of the International Lions Convention held in Taipei, Taiwan.
This was the beginning of Superintendent Davis' cultural exchanges. He also had the opportunity to study the teaching of reading his senior year in college at the University of Western Australia, in Perth, Australia. His student teaching experience was in Southampton, England. He also co-lead a People to People delegation to the People's Republic of China in 2007 to study language acquisition. These educational travel experiences have lead to his love of travel in general now having visited over 40 different countries. At the heart of his travel, he enjoys learning about the culture of each country visited and understanding of the education system each country provides to its children.
Superintendent Davis is a first-generation college graduate in his family. Working many part-time jobs throughout high school and college, he was able to pay for his college education. His first degree was earning a Bachelor of Science in Education from Central Michigan University with a major in mathematics and a minor in reading. His teaching career began in 1992 with Jonesville Community Schools where he taught sixth-grade math for three years and second grade for one year.
Superintendent Davis' career transitioned in 1996 into guidance and counseling following his completion of a Master of Arts from Eastern Michigan University in K-12 School Counseling. Dr. Davis worked with Zeeland Public Schools at Creekside Middle School for four years as a middle school counselor and teacher.
In 2000, Dr. Davis began his career at Holland Public Schools as an elementary principal at Lakeview School. This followed his completion of his Educational Specialist Degree from Michigan State University in Educational Leadership. Since this time, Dr. Davis has served as the Assistant Superintendent of Teaching & Learning for five years and his current tenure as Superintendent of Schools. Dr. Davis completed his Ph.D. at Western Michigan University receiving a Doctor of Philosophy in Educational Leadership, Research, and Technology.
Superintendent Davis was named by the Michigan Association of School Administrators as the 2011 Michigan State Superintendent of the Year. Since this acknowledgment, he has had the opportunity to participate on the state and national level in assisting in shaping education policy and school reform efforts. He currently sits on the Executive Council of the Michigan Association of School Administrators and the Executive Council of the Middle Cities Education Association.
Dr. Davis volunteers his time in several community non-profit organizations where he is or has served on the councils and board of directors including: City of Holland Human Relation Commission-Community Network for Education, Cradle to Career, Destination Education, Holland Historical Trust, Kids Hope USA, Model Communities, Ready for School, Rotary, Leaders of the 21st Century, Tulip Time Festival, Wavecrest Career Academy, the West Michigan Chamber of Commerce, Movement West Michigan and Talent 2025. He is also presently serving on the Michigan Association of School Administrators Professional Growth and Leadership Committee and the Michigan Department of Education's Excellent Educators Advisory Group.
Dr. Davis is active as a strong advocate for public education staying on top of legislative movements that impact public education from policy to funding. He served as a school leader as part of the Michigan School Finanace Research Collaborative in addressing the base funding needed in Michigan to provide quality education and services aligned with the Michigan Standards and Top 10 in 10 initiatives.
"In addition to my time with current students in our schools, I really enjoy connecting with alumni from Holland Public Schools." Feel free to share your alumni story with him by emailing Dr. Davis
Dr. Brian Davis
Superintendent
616-494-2005
Twitter @bdavisHPS
Beth Kooiker
Administrative Assistant
616-494-2012
HPS Administration Building
320 West 24th Street
Holland, MI 49423
Monday - Friday
8:00 a.m.- 4:30 p.m.