By Randy Vande Water, Holland High Class of '48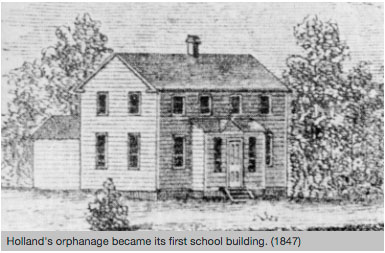 As Holland Public Schools greeted the 21st Century, the district was pressed by financial and declining enrollment challenges. This was largely due to a stagnant statewide economy, which caused many area families to leave Michigan for improved opportunity.
Despite the ongoing budgetary squeeze, Holland Public School persevered and continued to fulfill its instructional mission with excellence and innovation. In the fall of 2006, for example, Holland High was cited by The College Board as one of the top Advanced Placement Programs in Michigan for its success in mathematics, science, and technology.
Committed to maintaining a premier school day and extra-curricular program, Holland Public Schools, from 2004-2006, added a number of new components into its curriculum, including K-12 Spanish language instruction, a technology integration program for 4th-8th graders designed to connect state-of-the-art computer skills with the teaching of core subjects like math and social studies, and a highly concentrated "Reading First" literacy emphasis in grades K-3.
Holland Public Schools has a uniquely beneficial instructional and social environment. This has been possible by the commitment of caring parents, students, staff, and community members. In 2005-2006, Superintendent Frank Garcia, Board President Steve Grose, and School Board trustees initiated a new strategic planning process, anchored in large part by a broad Citizens Advisory Committee. This community-based endeavor strengthened a district already blessed by a rich history that has spanned generations.
Gathering at 9 a.m. Thursday, June 29, 1848, in a 35 by 60-foot log church structure located on the north side of East 16th Street and adjacent to the present Van Raalte Drive in Pilgrim Home Cemetery, pioneers met to organize a public school district for the children of Holland.
Accomplished at that initial meeting was the election of the community's founder, Dr. Albertus C. Van Raalte as moderator. Henry D. Post, Van Raalte's friend who represented American-born settlers, was named director and William J. Mulder was selected assessor. Called First Reformed Church, the cabin was designed by local Dutch architect G. J. Kroon.
The petition for the selecting of a school site and the building thereon of a school was dated Wednesday, July 5, 1848 and was signed by Peter F. Pfanstiel, Van Raalte, M.W. Houthamp, Joes Schader and Bernardus (Ber's) Grootenhuis. At the Monday, July 17, 1848 meeting Dr. Van Raalte offered to donate property for school buildings on the present Graves Place, site of VanderWerf Physics-Mathematics Hall, 27 Graves Place and Van Zoeren Hall, 41 Graves Place for school buildings.
At the same meeting the group voted to raise $300 by taxation, the maximum tax amount allowed legally in 1848 and it was voted to negotiate an $800 loan at 7 per cent interest to be "repaid as fast as it could legally be assessed against the taxable property of the school district" and that the school board proceed "to build a schoolhouse to accommodate 200 pupils at a cost not to exceed $800."
Van Raalte felt that if the people were to maintain their faith, they must have knowledge. Reportedly during the immigrant ship Southerner's voyage to the United States in 1846, Van Raalte urged people to learn the English language. Holland's founder believed that as long as his people could maintain a Christian direction in the public schools, it was their duty to their fellow men to do so.
He said: "Who can deny that the molding of the child at least in part takes place under the hand of the schoolmaster? If a schoolmaster is worth anything, he will rebuke the faults and he will recommend morals…"
Holland village trustees voted six lots in block 46 of the school district at the second school board meeting. They also voted to set aside $900 in tax money for building a school.
Prior to the official formation of a school, according to a diary of Mrs. A. Visscher, "an American, Ira Hoyt, taught in the first school in the winter of 1847-48 in a small building on what is now called the Vander Haar farm."
Hoyt's official hiring for the "coming fall and winter" was authorized at the Friday, Sept. 5, 1848 meeting. He taught three and a half months at $22 a month, exclusive of his board. At one time Hoyt lived on the 339 River Ave site, later the residence of John J. (Jock) Riemersma, long-time Holland High School principal. He served from 1919 to 1957.
When Hoyt began the total number of children in the district between ages 4 and 18 was 179 of which 100 attended school. Children were taught during the day and men and women were instructed in English in the evening.
After the official public school organization in 1848, the board didn't wait for a building to be constructed but secured a building on the north side of East Eighth Street about opposite the present Knickerbocker Theatre. Plotted in 1848, the village of Holland was bounded by Pine and Lincoln Avenues on the west and east, south to 32nd Street and north to Black River.
On Tuesday, Sept. 4, 1849 the board voted to collect a $300 tax for the school building. That meeting opened with prayer. That September the first school census was taken and contained 191 names, but the public school attendance was 29 while 50 students attended private or select schools. Books prescribed were Webster's Elementary Speller, Sander's First and Second Readers and Thompson's first Arithmetic.
Miss Elvira Langdon was hired by Henry D. Post in 1849 "if she would agree to come for $5 a week." Her term was 16 weeks and her travel expenses were paid. The first woman to teach in Holland, she made the 25-mile trip from Allegan by way of Singapore, a thriving lumbering village near the present Saugatuck site. On Wednesday, March 21, 1849 O.D. Vander Sluys was chosen assessor after Mulder was removed.
Desiring to borrow $2,000 for a new school in 1850, the school board voted only $1,200 on Monday, June 24, 1850 and Anthony Vander Wall was appointed to assist the board for building plans and specifications.
Board members refused to vote funds for any school support taxes and turned down possible rent for a building and any payment of debts at the annual meeting Monday, Sept, 9, 1850. Post then warned that the district might "lose their organization or pay for a lawsuit." What followed resulted in a vote of $25 for rent, $20 for wood and $50 for debts. They also agreed to hire a "male or female" teacher.
That December 26th in Post's home, the district name was changed in a meeting of school inspectors to School District No.1 of the Township of Holland. Hoyt G. Post signed the order as clerk of the Board of School Inspectors. This name remained until 1874 when legislative enactment made the district the City of Holland. The city had been incorporated in 1867.
On Monday, Feb. 10, 1851, Gerrit Van Dyke bid $300 and was awarded the job over two other men to construct the 35 by 25-foot building and was limited to $200.99. The 1851 school census totaled 150.
In October 1851 Walter T. Taylor of Geneva, N.Y established an academy, emphasizing Latin. He was principal and his son and two daughters were teachers. Located on the second floor of the public school building the facility was a combination of an elementary school, subject to the school laws of Michigan, and an academy designed for higher education for young men to prepare them for the Christian ministry.
The schools were separated in 1853 and the General Synod of Reformed Church in America took over the academy. Taylor resigned in 1854 after he failed to be paid. He was succeeded for a year by the Rev. F.P. Beidler and by the Rev. John Van Vleck in 1855. Van Vleck Hall on the Hope College campus bears his name.
Van Raalte referred to the district high school as the Holland Academy, his anchor of hope (forerunner of Hope College, chartered in 1866). It continued under the district organization of the public schools until 1853 when Van Raalte donated five acres of land for the academy and wanted to name a board of trustees.
The Board of Education subscribed $250 for building purposes. From 1854 through 1860, 24 graduated from the Academy and as a result, Hope College was founded on the new 16 1/2-acre Academy campus.
Because of the early efforts for Christian instruction as part of a curriculum, another school was formed in the spring of 1857. Hendrika Van Zwaluwenberg became the teacher of a parochial school held in the red brick home of R. te Roller on the East Eight Street hill.
Dutch was taught with the Bible and the catechism book as reference material. The school was not in existence after 1862.
On Monday, Sept, 24, 1860 a vote was taken to organize a high school and was called Union. Located on the west portion of Graves Place, the proposition was adopted by a vote of 20-5. The school census had reached 300 pupils. On Sept. 24, 1861 the job of enlarging the school building was let to lowest bidder J.W. Minderhout for $510.
During the remodeling, several students received minor injuries while attending an assembly when a portion of the building collapsed. Minderhout's hanging of doors did not satisfy the board and he rehung the doors, receiving payment in "a stove and some pipe not then in use."
The Board of Trustees adopted a set of rules Tuesday, Nov. 5, 1861 defining duties and rules for transacting business. Student examinations were held at the end of each quarter and "attended by the entire board."
Six teachers were on the 1862 payroll with a total salary of $1,177.15 and $491.08 in other expenses for a $1,668.23 for tuition and incidentals for the year. On Monday, Sept. 5, 1864 the part of the school district lying north of Black Lake (Lake Macatawa June 8, 1935) and river was set off and organized as a new district.
Although the Holland fire of Monday, Oct. 9, 1871 destroyed two-thirds of the city, the school buildings were saved. However, work during the school year of 1871-72 was "much disturbed" and the "board was compelled to cancel some of the teachers' contracts. Families had lost homes and could only return when new homes were completed.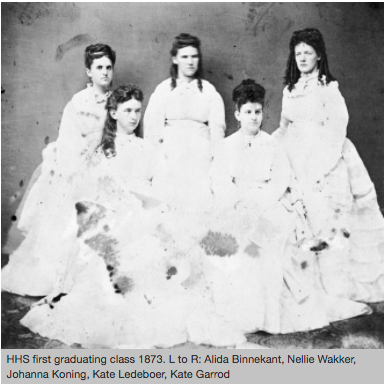 Holland High School graduated five women in its first commencement in 1873. Holland had been incorporated Wednesday, March 27, 1867 but the school district was not changed until 1874 when the new city charter designated the school district boundaries should be identical to the city. The part in the city limit became a separate corporation known as "The Public School of the City of Holland,"
Not well understood by residents caused a school board "war" between the "old board" and the "new board" with the "new board" victorious following a Michigan court decision upholding a state legislative act. This left parts of Holland east, south and west of Holland with a school house.
Adjusting the situation with Holland Township inspectors and a new board gave the "old part of the district $1,000" which was used to build on the Maple Grove school lot. The second Maple Grove School, constructed in 1906 at 36 East 24th St., was renamed Longfellow School.
Teachers' salaries in 1875 were $325 a year. Two women from the first commencement had returned as teachers. Two men were part of the six-member 1877 graduating class. Eleven classes and 11 men had graduated by 1890.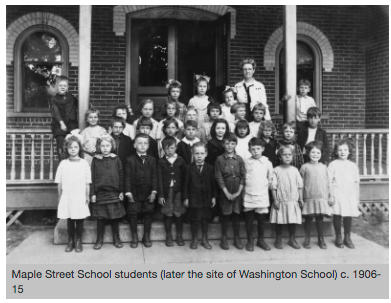 Central School on the east portion of Graves Place was built in 1879 and became Froebel in 1916 when the five elementary schools (Washington, Lincoln, Longfellow and Van Raalte) were named after individuals. Maple Street School (Washington) was built in 1880 and the upper story was added in 1900; Columbia Avenue School (Lincoln) in 1893 and Van Raalte Avenue School (Van Raalte) in 1907. The district's first gymnasium was located in a 20-foot high attic in Central School. A basketball hoop was added, a flat 18 inch hoop, six inches from the backboard.
In 1893 city boundary lines were extended south to the Allegan County line and the old school district of Holland Township lost its school building. The city extended free school attendance to that part of the district outside the city for five years as compensation for their share of the property. The old school district built its own building on East 24thStreet in Holland Township.
Since 1910 Holland High School has been accredited by the North Central Association of Secondary Schools and Colleges. By local tradition, HPS had a limited amount of biblical instruction and held chapel exercises into the middle of the 20th Century.
Becoming superintendent of schools in 1910, Egbert E. Fell embarked on a 35-year tenure that saw Holland build a senior high school (1913), junior high school (1923) and an elementary school (Washington, 1927).
Retiring in June 1945, Fell was honored Monday, May 2, 1955 when Holland Junior High School was renamed in his honor. The building at 372 River Avenue, which last housed the public school administration offices, is now owned by Jubilee Ministries of Holland.
When Fell came to Holland 53 teachers were under contract instructing in six buildings and that year domestic science was introduced into the curriculum. Fell, awarded an honorary degree of doctor of laws in 1935, promoted the organization of parent-teachers clubs, started a program of adult education, introduced many new courses and provided special education classes.
He estimated that more than 1,000 teachers worked for him and he "exercised great care in the selection of teaching personnel" He served as president of the Michigan Parent-Teacher Association and Michigan Education Association (MEA) president.
In 1911 Fell's first project was constructing a new high school, grounds, and equipment to replace the Horace Mann school on Graves Place at a cost of about $120,000. Opening in 1913 and located on the northeast corner of 15th Street and Pine Avenue, the building served as Holland High School until Monday, Jan. 29, 1962 when the present facility opened. Holland High played a basketball game in its fieldhouse the previous Saturday.
In 1914 the district had grown to 3,366 students with 68 teachers. School properties totaled $270,000. The payroll was $37,190 a year while incidental expenses were $13,580 for an annual $50,770 total.
When the 80-year-old Fell was honored at the renaming of the junior high school, the occasion also marked the last payment of bonds issued back in 1923-24 for erecting the building, called at that time "one of the most progressive programs on the junior high level in the state."
At the ceremony, Fell, a 1902 graduate of Alma College, was lauded by former Hope College president Dr. Wynand Wichers and at that time vice president of Western Michigan College in Kalamazoo. Wichers said Fell stepped "into the breech when Hope Preparatory School was disbanded (1934) and offered the public schools for practice teaching for education majors at the college."
Teachers' salaries had risen to $720 a year in 1936 while Fell received $1,125.
Also in the 1930s, Tulip Time became a national festival and Fell saw the public school faculty and students play a major role, an assignment that has continued through more than seven decades of the annual May spectacle.
Starting in 1930 with a high school operetta and instrumental concert, the participation increased in 1932 with a children's costume parade and high school band Three years later high school girls were officially dancing in Dutch costumes. Holland High was hosting festival reviews for bands from throughout Michigan on the municipal athletic field called Riverview Park where Holland High had played its first football game in 1932.
"Tulip Time Tales" in 1939 in Riverview Park involved hundreds of students and the faculty was responsible for pageant direction, staging, and production. In 1940 Holland High Dutch dancers performed in Washington, D.C.
World War II claimed 42 Holland High graduates after three paid the supreme sacrifice in World War I. With Carroll C. Crawford succeeding Fell, the district built a junior high annex in 1946 and that same year Holland High was the state Class A basketball state championship, the first and only since the 1919 team.
It was the last maroon and orange-clad unit to win a crown before the school colors were officially changed to red and white in 1953. Longfellow School built an addition in 1951 and a new Lincoln School was constructed in 1952. Torn down and sold to Hope College, the property houses (2005) the Martha Miller Global Communications Center. Van Raalte and Longfellow School additions occurred in 1954.
Walter W. Scott, superintendent of schools when Fell was honored in 1955, oversaw the construction of the Jefferson Elementary school at 282 West 30th St. in 1955 and directed two annexations of property to the school district before heading the construction of a new high school in 1961-62 at 500 Van Raalte Ave.
In 1957 all HPS students went home for lunch and the 1958 tulip festival featured the Holland Junior High band wearing wooden shoes in the Tulip Time parades. Five years later the Senior High band donned wooden shoes and for four decades has played "Tip Toe Through the Tulips."
Holland moved its boundaries in 1958 increasing the size of the city and school district from three to six square miles by annexing several rural schools. Voters using the schools in the Apple Avenue section, Montello Park and Maplewood districts approved the measure in special elections and were added. Apple and Montello Park were in Holland Township while Maplewood was in the "newly organized Hamilton Community School District."
The 1959 spring election brought another four and a half square miles into Holland and the school district. Van Raalte School area on the east side of the addition covered two and three-quarters square miles while the Lakeview School section on the west side bordered on the north by Lake Macatawa provided one and a half square miles.
Van Raalte was in Holland Township while Lakeview is in Park Township. Following the Laketown decision, Harrington School annexation proponents responded. Harrington was a fractional district lying in both Allegan and Ottawa counties.
Federal School in Holland Township at 455 East Eighth St. did not annex to the city and joined the West Ottawa Public Schools when the district opened in 1959. Thirteen rural schools north of Black River became members of the West Ottawa district.
In addition to the elections, several annexation questions were resolved through county, city and village school boards, the Michigan Supreme Court and Michigan Department of Education. One example involved Montello Park and a 200-foot strip of land lying along Graafschap Road and in Park Township.
In order to help these students, the Holland board decided to continue to take in all high school youngsters from the district, including those living the 200-foot strip. The board amended the June 1953 policy which barred all non-resident elementary students and "will accept, as necessary to provide educational space, the elementary students from Montello Park for a reasonable length of time." Through annexation the district and city had grown "to over 13 square miles."
"Seven years before a line was ever made on a drawing board for new facilities, educators began an intensive study of the needs of secondary students," Christine Boshoven wrote in the 1996 Holland High School Alumni Directory.
Boshoven was describing Superintendent Scott and the school board's desire to construct a new HHS on property owned by the district southwest of the high school. Bordered by 24th Street on the north and 27th Street on the south and flanked with Van Raalte Avenue on the east and Ottawa Avenue on west, the property blended itself for a campus-style arrangement.
Following a successful millage vote and the hiring of a building consultant and manager Arthur Read, construction began in 1961 on a new $3 million high school composed of seven buildings, including a domed fieldhouse, music and theater facility and art center.
Boshoven wrote: "Using that study and the philosophy of educators. Detroit architect Suren Pilafian worked with Read to create facilities which won national honors. The award, from the 1961 School Building Architectural Exhibit, sponsored jointly by the American Institute of Architects and the American Association of School Administrators, heralded the building design for its "new approach to space utilization" and the ability "to convert instructional areas into spaces of varying sizes."
"The idea was to design a school with facilities "so decentralized that each student can easily be recognized and treated as an individual," according to a 1962 Holland Sentinel newspaper account. Its seven buildings were laid out as a California-style campus especially designed to provide both the personalized educational opportunities of a small school and the specialized facilities that come only with a large high school.
"Students would take their basic courses – math. English, language and social studies – on the first floor of two cogwheel-shaped academic units (the East and West units), with science and business courses on the second floor. With classrooms arranged around a central common area, the design allowed for multiple uses, from student dining to large-group instruction.
"Banks of coin-operated machines offered cold or hot food, milk, ice cream and candy. In 1962 students could purchase a lunch of soup, sandwich, milk and fruit for 35 cents. The library "heart" of the school's instructional program, stood at the center of the seven buildings, along with the administrative offices. Specialized classes like music, art, physical education and vocational courses were housed in other buildings."
"A photo caption in the Saturday, Jan. 20, 1962 Sentinel illustrated the brand-new facilities and noted that "girls enrolled in home economics courses at the new HHS will have the advantage of working with the most modern home-making equipment …a veritable paradise for girls who like to cook and sew." The domed field house was deemed "a marked departure from the ordinary."
"The center for visual arts, a gift from Mr. and Ray Herrick of Tecumseh, was "considered by many the most unusual and most advanced in design and equipment ever to be included in a secondary school, according to the Sentinel. Like the auditorium, the Herrick Art Center had full air-conditioning. An industrialist and philanthropist who spent his childhood and early adult years in Holland, Herrick funded Holland's public library, named in his honor in 1960.
"The school, however, was more than just new buildings. When students first entered the facilities on Jan. 27, 1962, they also had a new class scheduling program, engineered to make the best possible use of instructional time. As at the college level, block periods replaced 55-minute periods to provide flexibility in the schedules and "allow pupils to progress according to their talents."
Although the system "worked well for many students and allowed them to go into greater depth in their studies and take greater responsibility for themselves, the plan was not regarded as beneficial to every student. After a few years HHS "returned to the traditional 55-minute class periods at the request of parents who preferred that students be on campus all day everyday."
Total school district enrollment reached 3,855 in 1962. Student class schedules were produced on International Business Machine (IBM) punch cards and an industrial computer in 1963. In 1964 Donald L. Ihrman began a 21-year tenure as superintendent.
The next two decades saw a major expansion in adult and community education. The former high school on 15th Street hosted classes. In 1977 Holland joined a consortium with West Ottawa and Saugatuck school districts and served 6,300 adults that year.
With the influx of diversity in the Holland area in the 1950s and 1960s and the increased enrollment of Latino students in the system, school youngsters joined their parents in the Latin American United for Progress (LAUP) organization and the annual fiestas.
HHS girls have been LAUP queens and court members since the event was first staged in 1965 as a Mexico Fiesta to celebrate "Cinco de Mayo." Most fiestas are held in the Holland Civic Center, constructed in 1954 and site of HHS basketball games for eight years. From 1925 through March 1954 the Dutch played in the Holland Armory.
The boys' tennis team won the Class A state championship in 1972, the same year high school girls nationwide received a federal mandate (Title IX) calling for a complete interscholastic athletic program in all sports.
As Holland's population continued steadily growing, Ihrman and the board of education faced more challenges. A new junior high school was constructed at 500 West 24th St. on the corner of 24th Street and Diekema Avenue. Prior to its construction, about 1,400 junior high age youngsters were scattered over seven buildings, including a leased "100-year-old church."
After playing its football games for 46 years in Riverview Park, Holland moved its home contests to Holland Municipal Stadium in 1979 located north of Pilgrim Home Cemetery on East 16th Street and east of Fairbanks Avenue.
The north to south 5,000-seat stadium, owned by the City of Holland, replaced a covered grandstand facility and an east-west playing field in a city-owned park. Holland had played its first game there Saturday afternoon, Oct. 8, 1932. Holland night games began Friday, Sept. 27, 1940. The stadium was shared with Hope College's football team and the Holland Christian High School soccer team.
An athletic facility west of the field house and west to Ottawa Avenue accommodated Dutch athletic teams for other sports, including a football practice field. Since 1968 the swimming teams participated in the Community Pool, now called Holland Aquatic Center, at 550 Maple Ave. When the pool opened HPS elementary youngsters received swimming instruction in a continuing program that involves the city schools.
The former high school was renovated in 1980 for community education. An alternative education program was also instigated. Diversity continued to be prevalent in Holland. Several churches sponsored not only Vietnamese refugees but also people from other Southeast Asian countries. The community's Hispanic population in 1984 was 11 percent. Ihrman retired in 1985.
A new Harrington School at 1623 West 32nd St. was built in 1983 and in 1991 another junior high was completed at 373 East 24th St. When the two 24th Street schools were restructured in the HPS placing sixth, seventh and eighth graders together, the two former junior highs were renamed West and East Middle School.
Updating the facilities started in 1989 and that project was completed in 1992. Renovations at the high school campus connected buildings and provided a new mathematics/science building, auxiliary gymnasium, and a kitchen/cafeteria. In addition to the district restructuring of middle schools, ninth graders (freshmen) were moved from the junior high to the senior high school.
During the mid-1980s HPS was making headlines in various categories. The band attended the 1985 Presidential Inaugural Parade for President Ronald Reagan's re-election but could not march because of cold weather in Washington, D.C.
The band marched in the 1987 Rose Bowl Parade in Pasadena, Calif., and enjoyed a repeat performance in 1995. Two Orange Bowl Parade appearances in Miami, Fla. and marching in the Detroit and Dallas, Texas Thanksgiving Day parades also exhibited the Dutch instrumentalists.
Continuous outstanding performances and state championship for the high school theatre, debate team and forensics teams began in 1988 and continued into the 21st Century.
Washington School was renovated in 1990 and the first computers were installed in the schools in 1992. Girls' gymnastics rose to the fore between 1994 and 1997 with four straight state championships.
Like most public schools in the nation, diversity among students continued to soar, quite different from the primary Dutch heritage and ancestry in the provisional community four decades earlier. School records in 1995-96 indicated 28.3 percent of the students were Hispanic. Asian heritages number 4.9 percent while African-Americans were 4.4 percent and Native Americans totaled .5 percent.
According to Boshoven, a school committee started charting a course in 1993 as to the future of HPS. Strategic planning committees, comprised of school staff, parents and community members, set 11 strategies "for the future success of students, ranging from technology to home-school relationships."
They established a mission statement to "focus on the future."
"The mission of the Holland Public Schools – a dynamic heritage-rich community, bridging diverse cultures at the lakeside window on the world – is to guarantee that our learners experience individual success through an educational system characterized by parents, staff and community working together to provide a safe, nurturing environment and a world-class, future-oriented educational adventure."
In 1996 HPS won an award from Money Magazine as one of the "Top 100 Schools in Towns You Can Afford." That same year Holland was one of ten cities named an All-America city selected by the National Civic League for its innovative ways of solving community problems."
Concluding the 20th Century, Holland High School seniors held commencement in 1999 in the Holland Municipal Stadium after more than 40 years in the Civic Center. Previous commencements, beginning during the Great Depression, were held in Hope (Dimnent) Memorial Chapel. Community churches and the HHS auditorium were used for earlier graduations.
In 2000, slightly more than a half-century after the public schools had approved dancing in the high school, the Friday night dances in the auxiliary were well attended. Prior to and after World War II, high school dances occurred at the Woman's Literary Clubhouse at 10th Street and Central Avenue.
Welcoming the 21st Century with the latest in available technology, HPS was one of the first districts in Michigan to provide its two middle schools with wireless internet access.
Recognizing the statewide successes of the theatre department, a successful financial campaign raised about $75,000 of private funds to supplement the building and site fund and resulted in the theater renovation. Included were an improved seating arrangement, an expanded stage and additional theatrical equipment.
School officials claimed in 2002 that more than 75 different sports activities and clubs were offered in Holland High School. Color photography appeared in the high school yearbook Boomerang for the first time in 1984. In 2001 the yearbook cost $45. In 1911, books were 10 cents each.
In an unprecedented major move, spearheaded by Superintendent Marcia Bishop and the board of education, district-wide consolidation took place in 2003 as the elementary neighborhood school program was changed into grade-level "focus" schools: Kindergarten-1, 2-3 and 4-5.
Bishop, who retired in 2004 after ten years at the helm, was the district's first woman superintendent and the second Superintendent Bishop. W.T. Bishop, no relation, held the post from 1905-1910.
That same year HPS announced 22,239 students had graduated from HHS. Also in 2004 the Haworth/Magna Donnelly Holland High "U.S. FIRST Robotics" partnership celebrated its 10th year. G.W. Haworth, who started his furniture company in 1948, began his career as an industrial arts and woodshop teacher at Holland Junior and Senior High Schools in 1937.
Frank Garcia, a migrant worker as a child, was named the superintendent in 2004. Garcia had been Holland High School principal. He congratulated the Holland High boys' swimming team for winning the Michigan Class A championship.
Middle school students competed in Odyssey of the Mind, Science Olympiad and Math Counts in 2005 and 5,054 students spent 2005 in HPS. Taught by 360 teachers, the budget was $46 million.
Today, 80 percent of HPS graduates enter higher education. The total number of graduates over the years is more that 22,650 students. It's a rich history indeed!