What you need to know to help your child attend Private Lessons or Summer Music Camps
What you need to know to help your child attend Private Lessons or Summer Music Camps
Why Should Parents Consider Private Lessons or a Summer Music Camp?
Summer study is a great way to enrich your child's music studies they have started at HPS. Students can advance quickly in a private lesson or music camp environment. HOPA is here to assist in taking that next step.
4 Easy Steps To Summer Private Lessons or Going To A Music Camp
Visit the website for the camp the student wants to attend for applications and details.
Make sure to ask the camp for details about their own "camp specific" scholarships and financial aid opportunities.
Review the paperwork from your child's music teacher that has been sent home.
Ask your child's music teacher for list of private lesson instructors.
Camp Schedules for Summer 2019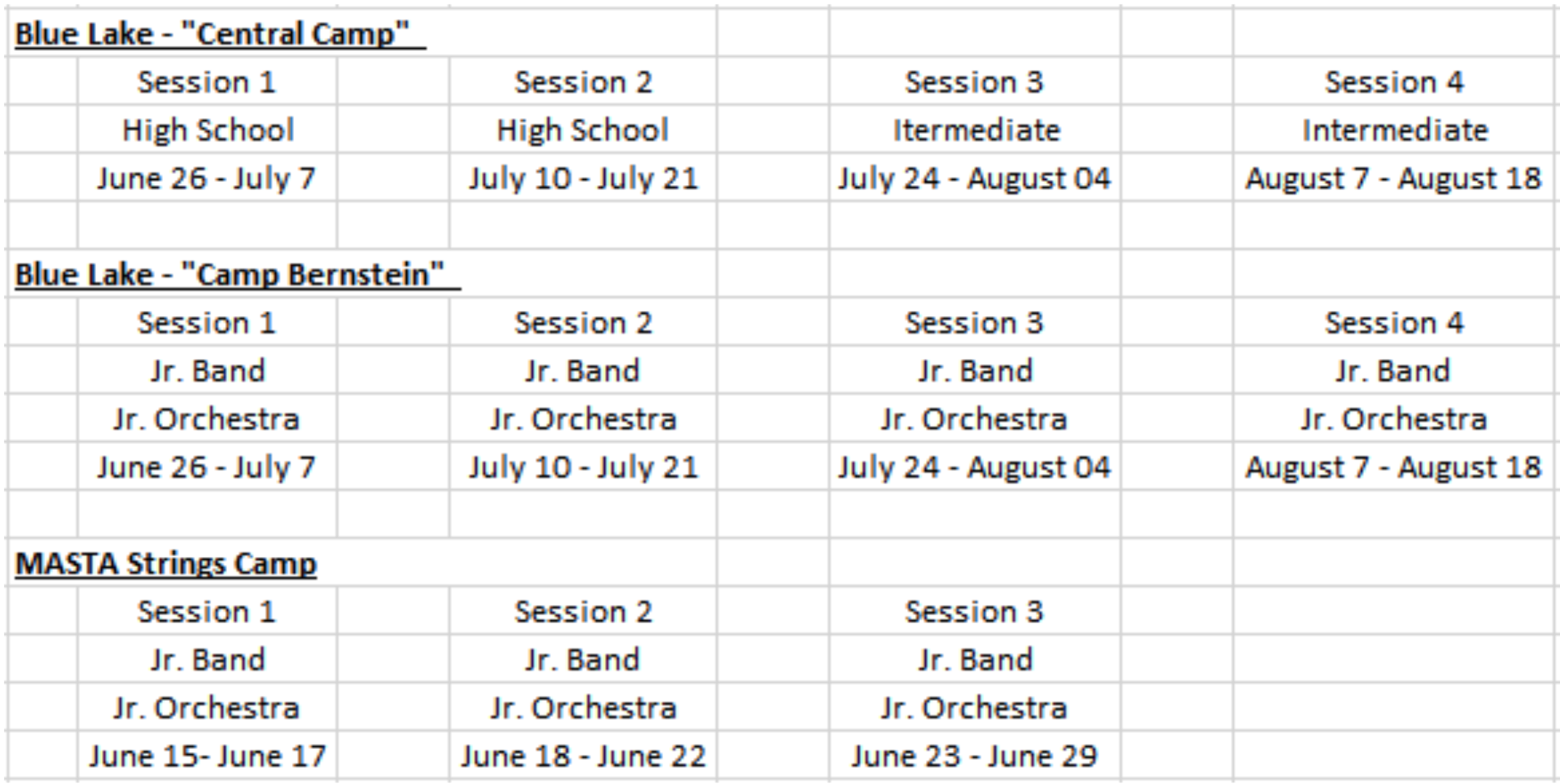 Blue Lake Information
Knollcrest Music Camp at Calvin College
Knollcrest Music Camp 2019--Middle School Week
Middle School Week August 5-9, 2019 [entering grades 7-8]
Monday morning only - 8:00am informational meeting.
Tuesday through Friday - 8:30am start time.
Friday afternoon and evening - student performances!
Knollcrest Music Camp 2019--High School Week
Monday, July 29, 2019 at 8:30 AM - Friday, August 2, 2019 at 9:30 PM (EDT)
Visit our website for more detailed information
MASTA Camp Information
Masta String Camp Costs
Session 1 - June 15-June 17 - $285
Session 2 - June 18-June 22 - $395
Session 3 - June 23-June 29 - $495
Types of Scholarships
"Arts Educator Scholarship" is for $450.00 and is a Blue Lake Fine Arts scholarship….NOT a HOPA scholarship. Contact your HPS director about applying.
"Blue Lake Fine Arts Camp- Merit/Talent Scholarship". Students auditioned in January for this and should of sent by February.
"Blue Lake Financial Need Scholarship". Family must contact Blue Lake Fine Arts Camp for an application. This scholarship cannot combine to the "Merit" scholarship. It is one or the other. (The financial need scholarship may give more assistance).
MASTA Financial Need Scholarship". Contact MASTA for an application.
"HOPA Scholarship". Up to $100 dollars. Applications are available from the orchestra teacher. DUE by Monday March 18, 2019. HOPA Scholarships can be applied to any music camp, or to private lessons.
Fine Arts News

View Archives
A Tradition of Excellence in the Performing and Fine Arts
Along with an impressive track record in academics, Holland High School has earned numerous awards in the Performing and Fine Arts.
Holland High Theatre
Holland High Theatre has captured 19 State "Class A" Competitive Theatre Championships in the last 27 years. Director Kevin Schneider has been honored by a number of theater and forensics organizations has one of the most accomplished high school theater directors in the nation. During the last school year, Holland High students performed on stage nearly 50 times before more than 36,000 patrons. Holland High Theatre has been invited to represent the U.S. at the Edinburgh Fringe Festival each of the last four years.
In competitive forensics (speech and debate), Holland High has placed in the top 5 teams in 3 of the last 4 years statewide. The HHS team was comprised of 47 students, and in 2016, the team was named by the National Speech and Debate Association as one of the elite top 1% of programs nationally, for qualifying 16 student speakers and debaters to the National Finals.
Holland High is also maintaining high standards and expectations in its band, orchestra, and vocal music programs.
These programs have consistently received high ratings at judged performances and last year was no exception. In fact, Holland High's concert bands, chamber and symphonic orchestras and Choir programs all earned Division 1 Superior Ratings at their respective festivals.
Holland High's Choirs
Additionally, Holland High's Choirs received Division 1 ratings at the 2017 State Festival.
The success of Director Sarah Cox's choir program at Holland High (including the smaller audition group "The Vocal Dimensions) is not going unnoticed. The choirs recently accepted an invitation to sing in May 2018 at historic Carnegie Hall in NYC. The invitation from West Chester University choir director Ryan Kelly cited "Holland choirs' exceptional history of choral performance."
Fostering fine musicianship and "a love for music" are also extended to students who are members of Holland High's orchestra, band, and jazz band program.
Beyond the annual Tulip Time-related parades and musical cavalcades, Holland High's orchestras and bands maintain an active performance schedule – and the audience reviews are stellar.
Holland High orchestras under the direction of John Reikow and HHS bands and the Percussion Ensemble under the direction of Bethany VanOss have continued the tradition of earning superior scores from the judging panels at various music festivals.
Mr. Reikow and Ms VanOss have also combined their talents and teaching abilities to help Holland High offer a premier high school symphonic orchestra.
As you can imagine, we're proud of Holland High's achievements in the Performing and Fine Arts. The students and their directors set the bar high for great performances every year – and somehow they manage to exceed expectations and garner even more fans and accolades.
Holland High's Fine Arts Department is superb
Although the excellent Fine Arts teachers at Holland High don't direct teams or ensembles, they are incredible at igniting and encouraging student creative expression.
Many of Holland High's art students have earned individual awards in the Holland Area Arts Council, the annual Superintendent recognition, and in regional and state exhibitions.
As you would suspect, the offerings of the Holland High Fine Arts Department cover a broad range of skills and genres in order to connect with the diverse interests and talents of high school students.
Courses offered are Introduction to Art, Advanced Art (2-4 levels), Drawing & Painting, Ceramics, Sculpture, Graphic Design, Photoshop, Illustrator, Printmaking, and 2D & 3D.