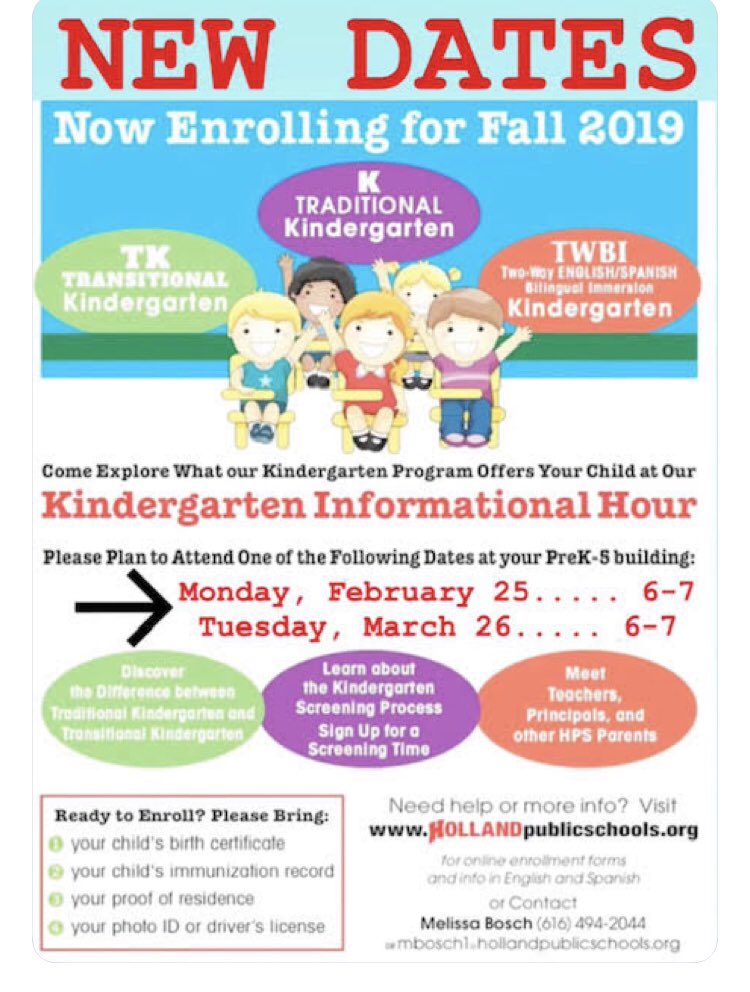 Explore what our Kindergarten Program offers your child.
We're now enrolling for Fall 2019.
It's easy to learn more. You're invited to a
Kindergarten Information Hour
All four of our HPS PreK-5 Schools (Holland Heights, Holland Language Academy, Holland Jefferson and Holland West) are hosting an INFORMATION HOUR for parents interested in Fall 2019 programs for their 4 and 5 year-olds. Come to the school most convenient for you. Kids are welcome, too.
The New Meeting date is:
Tuesday, March 26, 6:00-7:00
Every school will begin its meeting at 6 pm. These four programs will be featured.
GSRP Preschool
"TK" Transitional Kindergarten
Traditional Kindergarten
Two Way Bilingual Spanish-English Kindergarten (TWBI)
Our Kindergarten program offers:
Talented & caring teachers committed to meeting your child's unique needs as a well-rounded person and learner
A rigorous curriculum with a strong literacy focus
Extra experiences including art, STEM, PE & music
An individualized pre-screening process (May & August) which provides a customized evaluation resource for parents and teachers to discuss the most beneficial learning setting for students based on their unique needs
At every INFORMATION HOUR, parents will:
Hear more about our Preschool, TK, & Kindergarten curriculum
Meet teachers and the principal
Briefly tour the school
And Enroll – (if they're ready, please bring):

child's birth certificate,
child's immunization record,
your proof of residence, and
your photo ID or driver's license.
Registration Checklist
Kindergarten Enrollment Eligibility
All children who are 5 years old on or before September 1, 2019 are eligible for enrollment into a HPS Kindergarten program.
The parent, legal guardian, or temporary custodian of any elementary age child enrolling in a Holland Public School is required to submit proof of age and required medical records to the school.
An enrollment form
English Enrollment Form | Spanish Enrollment Form
Other required documents for enrollment
Copy of birth certificate.
Proof of residency. Please bring a current bill, lease agreement or license that shows your current address.
Photo ID of parent or guardian enrolling the student.
Current Immunization Records.
Proof of vision and hearing test.
Please contact Melissa Bosch (616) 494-2044 or email Melissa if you have questions or need more information.
Go to Kindergarten Screening page | Go to the Enrollment page