Fine Arts News

View Archives
December 12, 2018
HHS Jazz Band Brings the Holiday Spirit to Barnes & Noble
From festive holiday sweaters to jazz charts, both seasonal and non-seasonal, the Holland High School Jazz Band brought the holiday spirit to shoppers at the Holland Barnes & Noble on Saturday, Dec. 8. Striking up the band was exactly what was needed to put customers in the holiday spirit of giving, and that they did! A percentage of all merchandise purchased that day was donated to the Holland High School Band Program. The Holland Bands would like to thank the community and all band parent and student volunteers for making this fundraiser not only incredibly enjoyable for the jazz band but also an enormous success!"
November 8, 2018
The Holland High School Jazz Band Performs with Max Colley III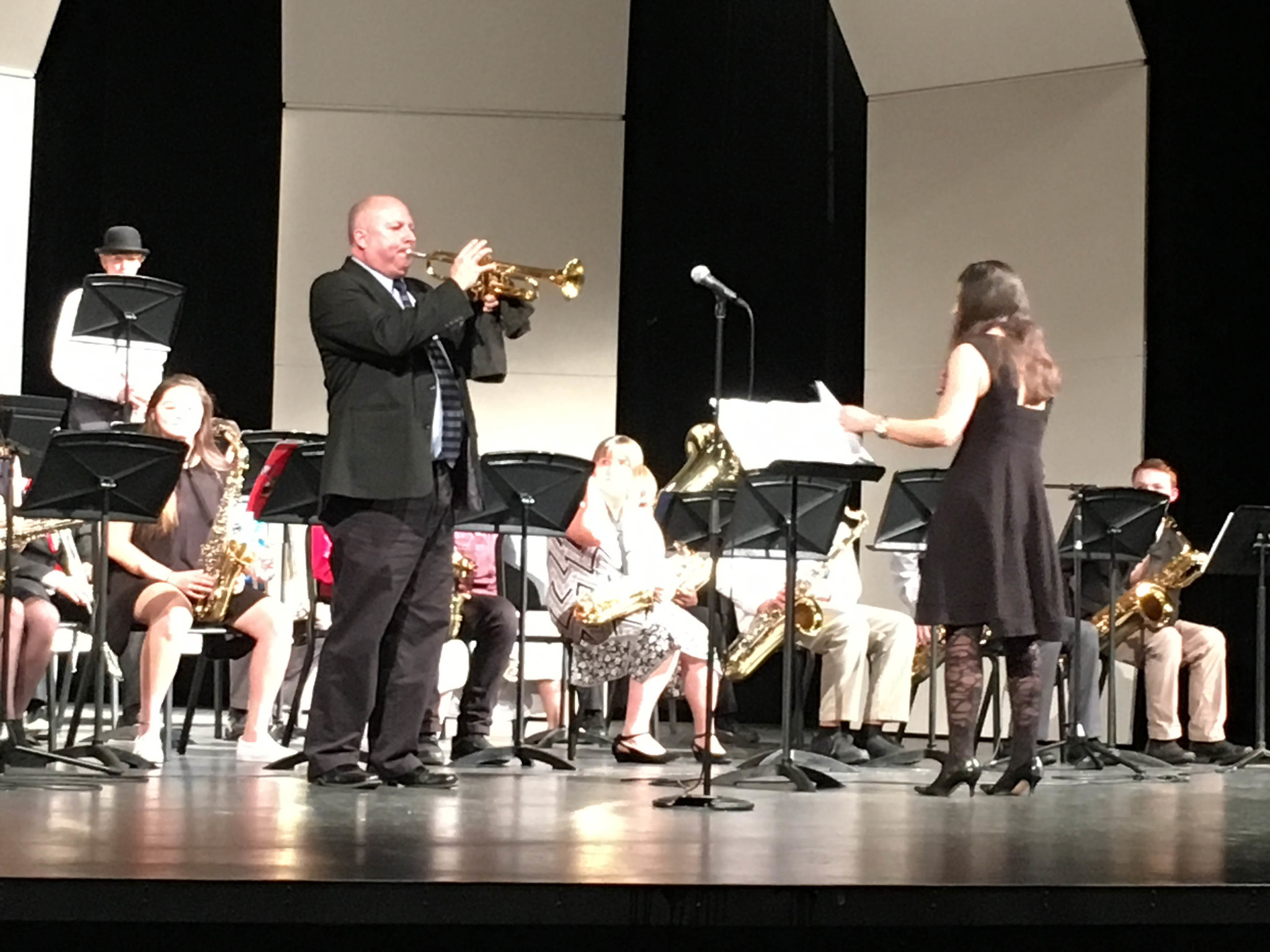 "On Nov. 8, the HHS Jazz Band, along with Guest Jazz Artist Max Colley III, blew the roof off the house at the first-ever Night of Jazz at Holland High School's Performing Arts Center! In addition, the Jazz Band was fortunate enough to receive an amazing educational clinic from Mr. Colley, not only a consummate performer, but also a renowned jazz educator. The Holland High Jazz Band was thrilled to have the opportunity to learn from our guest artist and hopes to begin a tradition of bringing great live jazz to the Holland Community!"
Read the full article to watch videos of the performance!
November 5, 2018
HHS Marching Band Students Perform with GVSU Laker Marching Band
This past Saturday, November 3rd, ten students from the HHS Marching Band participated in Grand Valley State University's Band Day with over 280 other marching band students from all over the state of Michigan and the GVSU Laker Marching Band! High school band students rehearsed with the Laker Marching Band throughout the day and then performed during halftime at GVSU's Lubbers Stadium all together as the GVSU Laker football team took on the Ashland Eagles that evening! Congratulations to everyone on a very successful performance!
You can watch short video clips of them in the full article.
A Tradition of Excellence in the Performing and Fine Arts
Along with an impressive track record in academics, Holland High School has earned numerous awards in the Performing and Fine Arts.
Holland High Theatre
Holland High Theatre has captured 19 State "Class A" Competitive Theatre Championships in the last 27 years. Director Kevin Schneider has been honored by a number of theater and forensics organizations has one of the most accomplished high school theater directors in the nation. During the last school year, Holland High students performed on stage nearly 50 times before more than 36,000 patrons. Holland High Theatre has been invited to represent the U.S. at the Edinburgh Fringe Festival each of the last four years.
In competitive forensics (speech and debate), Holland High has placed in the top 5 teams in 3 of the last 4 years statewide. The HHS team was comprised of 47 students, and in 2016, the team was named by the National Speech and Debate Association as one of the elite top 1% of programs nationally, for qualifying 16 student speakers and debaters to the National Finals.
Holland High is also maintaining high standards and expectations in its band, orchestra, and vocal music programs.
These programs have consistently received high ratings at judged performances and last year was no exception. In fact, Holland High's concert bands, chamber and symphonic orchestras and Choir programs all earned Division 1 Superior Ratings at their respective festivals.
Holland High's Choirs
Additionally, Holland High's Choirs received Division 1 ratings at the 2017 State Festival.
The success of Director Sarah Cox's choir program at Holland High (including the smaller audition group "The Vocal Dimensions) is not going unnoticed. The choirs recently accepted an invitation to sing in May 2018 at historic Carnegie Hall in NYC. The invitation from West Chester University choir director Ryan Kelly cited "Holland choirs' exceptional history of choral performance."
Fostering fine musicianship and "a love for music" are also extended to students who are members of Holland High's orchestra, band, and jazz band program.
Beyond the annual Tulip Time-related parades and musical cavalcades, Holland High's orchestras and bands maintain an active performance schedule – and the audience reviews are stellar.
Holland High orchestras under the direction of John Reikow and HHS bands and the Percussion Ensemble under the direction of Bethany VanOss have continued the tradition of earning superior scores from the judging panels at various music festivals.
Mr. Reikow and Ms VanOss have also combined their talents and teaching abilities to help Holland High offer a premier high school symphonic orchestra.
As you can imagine, we're proud of Holland High's achievements in the Performing and Fine Arts. The students and their directors set the bar high for great performances every year – and somehow they manage to exceed expectations and garner even more fans and accolades.
Holland High's Fine Arts Department is superb
Although the excellent Fine Arts teachers at Holland High don't direct teams or ensembles, they are incredible at igniting and encouraging student creative expression.
Many of Holland High's art students have earned individual awards in the Holland Area Arts Council, the annual Superintendent recognition, and in regional and state exhibitions.
As you would suspect, the offerings of the Holland High Fine Arts Department cover a broad range of skills and genres in order to connect with the diverse interests and talents of high school students.
Courses offered are Introduction to Art, Advanced Art (2-4 levels), Drawing & Painting, Ceramics, Sculpture, Graphic Design, Photoshop, Illustrator, Printmaking, and 2D & 3D.